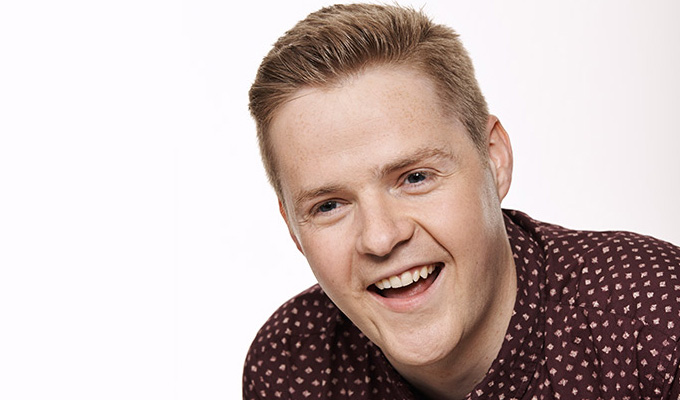 So you're pro-gay rights? That's so hack...
Earlier this year, the people of Ireland ushered in marriage equality by popular vote and the US Supreme Court decreed that America's constitution says #LoveWins.
These events angered two major groups: homophobic religious nut jobs and comedians with large chunks of material on gay marriage. For both of these communities, this disturbing new trend of acceptance and equality before the law poses a serious threat to their traditional values and the way they live their lives (or at least structure their club sets).
That's Ireland, the UK and the US down. What will happen once same-sex marriage is legalised across the western world and there's no call for bits about what it would be like if people actually started marrying dogs? Will there be no more sweeping generalisations about queer people posing as endorsements of gay rights? No more sodomy innuendo (in YOUR end-o)? No more lispy impressions?
Could there soon come a time in this sinfully permissive 21st Century when 'gay' might be considered…'hack'?
The gay part of me certainly hopes so.
But if that time comes, the comedian part of me is going to have to do a lot more writing.
Much to the embarrassment of my parents and the boredom of my audiences, I've regularly tried to spin comedy gold out of my sexuality, warts and all (that's just an expression, I don't have warts). I've had a crack at all the big gay topics, from heartbreak to homophobia to Kevin Spacey. My debut hour was about my coming out, then my boyfriend at the time did a show about coming out (he got nominated for an award, but let's not dwell on that), then we broke up, then I wrote a show about that break-up, then he wrote and starred in a critically acclaimed TV show about the complications of being a gay twenty-something in 2013, then I wrote this.
Young comics like me who can use our queerness for material owe a tremendous debt to those who have come before. From Julian Clary and Graham Chapman right through to Wanda Sykes and Ellen DeGeneres, our forebears have bravely broken new ground by exploring a different side to human sexuality through their comedy.
But they haven't been the only ones. Long before it was considered acceptable to be openly gay, non-queer comics have milked homosexuality for punchlines. It's classic 'fish out of water' stuff: in a heteronormative society, being gay doesn't quite fit and things that don't fit lead to mixed emotions and confusion and awkward situations. Thus, hilarity ensues.
Of course, this hasn't always been handled with the greatest of sensitivity. Take the opening of Eddie Murphy Raw from 1987:
HAHA ALL GAY PEOPLE HAVE AIDS LOL.
Bernard Manning famously claimed, 'I'm no racist. I take the piss out of poofs, too!' and Rodney Rude once painted us all a beautiful picture of a fracas between Elton John and George Michael:
'EJ: Oi George, you've been fooling around on me, haven't ya?
GM: How do you know?
EJ: You came home last night all shit-faced!'
But thankfully, things have changed considerably, and people like Steve Hughes can successfully ridicule homophobia by turning everything on its head (from 1:45):
Now we come to same-sex marriage. Over the past 15 years, many have considered this to be the 'final hurdle' in the gay rights struggle. It's a fiercely contested issue that goes to the heart of the left/right culture wars and it's given birth to a plethora of memes and one-liners and routines. The wry notion that 'gay people should be able to get married because they deserve to be as miserable as everybody else' has been attributed to Chris Rock, Tom Allen and many others. There's boom-tish stuff ('I'm in a same-sex marriage…the sex is always the same' – Alfie Moore) and then there's following anti-gay marriage logic ad absurdum ('People say if you let gay people get married, what's next: people marrying animals? I say, "Yep, probably". Hey man I eat animals; if you want to marry one, that's your business. I'm pretty sure I'm doing the worst thing to it!' – Michael Che)
There's taking exception to religious opposition to the idea ('Same-sex marriage isn't gay privilege, it's equal rights. Privilege would be something like gay people not paying taxes. Like churches don't.' – Ricky Gervais) and then there's dissecting some people's straight-up bigoted approach:
Hannah Gadsby always has a deft comic metaphor at the ready and I particularly like this one: 'Gay couples technically have the same rights as de factos; straight people who choose not to marry. "Choose'". That'd be nice, wouldn't it? A bit of 'choice? Did you know that locking someone out in the cold is not the same as giving them an air-conditioning unit?'
With all this lovely material advocating for equality, sometimes it's fun to go the other way. Take this switcheroo from my friend, the brilliant Sydney comic Cameron James:
'My girlfriend and I have been together for a long time. We've decided we're not going to get married until gay people are allowed to get married…(audience applauds)…and that's why I'm strongly opposed to gay marriage.'
Australia is still boringly dragging its feet on this subject (Will Anderson has said he'll keep talking about it onstage until his home country makes it happen), but in other places where same-sex marriage is a reality, we get to hear jokes about the realities of same-sex marriage:
Including its potential legal complications:
It's remarkable, really. When I was born, the idea of two people of the same gender getting hitched was laughable. Twenty-five years on, it's making fun of those in the 'traditional marriage' camp that gets you laughs. Endorsing queer rights has evolved from a sacrilege to an applause line and I'm fascinated to see where we go from here.
I'm always heartened whenever I see a comedian casually discussing their same-sex dating life onstage in front of a crowd that laughs along happily, nonplussed. Acts like Simon Amstell, Tig Notaro, James Adomian, Stephen Fry and Geraldine Hickey aren't 'gay comedians'; they're comedians who happen to be gay and who also happen to be hilarious and insightful about a whole range of topics.
I am determined to follow their example.
To be clear, this is neither a prediction of nor a call for 'straight-washing' comedy. My Edinburgh Fringe show is a comprehensive reflection of my poofy life to date, including my experiences of homophobia on the macro and micro scale. Things are far from perfect for queer people all over the world and as long as that's still the case, I believe that there are original and important jokes to be procured from that subject.
But I'm wary of the constantly shifting sands of what's considered 'hack'. Being lesbian or gay or simply supporting same-sex marriage is no longer a novel angle in 2015. Not being a homophobe is up there with airline food or discussing the origins of the Chicken McNugget; chances are comedy audiences have heard it all before and they're keen to hear what's next.
For once, society has caught up to the jokes. 
• Tom Ballard will be performing Taxis & Rainbows & Hatred at the Edinburgh Fringe at Assembly George Square at 21:15
Published: 29 Jul 2015
What do you think?