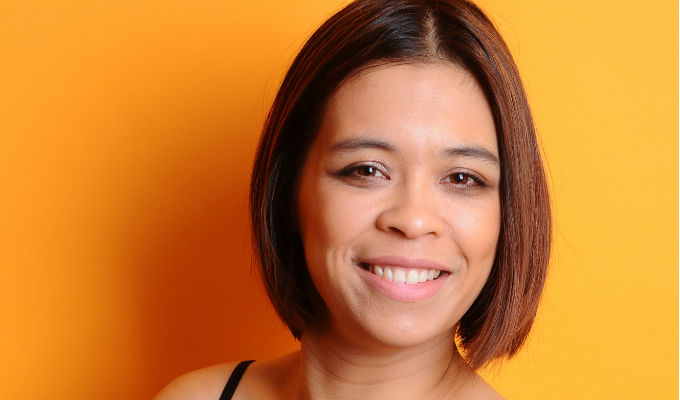 Political correctness is the best thing that's happened to comedy
When I first moved to London after uni in 2000 I knew very little about stand-up comedy. But I knew Jackie Mason. So when he came to London 2001 I went to see him at the Queen's Theatre and I thoroughly enjoyed it. Of course, he was politically incorrect even then, but back then we were OK with it, it wasn't five-star comedy, but nobody complained. Fast forward to 2015, and he's weighed in on the political correctness debate ignited by Jerry Seinfeld earlier this month saying:
'There is only free speech now in this country for black people and homosexuals and any other minority ... But if you are a white Protestant American gentile, you can't say a word.'
Which I thought was an interesting statement, given that he's Jewish. But I'm hoping he's not wrong. As an Oriental/German woman with immigrant parents and an American accent, I'm hoping he's right or my forthcoming Edinburgh Fringe show, Taboo Raider, is going to get me in a lot of hot water.
Although it wouldn't be the first time. A couple of years ago, after being diagnosed with Asperger's, I did a show called Thpethial (if you aren't sure what that is, say it out loud, and make sure you really stick your tongue out). The main purpose of which was to demonstrate how attitudes towards disability that are accepted as 'politically correct' are often well-meaning but totally misguided. And the response I received from my audiences was positive. It was not what they expected, but it wasn't an unpleasant surprise; and while I definitely 'crossed the line' more than once during the show, the overall message of the show was only strengthened by it.
But I did receive a complaint about the show. It was from one gentleman who, based on the title (have you said it out loud? Are you reading this in public?) came expecting an hour of 'politically incorrect' material. Sorry mate, but I'm not Roy 'Chubby' Brown, and staying completely over the line wouldn't have gotten my point across anywhere near as effectively as staying near it did. Because it is the flirting with that line that tantalises our tickle-buds and knocks our funnybones, makes us gasp then laugh, then stop and actually question ourselves; not the obliteration of it.
It is precisely the defining of 'you can't say that' that makes saying that so emotive. That's what social-commentary comedy is. It's the questioning of the rigid rules and regulations of polite society, it's the pushing and poking of boundaries in an entertaining and intelligent way. It's a seedy basement, at night, in the dark. In fact, the darker the better, so audiences can laugh freely without worrying about being judged.
Jerry Seinfeld came out earlier this month complaining that political correctness is killing comedy. He (and other comics of his generation) is avoiding the college circuit as he claims the audiences there are more interested in finding fault than finding the funny in his jokes. But this is not automatically the fault of political correctness. It is possible to play with the line without being offensive. What is often forgotten in the war on PC is that intent and context are equally as important in being positively politically correct (or incorrect). The Holy Trinity of true liberalism if you will. If someone is coming up to you and saying 'That's racist' or 'That's sexist', Jerry, perhaps it actually is? Or perhaps it just needs a little context? Or perhaps it was your true intent that gave you away. And on the flip side, it is also entirely possible to write a joke with the word 'nigger' in it that isn't offensive to black people. ('I have Aspergers which is on the autistic spectrum, everyone not on the spectrum is known as the n-word which is..?' Audience member in a panic: 'Normal!/Neurotypical!', 'Obviously. I didn't mean "nigger".') Because you can't ignore political correctness. It's omnipresent in the minds of the audience; perhaps not as a stick to beat comedians with, but certainly as a measure of what each audience member considers 'decent'. So where is the sense in trying to ignore it rather than acknowledge it and play with it as with any other subject? It is precisely these sorts of interplays that shape the evolution of comedy.
Forty years ago, the issue was free speech. We saw the emergence of clubs such as The Establishment, founded by Peter Cook and Nicholas Luard, that allowed comedians the freedom to try new material outside the jurisdiction of the Lord Chamberlain, whose censorship of content was an obvious problem. It was a cult success and played an important role in the history of comedy and satire; Lenny Bruce even played there before being banned from entering the UK.
But the freedom to speak is no longer a major issue in comedy: The Establishment was recently re-launched in 2012, but without censorship to wrangle with, hasn't had quite the same impact (I performed on opening night – there were no restrictions on material – we all ended up doing our usual sets).
So let's not undervalue the importance of the role of PC in comedy today. Bottom line is, it isn't killing comedy, it's propping it up. PC is the wingman to our Comedy player, the nerdy alternative at the other end of the bar to our tight-jeaned, floppy-haired, slightly offensive proffering. Without PC in the bar, Comedy isn't quite so attractive. Without the contrast, Audience might not be flirting with us or having a quick dalliance with us in the disabled toilets. And we should be grateful for that dalliance. Because let's be honest: once last orders have been served, Audience is going home with PC, and if we're truly honest with ourselves, so are we.
• Ria Lina performs Taboo Raider at The Stand 2 at 6pm during the Edinburgh Fringe. There are previews at London's Museum Of Comedy on July 5 and 10.
Published: 30 Jun 2015
What do you think?