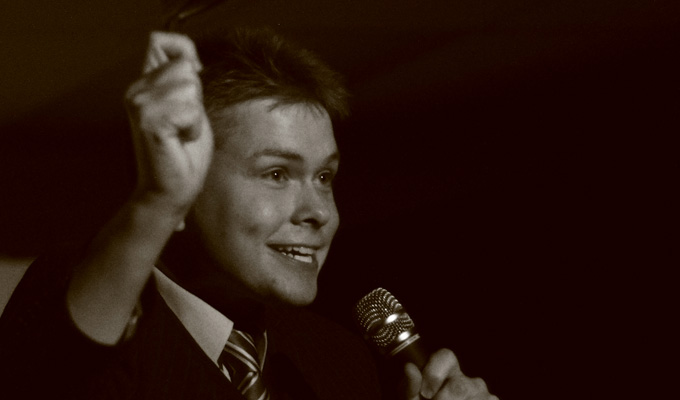 In praise of Sandi Toksvig
It is fitting that Sandi Toksvig's final edition of The News Quiz was broadcast on the same day the US Supreme Court has legalised equal marriage.
Sandi has never made her sexuality a defining aspect of her work, but her feminism and politics are naturally intertwined with wanting a more progressive world, which we are seeing happen in these victories. Whether or not satire contributes to current affairs or not, it's a happy coincidence to make her era something to celebrate, not mourn.
Like many of my favourite radio shows, my love of The News Quiz results from its availability as a podcast on Fridays, and Sandi has been a key part of my comedy education as a result.
John Lloyd's 1977 creation is simple: funny people talking about the news in the context of a quiz. Of course, Have I Got News For You used some of the same regulars in its early 1990s incarnations as it is basically a slightly more hyperactive TV version, only slightly. The radio version's current array of regulars is excellent, with Jeremy Hardy, Susan Calman, or Rebecca Front most likely to chair the series next.
However, it is Sandi Toksvig's chairwomanship that has kept the show's charm and edge. She goes beyond her script and punctuates her gags with points, and can make a point as seriously or trivially as she likes as a result. She treats the younger counterparts with respect and maternal care. She treats her politics with respect to make it all the more effective when she undermines our established hierarchy.
As I write this, I'm checking to see what it was that my 17-year-old-self loved about this programme. Take an edition from January 2010, where Sandi has managed to make one joke fit four different news stories. The snowy weather, an attempted Labour-coup, inaccurately stated Conservative policies and Iceland's Eurozone-damaging banks. I'll let you guess the musically cued gag.
Her final edition featured instability in the EU, Michael Gove, tensions with the monarchy, and health warnings about skinny jeans.
Things have changed a little then. Not a lot.
Sandi is the establishment of the anti-establishment. She is also the Chancellor of the University of Portsmouth, (after losing a campaign to achieve the Chancellorship of Oxford when standing on the issue of abolishing tuition fees). She's leaving her darling News Quiz to set up and lead The Women's Equality Party. It fits that Sandi now seeks to actually poke the establishment by competing. Even if its another force of the left that might split things, it's nice to see that she will campaign on the issues she cares for and can bring a lot of experience to.
Sandi has been a key part of my comedy education. My progression and maturing from Mock The Week to Have I Got News For You naturally led me to The News Quiz and The Now Show. From there I could only delve further into Radio 4's huge array and archive of sketches and monologues. It is here where comedy thrives – there fine progammes here waiting, warmly, to welcome you with jokes and thoughts.
Sandi Toksvig for me is the face of radio comedy, as strange a sentence as that sounds. She welcomed me by being funny, warm, but casually ready with an edge and real point.
The News Quiz and The Now Show will no-doubt continue to be key staples of Radio 4's satirical swipes at humanity's failings. And let's be honest, the new host of The News Quiz could carry more responsibility than the new Labour leader if they continue to fail to act like an Opposition.
• Click here for photos from Sandi's last recording.
Published: 28 Jun 2015
What do you think?