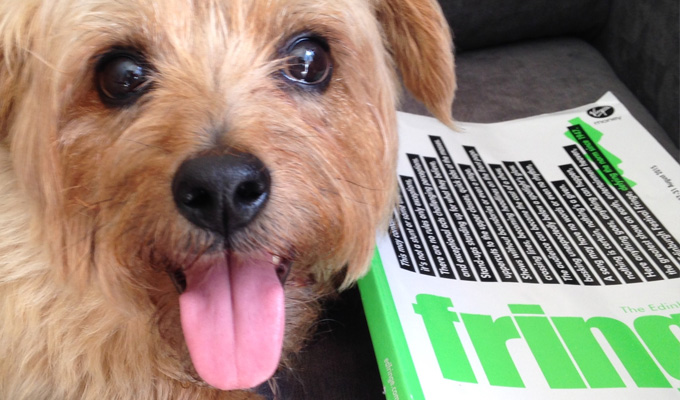 How to do good reviewing
o boy !! time is tickin ,and edimbrugh fringe preview season is well under way . i am sure many briliant 5star comedians will be getting nervous butterflies in tummys , worrying about whether the critics will say that their shows are good or not . even i have been nervous !! as well as bein profesional edimbrugh fringe reviewer , i am also currently preparing my second show , "sniffin a drain" , which is the follow up to last years show "lickin a bin" (they are both promenade shows at various locations durin the fringe ), and i admit i have been panting with nervs about whether people will like them !!
so !! i have done easy step-to-step guide for reviewers to do critiscm without hurtin any one's feelings !
step 1 - remember ,edimbrugh is a place of creative experimentism ,so performers can do literaly no wrong !! there is no right or wrong or ups or downs (figratively speaking) . there are no rules !! briliantly polished shows are briliant , and rough confusing mess shows are also briliant ! so give 5stars to both of them !
step 2 - i love young exited student puppy reviewers ! so full of bean ,so keen to get stuck in -stuck in to the beer that is !! ha ha! we all been there !! ( exept me , i am a dog ). but remember , youth can be callous !! you are quick to say "i hate you mum!" , and "learnin is boring!" and "marcel lucont is a bad french comedian!" . but then you get a bit older and you realise , you love your mum ! learnin is fun ! and that show was really 5star show ! so remember , if you are young puppy reviewer , always give 5stars just in case !!
step 3 - this for older ,seasond reviewers !! you have seen many many 50000000 of comedy shows ,and your taste have got very refined -maybe too refined !! you may not even be able to enjoy a simple classic club comedy set ,saying it not intresting enough ,and you think the only good shows are a performer barin heart and soul and talkin about dead parents . but there is room for all shows ,with dead parents and live parents too !! so remember ,all comedians do difrent things ,and even the hack ones are worthy of 5stars !!
step 4 - don't forget ! sometimes edimbrugh is hard ,and audiences don't do any laughing .some times they just sit in raincoats and look at performer like they have done a mess on the floor . but that is because they are shy !! or maybe just tired from being a busy 5star audience !! it not the comedians fault that no one is laughin , and atmosphere is like a rainy funeral !! it just a bad day !! it is still 5stars !
step 5 - star ratings … always give 5stars !! if you think it not deserving of 5stars , remember that evryone learns from mistakes , so even if the show is not good now ,it is important to look past that and see the briliant thing it will be with work in future ! the more mistakes it has now ,the more better it is going to get ! so if you give it 5stars , you ahead of the game !!
i hope this will be helpful guide for reviewers ,new and very old !! i will be doing lots of twits on twitter before and during edimbrugh fringe ,so keep an eye out and follow me @FringeDog !!
Published: 23 Jun 2015
What do you think?