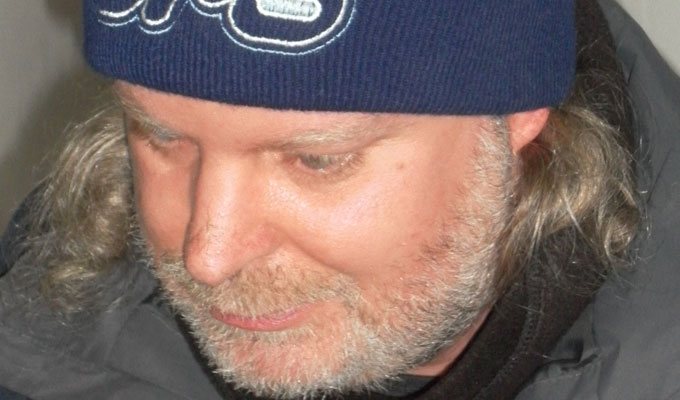 Robert Webb's values go up in e-smoke...
Comedian Robert Webb has written an article for the New Statesman magazine headlined 'I wouldn't put Ed Miliband on a T-shirt, but I will vote for him'.
I didn't realise that Robert Webb lived in the Doncaster North constituency. Has anyone seen Robert in Adwick or Mexborough or Sprotbrough?
Anyway, I think the point Robert Webb was trying to make is that he will vote for his local candidate standing for Labour, led by Ed Miliband. Robert gave lots of reasons but one was particularly personal. Here's the first paragraph of the article:
My next birthday will be an eerie one for me because I will turn 43: the age my mother was when she died of cancer in 1990. Have I mentioned before that my mother died when I was 17? I have? What, repeatedly? Change the what? Change the record!? Oh, OK. Anyway, that happened and it was quite a big deal. I mention this not because I'm having some sort of midlife crisis (of course I am: it's an ongoing project and you're reading part of it now) but because I tend to think of her during elections. She was a bit of a lefty, you see, and by the time I was 17, I was sure that I was, too. Certainly she was an influence but probably no more than Percy Bysshe Shelley, Jesus Christ or Ben Elton. It wasn't that Mum and I were particularly big fans of Michael Foot or Neil Kinnock; it was rather more negative than that. What we had in common was a steady loathing of the Conservative Party.
Robert then gave various reasons for his loathing of the Conservative Party but also gave positive reasons for supporting Labour including spending 'on things such as the NHS and introducing waiting-time targets so that, I dunno, say, a 43-year-old woman with cancer doesn't have to wait months for a mastectomy that comes too late to save her.'
Robert Webb's article is a passionate and personal endorsement of the Labour Party. I don't doubt that Robert believes what he wrote. However, if that is the case – why has he recorded voiceovers for advertisements for e-cigarettes?
The US Food and Drug Administration has found that e-cigarettes contain 'detectable levels of known carcinogens and toxic chemicals' and that 'quality control processes used to manufacture these products are inconsistent or non-existent'.
The products had not been submitted to the watchdog for approval, so it concluded that it had 'no way of knowing, except for the limited testing it has performed, the levels of nicotine or the amounts or kinds of other chemicals that the various brands of these products deliver to the user'.
A report by the World Health Organisation has found that many e-cigarettes contain toxins, contaminants and carcinogens; research backed by the National Centre for Biotechnology Information. Dr Tianrong Cheng concludesd that 'various chemical substances and ultra-fine particles known to be toxic, carcinogenic and/or to cause respiratory and heart distress have been identified in e-cigarette aerosols, cartridges, refill liquids and environmental emissions'.
No wonder that in the UK, the British Medical Association has called for righter regulations, saying: 'Doctors want to see strong regulation of e-cigarettes. Regulating e-cigarettes as a licensed medicinal product best reflects their use for harm reduction and ensures their effectiveness, quality, and safety. The BMA recognises their potential for supporting tobacco harm reduction. There is, however, a lack of robust research and evidence in this area, and any benefits or disadvantages to public health are not yet well established.'
For their part, the Electric Cigarette Industry Trade Association have challenged some of the research, and pointed to how e-cigarettes can and do help many smokers quit smoking.
I don't know if e-cigarettes cause cancer because I'm not a research scientist. Neither is Robert Webb who studied English at Robinson College Cambridge. Other former Robinson College students include Justine Thornton (wife of Labour Party leader Ed Miliband) and Nick Clegg – it's a small world!
However, I have found reports written by research scientists which state that e-cigarettes contain carcinogens, which took me a few minutes using a computer connected to the web. Did Robert Webb search for information about the contents of e-cigarettes before he recorded voiceovers for advertisements for e-cigarettes?
I haven't recorded voiceovers for advertisements for e-cigarettes. Robert Webb has and he has also written an article saying that he will vote Labour because he wants Labour to 'tax me till I fart', 'reinvest in our health service' and 'restore some sense of purpose and decency to our public life'. Is advertising a type of product which emits carcinogens which users and non-users inhale decent? What purpose does advertising such a product serve?
Remember the Jimmy Carr tax avoidance story? What Jimmy Carr did was perform a comedy sketch about other people avoiding tax while he avoided tax. Jimmy Carr was the funniest person on 10 O'Clock Live and the tax avoidance sketch was a good sketch but someone else should have performed it. However, Jimmy Carr performed it and the rest, like 10 O'Clock Live, is history.
Now consider what Robert Webb has just done. Which is worse: performing a comedy sketch about other people avoiding tax whilst avoiding tax or encouraging people to vote for a particular political party because of how another party dealt with a cancer patient while advertising products which contain carcinogens?
What Robert Webb is far worse than what Jimmy Carr did. It's infinitely worse. It's unforgivably worse. The adverts don't even contain any comedy. It's a comedian cashing in on their fame as a comedian and their recognisable voice and advertising a product which the makers state (in the very small print on their website but not in the adverts, in spoken or written form) 'may be hazardous to health'. If there are any extenuating circumstances behind Robert Webb's decision to help flog battery-powered tobacco, mint or cherry flavoured carcinogen dispensers they are going to have to be extremely good.
If you don't believe that Robert Webb is a hypocrite consider other reasons he gave for voting Labour. In his article he wrote about 'the bankers who crashed the economy'". He wrote that the banks 'lent money to people who couldn't afford to pay it back' and this was done by 'financiers who had lost touch with any notion that the laws of reality, never mind fraud, had anything to do with them'.
Robert Webb doesn't like the banks and bankers, although that didn't stop him recording a series of voiceovers for adverts for Barclays with Duncan Bannatyne and David Mitchell (who on Mock The Week described bankers as 'wanker bankers' and 'arseholes'). They advertised the bank's Take One Small Step competition in 2010 and 2011, after 'the bankers crashed the economy"'.
In his article Robert told Ed Miliband to 'ignore Rupert Murdoch because you owe him nothing'. Ed Miliband may owe Rupert Murdoch nothing. Robert Webb may owe Rupert Murdoch nothing. However, Rupert Murdoch may owe Robert Webb something if Robert Webb hasn't been paid for the voiceovers he did for adverts for Rupert Murdoch's Sky Broadband. Robert's voiceover agent describes Robert's style as "credible".
Legend has it that the Irish playwright George Bernard Shaw approached Robert Webb at a party whilst holding a folded piece of paper and asked him 'Sir, would you read this out for a million pounds?' and Robert replied 'My goodness, Well, I'd certainly think about it. Yes. Where do I sign?' George then asked Robert 'Would you read this out for a pound?'" and Robert replied 'Yes, as long as it's only a short radio ad.'
The 2015 General Election campaign has been the worst I've ever known. The visions have been unsurprisingly uninspiring, the policies have been half-baked and un-costed, the politicians have been unprepared, the tactics have been shameful and the coverage has been trivial and gimmicky.
However, if anything happened that is worse than Robert Webb waving a shroud with one hand and holding a battered 'Vote Labour' placard up with the other whilst he has an e-cigarette tucked behind his ear and a wad of cash from the e-cigarette company in his pocket I don't want to know about it.
I don't know what the outcome of this election is going to be and I could say the same about a car crash. The 2015 election has been a five-month 5,000-vehicle pile-up and Robert Webb has crashed into the back of it in a jackknifing juggernaut laden with hypocrisy and e-cigarettes.
After the election Frankie Boyle will be presenting his Election Autopsy. In order to do this election justice it should be followed by Frankie Boyle's Political Crimewatch, Frankie Boyle's Political Dawn Raids, Frankie Boyle's Political Trials and Frankie Boyle's Political Prison. Robert Webb should hand himself in and plead guilty at the first opportunity.
I don't know how much Robert Webb was paid to record voiceovers for advertisements for e-cigarettes. Perhaps he should give half of that amount to an NHS cancer unit and half of that amount to a cancer charity. If the research scientists I've quoted are correct in years and decades to come e-cigarette users may need care and support from the NHS and cancer charities
I don't have a problem with comedians expressing their political views or supporting political parties. However, if comedians do those things then they should be challenged in the same way that MPs are, especially when it comes to their financial interests.
Something that politicians and comedians do is 'virtue signalling' which is saying or doing something which tries to create the impression in the minds of the audience that the politician or comedian is a good person. It's about creating a positive image. Whenever anyone does that try to look behind the image. You may find that their virtue is merely an image which they are using to try to conceal their vices.
'Hans, are we the baddies?'
'I'm not a baddie. I'm a goodie. I've got a red rosette on my chest. Why don't you put this in your mouth and suck? It's cherry flavoured.'
Published: 7 May 2015
What do you think?