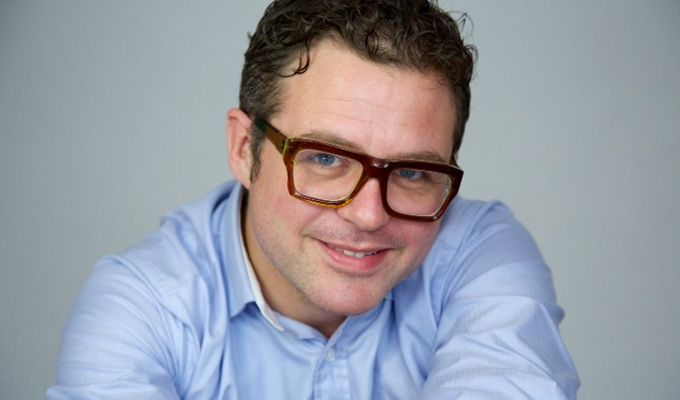 In And Out Of The Closet
Miles Jupp's sitcom In And Out Of The Kitchen has made the journey from radio to television, and it's always interesting to see how the original idea adapts to its new home. The challenges of putting pictures to words is at least as old as Hancock's Half Hour: Galton and Simpson, film buffs both, were keenly aware of the importance of 'show, don't tell', and then surprised that their early TV scripts had just as much dialogue as the radio shows.
Based on the first BBC Four episode, the big boxes have been ticked: Ian, the literary agent, shouts down his phone to an Apprentice-style Canary Wharf backdrop. There is a nice visual gag about a phone ringing up (a lot of) stairs while the doorbell rings below, and a dreamy food-porn quality to the cookery sequences. But the biggest point of interest, for me anyway, was how the gay couple at the centre of the action would be portrayed.
Gay characters in sitcom have a long history. Plenty of queer writers damn Mr Humphries from Are You Being Served? as a hateful stereotype – and just as many cite him as likeable, unapologetic standard-bearer for camp humour. Lukewarm and Delilah in Porridge are obviously gay, and treated in an entirely matter-of-fact manner, and although I've always been slightly wary about Lt Gruber's pursuit of vigorously heterosexual Rene in Allo Allo, the front page outing of Gorden Kaye (gays in fiction are fine, but shudder to think they might actually exist in real life) might be the real cause of my discomfort.
Miles Jupp and Justin Edwards play Damien and Anthony, the couple at the heart of In And Out Of The Kitchen, a writer and banker in a Guardian reader's wet dream of a Queen's Park townhouse. Since the domestic set-up closely echoes my own, I was intrigued to see how the relationship played out, particularly as the picture painted of gay life in the media is usually tinged by frothy-mouthed commentators assuring the general public that homos spend their downtime in leather, dreaming up schemes to trick innocent teenage boys into the lifestyle. Jupp and Edwards do a good job of looking like they'd rather run a Hoover over the sofa than squeeze into chaps (double entendre intended), but I couldn't help think there was something missing.
As episode one unfolded, I started to seriously worry about the state of Damien and Anthony's relationship. They don't kiss, they don't hold hands… I don't think they even touch each other.
If you watch an episode of The Good Life, there is a barely repressed erotic charge in the air: nobody can keep their hands to themselves. It would be entirely unsurprising if a lost episode surfaced in which Jerry and Margo held a dinner party that ended in guests throwing their car keys into a fruit bowl (the gag would be Tom's keys operate a tractor, and everyone is looking out for them in order to snare a tryst with Barbara).
Hyacinth Bucket gets a goodbye kiss from Richard in Keeping Up Appearances, and even Basil and Sybil 'separate beds' Fawlty have a bit of physical contact (though it's rather more slap than tickle).
Perhaps I am hard to please. Gay characters have often been more punchline than protagonist, and yet it's no more the job of a sitcom to present a 'favourable' portrayal of a gay relationship than it is for Tom and Barbara to be a template for straight folk, or Red Dwarf a warning about the dangers of interplanetary mining. Perhaps I am still processing a recent appearance on a stand-up bill with someone who recently married their same-sex partner, but told jokes about their opposite-sex spouse when on stage, proving that the closet is still something people carry around with them.
I believe that comedy holds a mirror to the society that consumes it, and I sat up when Ian, the agent, said 'fuck' into his phone, a word written by the writer, acted by the actor, and no doubt defended by the director. How television has moved from the BBC's Blue Book dictating appropriate content in the 1960s (including an outright ban on 'effeminacy in men') to the throwaway fucks of Mrs Brown's Boys is another article.
On the radio, I could imagine Damien and Anthony giving each other the pats and pokes and cuddles of day to day living. On television, these seemed curiously absent. Perhaps they are not a touchy-feely couple, and I have been guilty of projecting my expectations onto the characters. Or perhaps the world has moved in such a way that we are comfortable with sex expressed and discussed in detail; the real taboo today is love.
• Ian Hawkins tweets at @SillyMrHawkins and is the author of Insider Secrets of Public Speaking.
Published: 27 Mar 2015
What do you think?