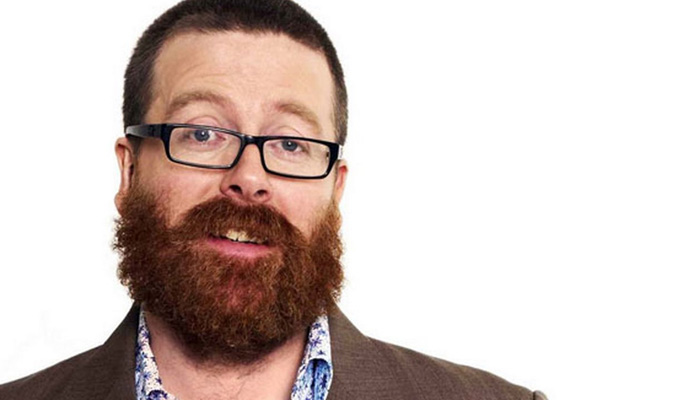 Was the BBC really horrified by Frankie Boyle?
The Daily Mirror yesterday reported that the Frankie Boyle's-written Radio 4 sitcom Blocked had not been picked up for a series. It's a shame as the show, described as a 'depraved farce', was a nice twist on the format, packed full of attitude and hard-edged gags and with a strong cast that included David Mitchell and Chris Ramsey. You can read my original review here.
But these things happen, not every pilot makes it to series, even with those sort of names attached. What was odd about the reported demise, though, was the reason given – the apparent offence caused by a surreal backstory in which Mitchell's character, a frustrated playwright-turned-theatre boss called Felix – was implicated in the murder of Lord Mountbatten, the Queen's cousin who killed by the IRA in 1979.
Asked if he was responsible for killing the Royal by bombing his fishing boat, his character replies: 'No, they tried to Pin it on me but technically speaking he drowned; very difficult to tread water with no legs.'
There's more to it than that, but naturally enough, it outraged Norman Tebbitt – who every day wakes up outrage, has a breakfast of Outrage Flakes before his exercise regime of a 5km outrage – and duly reported.
So far, so predictable. But what is weird is the Mirror said he BBC axed the show because 'executives were horrified to find the pilot show included sick jokes about the IRA killing of Lord Mountbatten'.
This may be tabloid hyperbole (especially as the Mirror has sharpened its talons for Boyle ever since he signed up to write a column for The Sun), but 'horrified'? Really?
First up to commission anything from Boyle – whose sick sense of humour is hardly a secret – and be be 'horrified' with what you get back would demonstrate a supranatural naivety. Had he submitted a slapstick tale of a child rapist ring, Carry On Grooming, it wouldn't have been entirely a surprise, or Jihadi John: The Musical, so a bit of dark whimsy seems a little mild.
Secondly, the BBC we so horrified that they did the only thing they could under the circumstances… and broadcast that horror.
Yes, they we so appalled by the script (which Boyle co-wrote with Steven Dick), that they assembled a top-flight cast, booked a studio and all the engineers, assembled an audience, recorded, edited, and played out the episode – all while being utterly horrified by what they were doing. If a person was to go to such lengths to do something that horrified them while they were doing, they would be sectioned.
If the Beeb has backtracked and said the show was now too horrific to go out - how did it get on air in the first place? It wasn't a blunder on a live broadcast… and if there's something the Corporation is good at, especially post-Sachsgate – it's layers of bureaucracy and compliance training. If it was so offensive, surely someone could have said 'no' at some point, even if it would mean the angry Scotsman snarling at them. If you're an executive paid to be responsible for your output either 'broadcast and be damned', standing square behind your decision – or choose not to put it out.
For the BBC to subsequently plead 'horror' at its own work, or even to use 'offensive content' as justification to axe a show on which its own employees had oversight seems like cowing to a tabloid agenda. But then there is that charter up for renewal…
Published: 25 Jan 2015
Recent Opinions
What do you think?