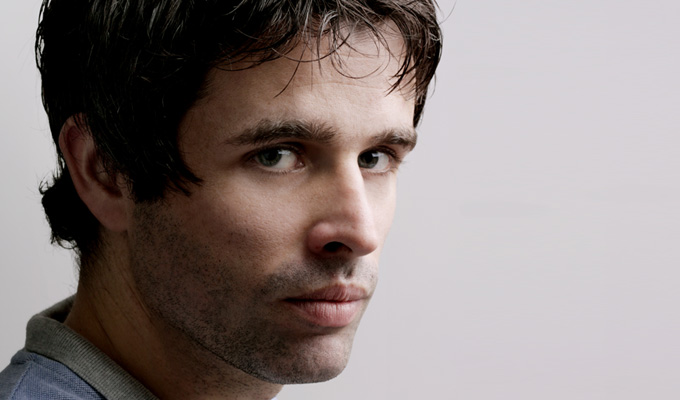 Is Russell Brand funny?
'Sixty four per cent of people say Russell Brand isn't funny,' – says The Sun newspaper; managing somehow to sound just like some obstinate fat-bloke heckler sitting with his arms crossed in the front row of a gig.
Normally that fat bloke is reacting that way because they are insecure about the reaction the comic is getting from the audience and often from their wife (who never laughs that way at their jokes).
I can't believe that The Sun has investigated comedy's most notorious lothario and all they can come up with is a poll stating that Russell Brand isn't funny. Well Russell… You're just not funny! Just like Frankie Boyle, Michael McIntyre, Jack Whitehall, Dara O Briain and anyone else who is successful, anywhere, in any form of comedy…
Many years ago, I used to run a comedy club in North London called the Gilded Baboon with comedian Liam Mullone. We would feature five unpaid open spots and a headliner, whom we would pay the princely sum of £50 because, as Liam used to put it, 'we need to make sure we have at least one person on the bill who isn't shit.'
Liam's laconic take aside, we actually managed to rustle up a pretty decent selection of newer acts, who mainly played our joint because we always got a crowd, because they liked us, or, more often, because they felt sorry for us.
Now, I never knew Russell Brand when he hosted at MTV (and got fired for dressing up as Osama Bin Laden) but I distinctly remembered the buzz when he got off heroin and returned to the lower echelons of the stand-up circuit. After hearing from a couple of promoters that he was this charismatic, intelligently self-deprecating and completely original guy, we decided to book him to do ten minutes. If he was any good we would pay him £50 to come back and headline.
In his ten-minute trial spot he completely blew away the other open spots –  and the headliner. He was natural, edgy, and his brutal yet accessible dissection of media was a masterclass in modern observational comedy.
Now, a lot of people came to know Russell from being famous, a bit hyperactive, having massive hair and being an A-list womaniser. And for a lot of people (myself included) 'arena tour Russell' was a bit much. Certainly I found his Dickensian language a bit over-the-top and I'm not sure if he is someone that blossoms so well when given too much attention.
But the Russell Brand of the early days in the circuit, when he was nobody, was a revelation in technique, charm and insight. Nowadays there is a lot of speculation as to his working class credentials and personal wealth, but I can tell there was definitely a time where he would (as he put it) 'have to come all the way out to fucking Kentish Town' and perform for 20 minutes for £50. And be happy to have the gig.
What was immediately apparent about Russell was his ability to turn over a phenomenal amount of material. Because his observational insight and on-stage persona were by this stage already so well defined, he was able to create about ten minutes of material from a single daily newspaper (often The Sun, ironically) . He took the piss out of modern society, bigotry, journalism and politics but was still able to keep it grounded, genuinely funny and not be afraid to get distracted and go off on absurdist tangents.
Our regular audience members were coming up to us and thanking us for having managed to book him. One night I remember even now. He was in between bits of material and he noticed a rack of pigeon spikes outside of the window of the pub. He opened the window and grabbed them, going into a long diatribe about how it reflects modern society that a pub would feel the need to 'impale pigeons in some kind of bizarre medieval torture device' to combat the 'catastrophic issue' of 'pigeons landing'. It was a sublime piece of comedy which you could tell was properly off-the-cuff. It was very clear that this guy was on another level.
About a year after that gig, Russell was in LA and an A-List celebrity. His stand-up was massively successful but I wasn't such a great fan of it. I think that was because I remember how much better it used to be.
My comedy club died, I quit being a stand-up and moved to the Greek Islands, but, strangely, it feels like nowadays everyone in the UK is talking about Russell Brand.
Now I haven't read his books, and I'm not informed enough to comment on whether his revolution will happen, or whether it is a good idea... But I think The Trews, along with Last Week Tonight with John Oliver, is some of the best comedy out there. It is a modern-day incantation of Bill Hicks done in a British style. The Trews is wonderful, because it is the intelligent, thoughtful, toned-down Russell that who used to play our comedy club.
So The Sun can stick its bullshit poll. I was a promoter for three years and a comedian for ten. And we booked a lot of acts. About half of those acts are on television now in some form or another. But in terms of audience reaction, Russell was the best act we ever had. By a long way. And that isn't playing the Apollo to a bunch of fans who have paid £40 a seat. That's playing to an audience of 40 people who have paid £5, in a poky room above a pub in North London.
I think that's why I can't agree with The Sun. Russell is funny. I've seen it. I've seen it twice. But then we know why they printed it… They printed it because they needed to try to defame him and they didn't find anything. They're just that jealous fat man in the front row at the gig screaming: 'This isn't funny.' And just like in his case, I'm not sure anyone is really listening.
Published: 7 Dec 2014
What do you think?