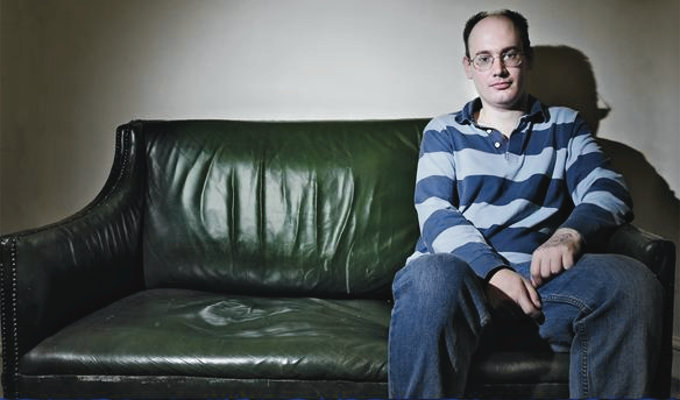 In defence of Dapper
Here is my reply to Lee Kern's open letter about the new ITV2 show Dappy Laughs: On The Pull being a 'rapist's almanac'.
Leaving aside the fact that an almanac would suggest only one episode a year – and that Dapper's show isn't going to win any artistic awards – why so angry? Having forced myself to watch it the only real problem I had with it was trying to stay awake. But to be fair I'm not exactly the target market and I've seen much worse dating based TV shows over the years.
If Dapper has a redeeming feature, it is the empathy he has with the people he is 'helping' to pull. There's a nice little scene where he tells a boy to play his guitar and it turns out that he can and Dapper says something along the lines of: 'No, I can't take the piss out of that' because he plays well. It's crude but not snide. Dapper Laughs may be devoid of aspiration, imagination, dreams, vision and passion – but on the upside he does at least like the people on his own show which many presenters of similar formats of such television simply don't.
Examining the ludicrous central premise of the article …that Dapper's "oeuvre" encourages rape... Sure Dapper comes over as a boorish boring idiot, but that doesn't mean he has the profile of a rapist. Connoisseurs of the Yewtree saga might notice that most of the suspects are in fact the exact contrary to Dapper. Men who are described constantly as 'perfect gentlemen', 'ultimate professionals' and 'a joy to work with' by those they meet on a regular basis but who when they get a single woman alone and vulnerable are capable of the most despicable sexual assaults and rapes from which they walk away pretending for years on end that the ever increasing number of complainants couldn't be anything to do with them because butter wouldn't melt in their mouths. If there is an upside to Dapper & Co's boorishness, it is that they're just not really bright enough to be sex offenders even if they wanted to.
And why would they want to? They seem perfectly capable of procuring shallow one night stands with equally silly birds down the local meat market. Indeed one might argue that Dapper's trainees are exactly the people who aren't going to become rapists. They're the people who know they have problems relating to women and are trying to do something about it – even if it's the wrong thing.
Sure the humour is crude but … is it unusual compared to what you can see on the live circuit? For better or worse I'd say no.
Mr Kern goes to great lengths to tell us that this is not a class issue. But isn't it? An early Russell shagger-of-the-year Brand could be seen doing material just as boorish as Dapper and was not playing a character but somehow that's okay… when it's basically exactly the same look-how-many-birds-I-done-drivel? So why is it okay for Russell but not for Dapper? Consulting my handbook on Intersection Feminism, I came up with the answer that Mr Brand has North London Privilege. And Dapper's sin is a South London Accent.
Mr Kern seems to think that Mr Dapper is an anti-intellectual. I don't think he is. He's just not particularly intellectual. There's nothing wrong with being intellectual but everything doesn't have to be, and not being intellectual doesn't make you anti-intellectual. For example, there's very little intellectual content in this YouTube video on how to make a penis sculpture out of a napkin …
…but that doesn't mean it has no artistic merit or shouldn't exist.
Dapper's show deals with young men who are uncertain how to relate to women. Men who want to know how to show their interest without either coming over as a wallflower or making the lady run a mile. It's not my idea of a good evening in front of the telly, but it may actually have some sociological merit.
Anyway I actually found some of the participants quite endearing with their tales of how they'd had 37 ladies when anyone with any life experience can tell they probably haven't even had one.
I'll cut to the chase. I thought Mr Kern's article was not really feminism but prudery masquerading as feminism. Not that I'm a feminist but I've wasted some of my life reading about it, learned nothing and would like the time back.
Maybe Kern is right but if he is where does it put stand-up shows like Nik Coppin's Shaggers? Or indeed a night at any large chain of comedy clubs we could name ….that would not engender this level of venom?
Why is Mr Kern so angry?
Here's my theory. He actually says: 'I wouldn't publish this unless I felt sufficiently tired of the tacit acceptability of Dapper Laughs' brand of hateful nonsense or felt that the need to speak up outweighed any fear of career damage.'
Yes, the man actually thinks that writing a correspondence piece for Chortle can damage his career in TV. The truth is it won't. No one really gives a toss what you say here and if they do they'll get over it. You are internet phobic, Mr Kern. You and Mr Dapper are actually mirror images of each other.
While Dapper commits his every vacuous thought to the ether on multiple platforms – 'The timeline of his life is a dog dragging its anus on the floor and then looking to camera with its tongue ogling out' – conversely you, Mr Kern, genuinely believe that if you say anything out of turn the sky may fall in on you.
Mad. It won't. Mr Dapper may be too uninhibited but at least he hasn't been too enslaved by his own fear to speak his mind for 36 years. Just say it, Mr Kern. Most people forget.
Published: 15 Oct 2014
What do you think?