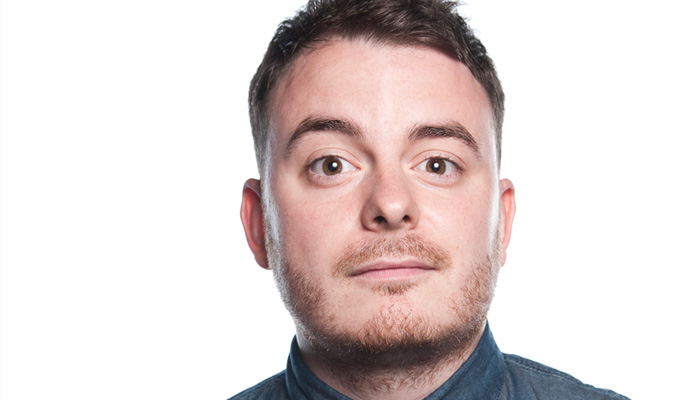 I'm sick of doing well with jokes I don't find funny
Whenever I've heard successful comedians give advice, the message always seems to be along the lines of 'Do comedy that you, personally, find funny'. If this is Rule 1 of stand-up then I have been failing miserably for the last three years.
The thing is, I haven't actually been failing, as my foray into stand-up has been on an upwards spiral – but while doing the sort of comedy that wouldn't make me laugh as an audience member.
The first line of my very first review - for the final of a competition I was in last year - pretty much sums it up. The reviewer wrote 'The sheer clubbiness of Tom Holmes made him stand out from the pack - as it's not the most fashionable comedic style these day.'
Although, when I first came across the review I misread it and thought it said 'The sheer chubbiness...' and I wondered what my poor metabolism had to do with my standupability. But I can't argue with the statement. For that gig in particular I remember cranking up the persona with the addition of a rather fetching tracksuit top… sexy. I thought, If I'm going to stand out in a final full of top comics, I'm going to need to go full throttle and fully commit to the Sergio Tacchini clad, masturbation material, lager drinking, chimney sweep twat.
Unsurprisingly the review went on not to reference how funny I was, but instead to call me 'likeable' and 'affable' - I had to Google it; turns out they mean the same thing! He also went on to label me with the old adage that has followed me around since my inaugural gig in 2011 'Cheeky Chappie.' Something which makes me sound like a Paedophile Supervillain.
It is my own fault; I embraced the persona very early on and, if anything, have ramped it up over the years when I saw that it was working. It made people laugh and it felt comfortable. There have been a couple of times where I have bitten the bullet and decided that I am going to try something new, something that I myself would find funny… but on both occasions the outcome was colossally bad and going back to my previous ways, and getting laughs, was the morphine that made me feel better. And morphine is addictive.
This year's Edinburgh was the real eye-opener. Firstly, I became increasingly tired of the half-hour of material I was doing every night at my two-hander show. Even when myself and James Shakeshaft had a fantastic night, I wasn't fully satisfied. It was the guest spots I was doing at other various shows throughout the fringe that kept me going. I felt a lot freer, a lot less restricted and more able to try new things and have fun. If all of my own shows had felt like this, Edinburgh 2014 would have been the best comedy experience to date - whereas it felt like a month of self-doubt and frustration.
Secondly, I watched another comedian who really made me want to be brave and do what I would find funny. A comedian who clearly does what he finds funny and has found his place, his persona and his audience as a result. That comedian... is Jim Davidson. No. No it wasn't. It was John Kearns.
I gigged with John in Finsbury Park in November 2012, and wrote in my weekly blog that he was 'my new favourite comedian'. He blew me away. I decided that one of the first things I was going to do at this year's Fringe was watch John's show, and I thoroughly loved it as I knew I would. It was perfect. I'm not a reviewer and as a result I won't be dissecting it and going too deep into its mechanics, but it was just beautiful. It wasn't as 'out there' as I was expecting. It was incredibly well-written but the delivery, the stage presence, the 'seasoning', as a comedian mate of mine so brilliantly put it, was the genius and what set it apart from everything else.
This may sounds weird, like I'm some kind of crazed stalker/comedy fanboy, but I actually dreamed about it that night. It wasn't so much about the show itself, it was more about how my own show could be. A show that was written with nothing but my own sense of humour in mind, a show that didn't pander to anything or anyone. A show that was watched by an audience who shared that sense of humour.
I understand that acts like John Kearns haven't always been able to perform to their audience and without a doubt have died on their arse a hundred times. But they died doing what they loved.
It was at this Edinburgh Festival that I made a pact with myself, a promise that next year I am going back with a show that I myself will find funny. A show that I will be proud of. All or nothing. Go hard or go home.
I thought that I'd be sick of gigging after a month in Edinburgh, but surprisingly I was looking forward to getting back onto the circuit and trying the new approach. It felt as if I was starting completely afresh.
This, however wasn't quite the case, as I was booked into paid gigs and nights where I was told strictly to do my best material, and with larger crowds I felt secretly quite happy to have been forced into doing the tried-and-tested.
But I have drip-fed the new material into the big gigs as well as fully committing to it at new material nights. It is tough to go out on a limb with stuff that could very well bomb, especially when you know you have jokes in your arsenal that will work in that room. On a couple of occasions, there has been material that has invoked a largely indifferent response from the audience… but on both occasions, one single person in the crowd has been really, really laughing. I've taken this as a positive and a sign that it may work, as at least there are two people that share my sense of humour.
Maybe I'm yet to find out that my sense of humour is too niche and not actually that funny. I just don't know. All I do know is I have to be brave, I have to fully commit to it, I have to be prepared for some anguish and sleepless nights.
And I have got to find a shop that sells cheap wigs and fake teeth.
• Tom Holmes tweets at @The_Tom_Holmes and his website is here.
Published: 24 Sep 2014
What do you think?