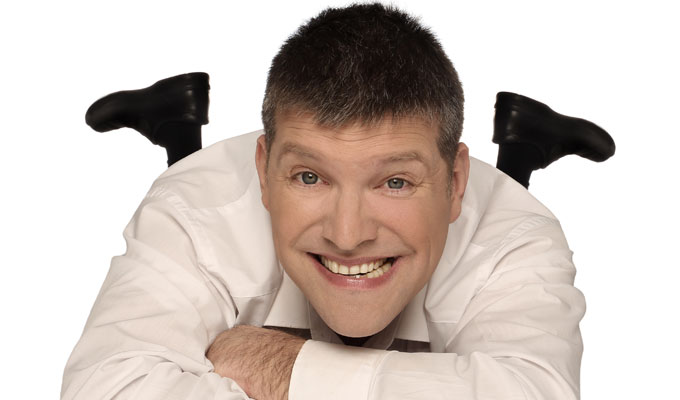 Time to laugh at the bloke in the wheelchair
Traditionally we disabled comedians have, quite rightly, tended to focus on the various bizarre and sometimes discriminatory ways in which people react to us. This has proved a rich vein of comedy. I myself have spent many a day on the streets of London with a Hidden camera, doing crazy stuff like collecting money for my charity 'Kill the Puppies' or asking the public to try my new brand of caffeinated lip balm - the 'Spazz-Stick'!
However there are drawbacks to doing this kind of material to a mainstream audience. For one, you're preaching to the potential abusers, asking people to laugh at things they may well have done themselves in similar situations. This means the disabled comedian has to work extra hard to create an atmosphere where an audience, in essence is laughing at themselves.
But also, your on-stage persona is restricted if all of your comedy is just coming from you taking the piss out of other people and situations. I've always preferred comics who are as equally self-depreciating as they are caustic about others. The humour of my favourite comedian, Larry David tends to come from him saying what we all think but would never dare say, leading to him winding up in some excruciating situations. We therefore tend to laugh at him, not with him.
However, persuading an audience that it's OK to laugh at a bloke in a wheelchair with cerebral palsy can be no mean feat. In our age of political correctness, audiences need reassurance before laughing at a member of a minority group. But I don't want them to laugh at my impairment; I want them to laugh because I behave like an arsehole.
My latest Edinburgh Fringe show, Moments of Instant Regret, feels much more truthful, because the peculiar treatment I tend to receive as a disabled person is really only half the picture. If I'm completely honest, I've not to always handled things in the best possible way either. So over the course of an hour I relate various stories where my behaviour was less than perfect. I heckle a well-known comic (who's probably reading this article) over their disability-related material. I literally reduce a waiter to tears. I behave absolutely appallingly to a fellow person with cerebral palsy. And on a disability rights protest, I wind up biting a policeman's ankle.
I've come to realise that my material can't just be good PR for disabled people. After all, I'm not some sort of spokesperson for my kind because, let's face it; if a minority group were to elect a spokesperson, the last person they'd pick is someone who takes the piss for a living!
Besides, nowadays we have a much broader representation of disabled people in the media, so maybe there's room for a bit more honesty? Because truly equal representation must surely include those times when we get it wrong and behave like an arsehole? After all, we're only human.
• Laurence Clark: Moments Of Instant Regret is at Assembly George Square at 19:20.
Published: 4 Aug 2014
What do you think?