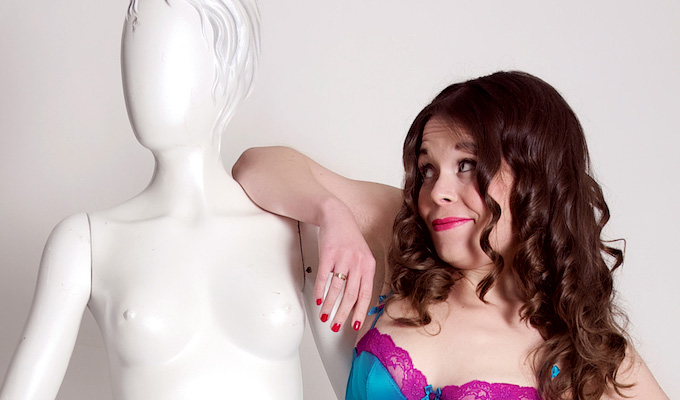 'Being honest means I am being vulnerable...'
I hate offending people. But it's unavoidable, right? Especially in comedy. Any joke can offend someone. I have friends in comedy who think being called 'inoffensive' is pretty much the worst insult you could be given.
For others though, the biggest offence as an audience member seems to be when comedians have nearly completed their set and then declare; 'And THIS bit is ACTUALLY true!' Doesn't that imply the rest was all a lie?
I am terrible at faking it. I can't fake a laugh. I can't fake an emotion and I have lost many ego-bruised boyfriends for not faking it enough.
Comedians tread a weird line between honesty and faking it. A persona can be faked. An emotion can be acted. A set up to a punch line can be simply made up. All to provoke a laugh. Al Murray, Ali G, Marcel Lucont – all brilliant but faked personas (I wish Marcel was real because I would marry him tomorrow). But the comedy is still honest and clever. Unreal characters who say things far truer than I would dare to as myself. I would love to do that sort of character comedy and hide behind a character. But the shows I currently do aren't character stuff. Yet.
My shows are extremely honest. Sometimes dangerously so. I do 'docu-comedy' – documentary and comedy - because I used to be a journalist and still have that part of me that sees the world through a journalist's eyes. I do want to be utterly honest (unlike some journalists) in my shows – to explore a real question in a true story with no fakery. But I also want it to be funny.
So where do I draw the line? Does it all HAVE to be tediously true? Do I have to be pedantically plausible? Or can I embellish, exaggerate and enhance in the name of entertainment? It's a balance – to bring out the funny in the utterly truthful? And if I'm trying to be funny and truthful – how can I avoid offending people?
In my new show Look At Me, if I'm going to be honest I'm going to have to talk about a few things that will probably cause offence. It is all about whether who we appear to be is who we actually are. To research the show I spent time dressing in different guises – sometimes using prosthetics to explore the question.
When I tell people I wore the hijab as part of this research there has been sudden strong reactions – people can seem offended just by the idea of this. I did seek advice from the Muslim Women's Association of Edinburgh to try to approach this in an informed way. But there are still intense attitudes and I'm aware people might misconstrue my intention.
I spent a day dressing revealingly – to see if that is the key to confidence. But that provoked shocking experiences that invited me to question how much misogyny and sexism still exist. I'm very nervous talking about that on stage. Having spent a day parading myself around like a piece of meat or prime rump steak I am a tad nervous of what reviewers, audiences and my polite, middle-class, modestly dressed parents might think.
I spent a day as a man – so I might tread a fine line between having fun as a man and poking fun at men. I spent a day as an old lady which lead me to discuss the desexualisation of older women. That might offend. I spent a day in a fat suit. That might offend even though I used to be a size 20. When I was that size I used to be offended by easy, unintelligent fat jokes. So I've avoided cheap sizeist gags. But have I sacrificed all the funny? I don't think so. The experiences that happened were hilariously unreal and yet totally truthful – so I'll let them do the hilarity.
And I even introduce people of physical difference – the facially disfigured, physically disabled people, those with Hidden illnesses and more - into the mix through multi-media. My intention there wasn't to cause offence but encourage people to think twice about first impressions.
I even try to explain my mental disorders. And this, I know from first hand, really can confuse, threaten and sometimes repel people who don't want to know more.
By talking so openly about the reality of living with my mental health stuff on stage, am I inviting my head to explode again? It would quite possibly be hilarious for audiences and a great way to market my show: 'Come! See a woman go mad (again) in front of your eyes!' But then most performers have some sort of breakdown during the Edinburgh fringe so it's not much of a USP.
This show has grown into a beast. I created a monster. It is taking over my life. A nice idea became a bigger execution, absorbed bigger concepts, invited bigger questions, begged more time, energy, research, effort and sleepless nights.
And all these issues deserve a proper informed, intelligent airing; possibly hour-long discussions; possibly on Newsnight. But a) that doesn't sound like a fun comedy show b) Other people have done those shows far better (Adrienne Truscott's Asking For It, for example) c) that wasn't my original intention and I only have an hour to cover all this.
So I could use some reliable techniques to deal with the possible offence-causing. I could go into it with a sledgehammer approach and try to be Frankie Boyle. I could make sweeping generalisations like some comedians or I could blame society for all the wrongs in the world like others. But I just don't believe that. That's not my 'voice'.
If I'm going to stand on stage and risk upsetting the entire audience I may as well be absolutely sure this is what I mean to say. Is this my voice? Or what I think people want me to say?
If I worry about what reviewers, audience members, my parents think of all this then I will be a mess. I wouldn't make it to August.
Being honest means I am being vulnerable. I'm exposing myself – and not in the fun way. My honest opinions may offend, my honest experience might shock, my honesty about what is going on in my head on stage might break down too many barriers. Psychologically and emotionally.
But breaking down the barrier between entertainer vs audience is fun. Taking away the fourth wall removes all arrogance and fakery. Audiences seem to really relate. And yet I'm still asked, 'Did that really happen?' Sometimes it's almost as if they want to be conned. Or are so used to shows being a fake façade they're still skeptical when they're assured it's not.
Is it right to break down the façade? Isn't that our armour? Isn't it a protection to brace ourselves as performers against the potential judgment from audiences, reviewers, ourselves? 'Laugh at the character: not me', 'hate the persona: not me', 'The fakery lives on stage: I escape home afterwards.'
I do think audiences appreciate honesty. I think boyfriends appreciate it when they know I will never fake a laugh… or anything else. If I laugh with you I find you funny. If I cry with you I am upset. If I tell you something is truthful – like my show - it is. 
I don't think it has to be faked. 
But I do think I will be calling my therapist a lot in August. 
• Juliette Burton: Look At Me' will be at the Gilded Balloon in Edinburgh from July 30 to August 25. Tickets.<
Published: 30 Jun 2014
What do you think?