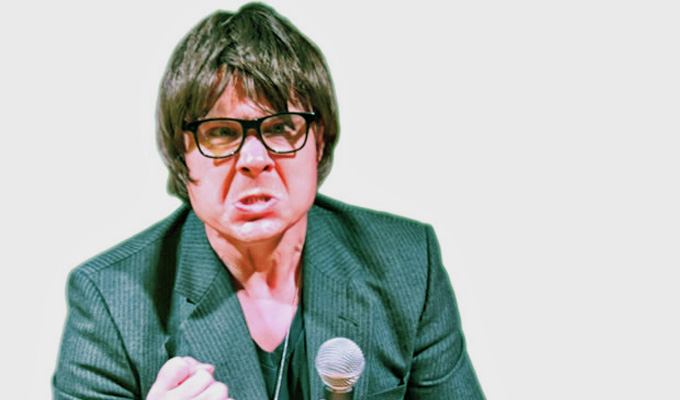 I should be on TV
I'm going to come right out and say it: I should be on the telly (or laptop, tablet or smartphone which is how a lot of telly is being viewed these days).
Actually, I have been on the telly. A couple of times. I featured as a talking head on The World's Top 50 Left-Handed Celebrities on Bravo a couple of years ago and at school I were on BBC North West Tonight because we were doing a sponsored trampoline for Children In Need. We were supposed to be on the main Children In Need telethon but the live link went down seven minutes before we were due to go on air.
So, as this example illustrates, luck can play a part when it comes to that elusive TV exposure. The right place, right time, right look, who you went to university with; these are other reasons some of us have or haven't managed to make it on the box.
People say only the young, telegenic, trendy haircutted, skinny-jeaned brigade get the TV gigs but I tick all of those boxes. I could be the brigadier of that brigade (if you like) but where's my break?
'So how come you're not on the telly already?' I hear you cry. Don't cry. It does no good. I learnt that. Instead of crying, I've channelled that energy into putting on my own live TV show. It's on tomorrow and Wednesday at The Leicester Square Theatre at 7pm. It's like a pilot and shows off my presenting skills, celebrity-interview competence, general comedy, character acting, singing, current affairs knowledge, audience banter (I'm already well-known for my banter), and other things.
I've asked loads of industry people to come to me show and hopefully one of them will see that I've created a 'ready for telly' show and sign me up for a series or something. I'm going to film the show as well and then edit it together as a pilot and send it out to any commissioners and producers who didn't come. It's called 'being pro-active' and that's what you've got to be in this game (unless you got lucky early and someone important championed you. Then you probably don't need to be as pro-active, although some of the people I'm alluding too are still very pro-active).
You have to be careful though as some meetings with production companies end up with them stealing your ideas (you know who you are and don't think you're going to get away with it just because you changed the title and some of the features and the style and instead of me used someone else. I sent that idea to myself in the post so I've got copyright proof, so I suggest, if you're reading this, you stop ignoring my emails and calls or you'll be getting a stiff letter from a solicitor!)
I think the other reason I haven't been on telly recently (see TV credits above) is that the panel shows know I'm unpredictable. They have to stick to a rigid format, I'm too much of a comedy maverick. Incidentally, you probably think all the people on those panel shows are making stuff up on the spot. They're not! Some of them even have writers! (I'll probably get in trouble for this but it needs to be exposed. See me as comedy's Julian Assange. Or Edward Snowden. Or the other one who's now a woman).
Also, I'm probably considered too edgy for Live at The Apollo or Michael McIntyre's Roadshow but I could dumb down if need be. I can adapt. I'm as comfortable doing high-brow political satire as I am doing dick jokes, shouting out the names of local areas and saying 'nobhead' to a rowdy weekend crowd in Manchester. (To any promoters reading this who haven't seen me, it's true, I really can do well at the full gamut of gigs and I can probably get a couple of other comics to recommend me).
Another thing, I won't do Comic Relief. Just giving them money, it's like that saying: 'Give a man a fish and you'll feed him for a day (probably more like one meal, depending on the size of the fish. And what's he going to have with it?). Teach him how to fish and you'll feed him for a lifetime (providing he likes fish. And lives near water).
In the unlikely event I don't get my own telly show out of this, there's always the internet. Lots of people watch youtube. One of my videos has got more than 240 views! That's more people than I perform to live in a month. And I didn't have to go anywhere.
One last thing. There's been all this talk on Chortle recently about whether 'club comedian' is a derogatory term. Well, just to clear it up, if you're only referred to as a 'club comedian' then yes it is. I'm a 'club comedian', but I'm also an 'arts centre comedian' and a 'festival comedian' and most importantly, 'a TV comedian' but I just haven't had that chance yet.
• The Donny Donkins 'As (Hopefully Soon To Be) Seen On TV!' Show is on this Tuesday and Wednesday (June 3 and 4) at The Leicester Square Theatre Lounge at 7pm. £8.

Published: 2 Jun 2014
What do you think?