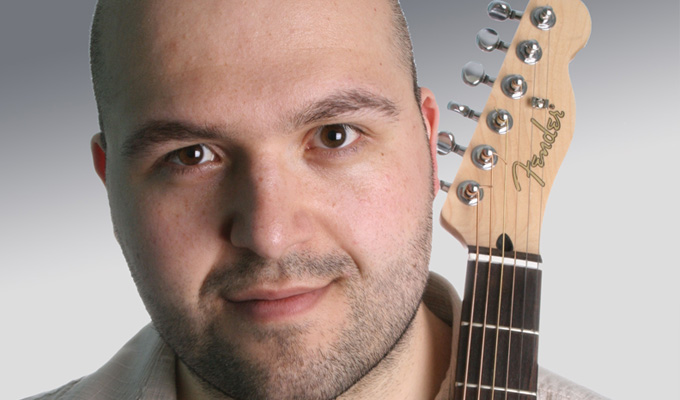 You don't have to be mad to work here
I was disappointed to read on these pages of Katy Truelove's unpleasant experience on the London open mic circuit. I can't say I was surprised, though. Certain promoters are well known for their ridiculous shenanigans and it seems that their mental stability, or lack of it, is part of the backdrop of the comedy circuit.
I have absolutely no desire to be an apologist for anyone's mistreatment of anyone else, but I'd like to challenge the notion that this sort of behaviour is representative of anything, or is some sort of specific comedy sub-culture. The sad fact is that comedy attracts people who are not especially well adjusted, and the behaviour of the poorly adjusted is easy to criticise. I think this behaviour is neither intentional nor accidental, it's just irrational. How this comes to be common is a question of the weird economics of the comedy world we inhabit.
As a new act, or an act that is not actively sought after by good promoters, one has to pretty much court any gig that will either provide stage time or payment. This is, in itself, a kind of sickness.
For career comedians, making their way up the ladder or paying the bills, it's a grim means to an end. For those trying to learn the craft, or prove themselves, the seeking of gigs is similar to drug-seeking behaviour. While Katy did not in any way deserve to be compared to an actual prostitute, especially on the basis of some sordid association in the promoter's mind, I feel like a lot of us comics are, metaphorically, selling ourselves.
If you are to be a comedian, you need to gig. If you need to gig, then you need to get into bed (again, metaphorically) with whomsoever will offer you work. Perhaps this makes comedy the second oldest profession.
The need that acts have to perform gives promoters the power and impunity to do what they like. Nobody wants to burn any bridges when they're entering the world of comedy and that further fans the flame. Worse still, some promoters claim to be offering career progression or exposure, so one feels the need to suck it up and turn a blind eye to their "quirks".
If there wasn't something wrong with us, we wouldn't feel the need to be comedians, so I guess we can all be forgiven for the times we've attempted to look past the unacceptable things our fellow acts and certain promoters have done, shrugging them off as high jinx, just a joke, or a great story to tell other acts at future gigs. The truth is that we're all partly to blame for this, and I don't see how the comedy world will ever truly rid itself of the various unreasonable people who throw their weight around and make more misery than mirth.
Talking of unreasonable people, here are a few archetypes:
The Faulty Philanderer – has mistaken the booking of female acts for the booking of an escort for the night. Tells tales of conquests that don't ring true. Will often compere his own gig and use it as a platform to find a bed for the night. Often lives in a basement with his mum.
The Street Preacher – accustomed to shouting out loud in public. Runs a small pub gig which is not well attended or promoted. Uses the line 'did someone build a comedy club around your evening out?' when in fact, that's exactly what he has done, attempting to start a gig in a room which hasn't even got a PA system, stage, or chairs facing any focal point.
The X Factor judge – promises to offer you your big break in comedy but uses your involvement in their gig as an opportunity to give you 'feedback'. This is less about improving your act and more about increasing their sense of self-importance.
The Protection Racketeer – this person dangles some made up nonsense in front of you about how hard it is for you to get a break in comedy, owing to your age, gender etc, and then tells you that only they can help, at a price. This is often accompanied by a list of successful acts whom they've met, as though they somehow caused that success.
The Trading Standards Black Hole – this person runs a gig which no audience member, act, venue staff member, or flyerer will be associated with more than once. Owing to the huge turnover of acts and the huge market for one-time attendances of comedy nights, they're somehow able to keep putting nights on.
The Peanut Bank – this promoter runs a variety of cheap nights where you could be paid almost as much as it costs to get to the venue. They keep you on the books as a newbie until you're doing so well that you stop asking for work. This promoter will also run some better gigs, using decent headliners at decent money – the best you can hope for at these gigs is to make money as the designated driver.
The Well Intention Chaos Merchant – this promoter is doing their best and is usually quite lovely, but has no idea about comedy, live entertainment or even human nature. The night may come together as everyone does their best to compensate and make good on the unrealistic expectations the promoter set for themselves. Sadly, this only encourages them to do more of the same.
Don't get me wrong, I don't think comedy is a bad world to inhabit. For every promoter monkeying about, there are countless others herding the hilarity. I have had the pleasure of working with some brilliant promoters recently, who have done their best to bring the right audience together to see carefully chosen acts, treating everyone with respect – this is actually the norm within the independent comedy clubs around the country. It's just a few oddballs letting the side down.
Maybe there are things we can as acts. We don't have to suffer in silence. Perhaps we should follow Katy's example and publicly censure the worst offenders more often; after all, didn't we get into comedy to say the unsayable?
• Ashley Frieze has nothing to promote. Nothing at all. No, don't Google him, or look him up on Twitter, YouTube or Facebook. Just ignore him, he's only drawing attention to himself.
Published: 16 May 2014
What do you think?