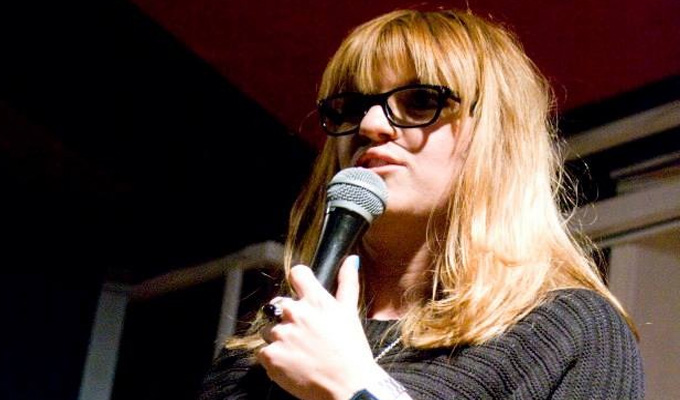 'I deserve better than to be introduced as a prostitute'
Enough has already been written about feminism in comedy, and I never saw myself as a particular standard-bearer, but at a recent gig I was confronted with actions from a promoter and MC that were so misogynistic and unprofessional, I feel I have to bring attention to it...
The occasion was my first gig in London. I was seriously excited not only by being in the capital, which I love, but also by the midweek open-mic gig, which offered the prospect of securing a weekend spot, if it went well.
I won't mention the gig, or the offender's name, though many will guess. When I met him he immediately launched into a story about 'disgusting' Manchester prostitutes he knew, one of whom apparently looked like me. Apparently I'm the second woman he's ever met from Manchester with tattoos.
Now it's quite upsetting to be compared to a person previously described as disgusting, and is it really still that surprising to meet a female with tattoos? And even if it was, I'd like to know how many people would make the immediate link to a prostitute – and then vocalise that.
If that was the end of it, we could probably chalk it up to social awkwardness, and move on. But it wasn't.
After the MC fumbled around to try to put a line-up together, us comics were asked to sit at the front, since a real audience was non-existent.
Within minutes, he turned to me and proceeded to tell the other acts that I am indeed a prostitute from Manchester. A few more minutes pass and its my turn on stage, and I am introduced as The Prostitute from Manchester.
Come on?! He's taking the piss now. At an already tough gig due to lack of audience and for several other reasons, would an experienced and more importantly, funny MC mention something so awful?
I'm no freedom fighter, hell, i'm not even a feminist per se and I certainly don't go to my gigs picking holes in what's going wrong or how many females are on the line-up. All I expect at the very least is to be called by my name and not referred to SEVERAL TIMES as a prostitute. That just isn't cricket, pal.
I'm a nice person, easy to get on with and certainly easy to gig with. I believe that people should be booked because they are funny, obviously, but I also feel that out of the hundreds of professional and unprofessional female comics on the circuit, that MORE should be booked because, well, they're funny.
So why the personal attack? Was it meant in jest even? I'm not sure, but it did hurt me and more to the point, it devalued my presence on stage. I've nothing against prostitutes; but to make that ridiculous link, for whatever reason was out of order.
Would this unprofessional sexist idiot have enjoyed it if I referred to him as an unfunny tosser with poor taste in hats? All acts deserve to be treated with the same respect as anyone else. Regardless of gender – or body art.
It won't come as much of a surprise when I tell you I didn't get called back for the weekend. To be honest, I was relieved. There's some people who I'd rather not gig for.
Published: 15 May 2014