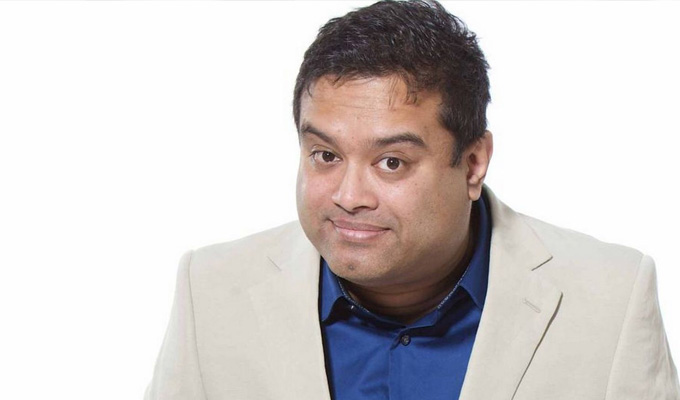 Paul Sinha champions 'club comedy'
A few weeks ago I won my first ever comedy award, after several surprise nominations. I am Club Comedian of the Year, according to Chortle. Although I am perfectly aware that I am not the best out there, I was flattered to be recognised and saw the award as a compliment.
Was I wrong? Is the term 'club comedian' a subtle insult? Scott Weddell in his fabulously asinine Correspondents piece certainly thinks so.
I feel that I am in a good position to pass judgement. I have been a paid club comedian for 15 years, and have pretty much played every well known comedy club in Britain. I have tasted triumph and disaster, and sorry Kipling it is very difficult to treat those two impostors just the same. It's a fine ideal, but once you have looked into the eyes of a woman contorted with rage who just stares at you and says 'These aren't jokes, these are just stories about your life', it is hard to recover.
I have also done several well-received solo shows at Edinburgh, and have just completed my second national tour.I don't feel that I am 'naturally funny', I can't do impressions or accents, I can't play guitar, I don't do physical comedy, I sweat when I am genuinely improvising. All I have really is material. And you know what? I bloody love being a club comedian.
What Scott doesn't seem to realise is that the term 'club comedy' covers a huge variety of venues. Jongleurs is not the same as Comedy Store. Comedy Store Manchester is not the same as Comedy Store London. Late Show is not the same as Early Show. (Two of my worst deaths ever have been at late shows where the early shows had been a joy).
Last night I was on stage at Birmingham Jongleurs. At the same time the Glee Birmingham will be running, and Jason Manford's new Birmingham venue will be running. All three gigs will be very different from each other. To dismiss it all as 'crowd control' is ignorant in the extreme.If that's all it was, believe me I wouldn't be making a living at it.
And those are just the big venues. All around the country tonight rooms of every shape and size will be packing them in. And a large number of comedians on show will be good. Really good. Creatively ambitious, and successful in their own right.
Last night, legendary Canadian comic Mike Wilmot headlined the Glee Cardiff. Jason Cook, the creator of Hebburn, wass one fifth of the bill at The Store Manchester. Despite being northern he has some non-cake material.Celia Pacquola (Comedy Box Bristol) will be as far removed from whatever stereotype one might have of club comedy as possible. I'm not sure that she has any material on who she looks like. TV's brilliant and upwardly mobile Romesh Ranganathan was on at the London Store. If you want politics try Steve Gribbin (Stand Newcastle) or Alistair Barrie (Komedia Bath). This paragraph took me three minutes of research. I am also aware that you can see Tom Stade, Alun Cochrane and Paul Tonkinson on the same bill.
If you want to sneer at 'club comedy' go ahead. But the UK club comedy scene really is an embarrassment of riches. It is full of people who can bang out 20 minutes AND do well received Edinburgh shows. It also full of people who may not have been to Edinburgh but who have worked bloody hard at crafting jokes that will work in as many environments as possible. That IS an art.
Unlike in solo shows, when you walk on stage in a club nobody has a clue who you are. You have to work that bit harder to get their faith. The product has to be good.
It has been that way for years. The very first club gig I ever went to, Peter Baynham did quite brilliant character comedy. The second club gig I went to Mark Lamarr took the roof off. I have seen Bill Bailey, Harry Hill, Phill Jupitus, Alan Davies, Jenny Eclair, etc etc etc. Where do you think Daniel Kitson was before he became the most revered home comic of his generation? Fine-tuning his craft in clubs is where.
It has been well documented that a lot of clubs are struggling financially. The constant creation of TV 'faces', the increasing expense, and for me most of all the onward march in the sophistication of home entertainment have all played their part. But club comedy is a fantastic product and I feel humbled to have worked with some of the most dazzlingly funny people it is possible to meet. Scott Weddell's piece was bafflingly ignorant.
• This article originally appeared on Paul Sinha's blog. This is the last word on the subject - for now.
Published: 11 May 2014
What do you think?