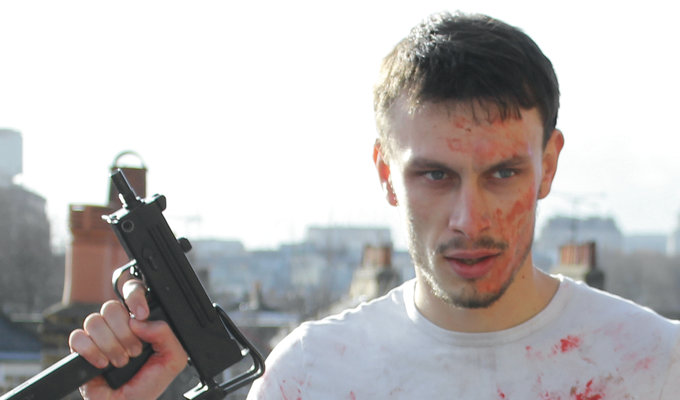 I've made it! I'm playing a venue with a door...
Is the football shown in here?
Does it look like the football is shown in here?
There's a TV at the back of the room...
Aye, but it's not going on.
It's Scotland/England though!
IT'S THE EDINBURGH FUCKING FESTIVAL!
I was completely naked bar an African-style poncho on my torso and a gas-mask on my head. My parents were sitting three rows back, and with the overwhelming noise coming from the bar next door, I was just about ready to call it a night...
Can I watch...?
He sits down. The show was at its most climactic point. By then the whole narrative had in some way justified the whole 'being a naked loser in an African poncho and a gas-mask' thing, but to him it was a complete non-sequitur. I was just a naked loser in a gas-mask and an African poncho...
Oi! Daz! DAZ!
What?!
You've got to come and see what this guys doing...
It's Scotland/England though!
IT'S THE EDINBURGH FUCKING FESTIVAL!
His mate sits down. They both crack up laughing. The thin curtain that separates the performance space and the actual bar had long since become redundant and people were walking freely in and out.
I continued in spite of them, all the while keeping an eye on the maternal over-protectiveness that was creeping into my Mum's being. My Dad grips her hand to stop her making things worse (although, the reality is he was probably gripping her hand to stop any acknowledgement that the 'loser in the African poncho/gas-mask' was indeed his son), and she resolves to flashing them a stare...
Come on Graham, this is shite...
Nah man! Let's see where it goes!
Fuck that. Scotland are two-one up....
Scotland are two-one up?!
A few of the more committed audience members turn around.
SCOTLAND ARE TWO-ONE UP?!
Aye, Morrison and Miller! Looks like we might do it...
And with that half of the audience stand up and exit through the pointless curtain at the back of the room. It is now my Mum's turn to grip my Dad's hand. Not out of damage control, but to stop him leaving too. After all, Scotland were two-one up, and he'd much rather watch that, than acknowledge his son's chosen career path...
---
When I decided to do my début hour as part of the Free Fringe I did so out of an 'I'm not buying into the commercial bullshit' type attitude, but in times like these I really started to question my logic, fearing that my decisions were making me the desperate socio-path I played on stage.
The introduction to the space by the bar manager didn't quell my misgivings...
Shows tend to fill up in here pretty well at the weekend.
Do they?
Yeah, it's only round about the nine o'clock mark when things get a bit busy in the bar.
Busy?
You know, when we have the live band in..
A live band?!
Yeah. A Pogues tribute band...
A Pogues tribute band?! What, like... banjos...?
Yeah, they've got a couple of banjos...
A COUPLE OF BANJOS?!
I re-send out my invites. 'Try not to come on a Friday or Saturday when the live band plays next door...'
Oh, and quiz night is every Thursday.
'Try not to come on a Friday or Saturday when the live band plays next door, or on the Thursday when there's quiz night, or on a Sunday when the chef next door decides to do a deep oven clean...'
It was clear the odds of putting on a well-polished show were heavily stacked against me, and I started to sober up to the very possible chance that August could come and go with me making about as much impression as Jim Davidson at a feminist rally. So we had to act fast...
We made a decision to rewrite the show. We had no choice. We had to incorporate the venue somehow and there was just too much going on around us to simply ignore it – the noise, the drunks, the people walking in and out, the quiz nights, and football crowds, THE DUELLING FUCKING BANJOS!
The show follows the story of an insecure comedian that has the worst possible luck. Life is constantly dragging him down. As such, he teeters on the edge of insanity. One more setback and he will fall...
We made the venue that setback.
For all the other, harrowing stuff that had happened to the character in the week building up to Edinburgh; the break-up, the break-down, getting fired, faking his mother's death, getting sexually assaulted etc... NOW HIS AGENT HAS GIVEN HIM A VENUE THAT DOESN'T EVEN HAVE A DOOR?!
It was the perfect blessing in disguise. And once we'd incorporated the surroundings into the show, we found ourselves a winning combination. Momentum gathered. Audiences got bigger each night and critics lauded the 'rough and ready' style of the show. And perhaps the most surprising achievement of all?
A six night transfer to the Soho Theatre.
---
Going from the Free Fringe to the West End comes with it's own unique set of obstacles. People are now paying for the show. I'm competing with Seann Walsh in the main space and I feel the history of the venue behind me. Stewart Lee, Eddie Izzard, Bridget Christie, and Russell Brand have all performed there in the past year, among others. And the most unsettling fact of all...?
The venue has a door.
Not just a door. Proper lighting, a technician, a back-stage, a box-office. The Tenants Extra Cold has made way for soya lattes, and the lunatic men in football shirts, have been replaced by lunatic men in make-up and nipple tassels. And I am thankful that something which started out as a small idea in the back end of a pub, has grown into something as humbling as the Soho Theatre...
But something feels like it is missing.
And that's the spirit of the Free Fringe. The lawlessness. The chaos of the venues and the dogged determination of it's participants. And I am forced to question... Will the show be nearly as effective without these things? Or will some of the anarchy be lost?
Only time will tell...
But one thing's for certain. My parents won't be gripping each other's hands this time round. Not out of a sense of pride..
But because they politely declined my invitation to come.
• Richard Gadd: Cheese & Crack Whores is on at The Soho Theatre from tomorrow to Saturday, and from Thursday to Saturday next week, at 10pm. Details.
Published: 16 Apr 2014
What do you think?