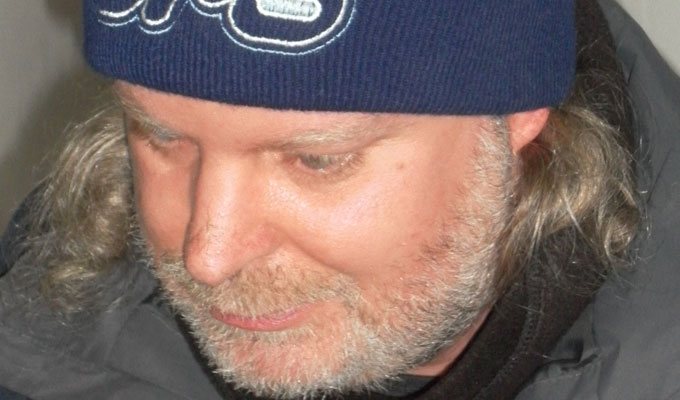 A millionaire with a begging bowl?
Alan Varley has some questions about a comedy fundraising project
Last week, David Baddiel wrote about turning his film The Infidel into a musical.  He wrote about collaborating with Erran Baron Cohen (who wrote the score for The Infidel, Borat and Bruno) and Theatre Royal Stratford East and stated that 'the musical is ready to go' before adding: 'Well, almost.'
In the Guardian article David mentions 'our Kickstarter campaign', and links to the fundraising page. The Kickstarter project was set up by Arvind Ethan David – a producer of both the film and musical versions of The Infidel – and is seeking to raise £55,000.  Near the bottom of the page is a button marked 'Ask a question'.  I have a question for David Baddiel: why aren't you paying for it yourself?
David was one of the stars of The Mary Whitehouse Experience and was then in a double act with Rob Newman which was hugely successful in the Nineties. Their History Today video reportedly sold more than 100,000 copies and they performed lucrative live shows, with their final, sold-out, 25-date tour culminating in a gig at the 12,000-capacity Wembley Arena which was also recorded and released on video.
David then teamed up with Frank Skinner. They fronted several series of Fantasy Football League and they co-wrote and sang England's Euro '96 single Three Lions which has sold more than 1.5 million copies.  Baddiel and Skinner Unplanned ran for five series on ITV and was made into a London stage show.
According to reports at the time, Sky spent around £5million on David's short-lived 2001 sitcom Baddiel's Syndrome which he starred in, co-wrote and co-produced.
Speaking on Newsnight in January 2012, Baddiel said that the film version of The Infidel 'was funded independently, privately, cost a million pounds' and it has 'now taken over five million dollars worldwide'.  If the film version of The Infidel was profitable why aren't some of the profits being used to fund the musical version?
Baddiel has made many other appearances on TV and radio, has written four novels and has been on tour with his stand-up show Fame: Not The Musical which is on soon at London's Menier Chocolate Factory where the lowest ticket price is £21.
While promoting Fame: Not The Musical David gave interviews about his return to stand-up comedy after a long absence. According to one article, in 2003 David Baddiel bombed at a corporate gig for bankers, and finished by saying: 'You've been a shit audience and thanks for the twelve grand'. Another newspaper gave a figure of £14,000 and both are in line with his rate, quoted on the websites of agencies supplying corporate and after-dinner speakers, of between £10,000 and £25,000.
If he is commanding these fees and, as one agency claims, 'is in demand as for hosting awards and after dinner speaking as well as stand up comedy' he could make the £55,000 being sought in the Kickstarter campaign in a few nights.
The campaign page claims that 'We can only do this with YOUR HELP!' but is that true?  Is crowdfunding really the only way the musical can be funded or is it the only way it can be funded without the creative team investing any of their own money and without commercial investors who will expect a cut of any profits the musical may make?
Artistic projects and institutions being funded by investors or benefactors is not new but some of the great benefactors of the past have been rich people like Henry Tate. Crowdfunding in the era of the web enables money to be sent from the poor to the rich without the need to post a cheque to Artist's Mansion, Millionaire's Row.
David Baddiel isn't the first famous comedian to try to raise money through crowdfunding.  In 2013 Helen Lederer tried to raise £10,000 to produce two live performances of her Why the Fuss?! show with a view to raising £25,000 to produce a pilot for television.  In a blog post Lederer wrote that 'not having the personnel of most modern comedians – (agent, manager, carer, driver and product provider) I've been drawn to crowd funding'.
However, earlier that year in an article for the Daily Mail, Helen explained how her agent told her about the offer to appear on ITV's prime-time show Splash!, which she accepted. And in 2006 Helen gave an interview about her house which was bought 'for just under £600,000' and is 'probably worth £900,000 now'.
There has been plenty of ridicule, criticism and questions for bankers who received public money in bailouts, politicians who misused Parliament's expenses system and the stars of 'poverty porn' shows such as Benefits Street for living off handouts.  If they are going to receive such treatment then shouldn't David Baddiel be treated in the same way?  Is David Baddiel a millionaire with a begging bowl?
I'm not expecting the publication of David Baddiel's accounts in full.  However, I think potential Kickstarter funders should be given a fuller account of why they are being asked to fund a musical version of a profitable film which 'got a great response' from 100 invited industry guests in London by someone who has had a highly lucrative 30-year career in comedy.
Rather than offering gushing self-praise, celebrity anecdotes and happy clappy-style exhortations to take 'a pledge of faith with us', perhaps the creative team behind the project should give clearer answers to questions like: 'Why aren't you paying for this yourself?', 'Where did the profits from the film go?' and 'Have you offered potential investors a share of any profits, which isn't possible if you use crowdfunding via Kickstarter'?
I hope the musical version of The Infidel is made. However, I also think the issues surrounding crowdfunding are important. Hard questions need to be asked and answered if the public are to have confidence in crowdfunding - and now is the right time to ask them.
If the creative team behind the musical version of The Infidel have the £55,000 they need I hope they fund it themselves, and they put the Kickstarter begging bowl away.
Published: 26 Mar 2014
The pounds of the crowd
What do you think?