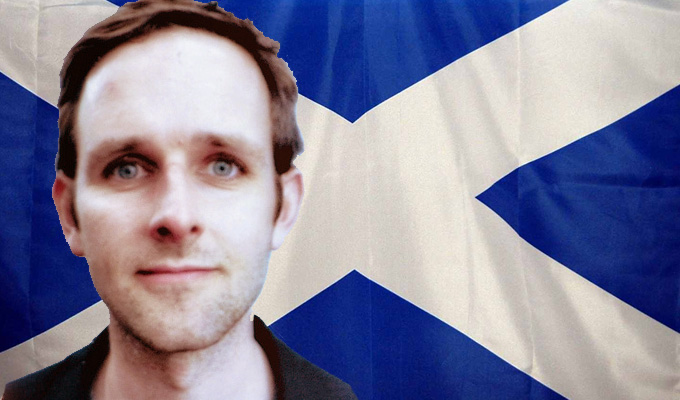 Everyone should be joking about Scottish independence
It has been two months since the Scottish Government published Scotland's Future: Your Guide To An Independent Scotland. It was a constitutional blueprint. A guide to Scottish independence and its effects. It attempted to answer all the important questions. Will Scotland keep the pound? Will Scotland join the Eurozone? And, most important of all – will an independent Scotland be able to watch Doctor Who on the BBC?
At 670 pages, Scotland's Future is comprehensive, exhaustive and previews potentially the biggest change to the UK since Ireland fought back. Yet, it is largely unread, at least by comedy commissioners – or by comedians willing to talk about it on TV or radio. Raising your head makes you a target.
When comedian Susan Calman poked fun at the referendum debate on BBC Radio 4's News Quiz in May 2013 she received a torrent of abuse. Writing on her blog she wrote: 'After the show was broadcast I was accused of betraying my country, of being racist towards my own people and of being a [c-word].'
Given such vitriol, it's not a surprising many observers have complained of a lack of satire in the mainstream media.
To date, only one programme has attempted to take a funny look at Scottish independence: Rory Bremner's Rory Goes To Holyrood – which tried explore the humour or lack of it in Scottish politics. It was shown late night on BBC Two Scotland in July 2013. Now, six months later, the announcement that BBC Scotland will broadcast Blethering Referendum a Weekly Wipe style programme by Sanjeev Kohli is welcome - but it is the exception rather than the rule as others have found Scottish independence to be an emotional subject. And why no programmes that air south of the border? There has been no national interest in what should be a UK debate.
On stage in Scotland, Scottish comedians Paul Sneddon and Keir McAlister are mining independence for laughs – most recently in January in a special themed night at The Stand comedy club. While recently, Bright Club, the stand-up show featuring academics held two independence-themed shows in Glasgow and Dundee to over 200 people.
But in the national mainstream, where are the jokes about independence on Have I Got News For You or Mock The Week? Will it get a five minute segment on Stand Up For The Week? Why is the big debate about whether David Cameron and Alex Salmond will face each other when we could have Frankie Boyle or Kevin Bridges versus The Pub Landlord? And instead of a Weekly Wipe style programme on Scottish independence why not a Weekly Wipe by Charlie Booker himself?
As Russell Brand has shown, whether you agree with him or not, one man or women with a quick wit can do more to challenge the political status quo than a hundred grey suits.
Scottish independence is the breakup of the United Kingdom as we know it. It is the biggest political story of 2014 and as debate intensifies, as the rhetoric, promises, scaremongering and rumours increase we need people who can surprise us, who can take a serious issue and reduce it to jokes that will make us laugh and perhaps, make us, think. As Rory Bremner said while promoting Rory Goes To Holyrood, Scottish independence is far too important to leave it to politicians.
• Andy Todd appeared in the Bright Club independence specials (Watch) and is the co-author of The Fat Minister's Question Time, poking fun at Scottish independence that was published on Kindle this week. Buy .
Published: 31 Jan 2014
What do you think?