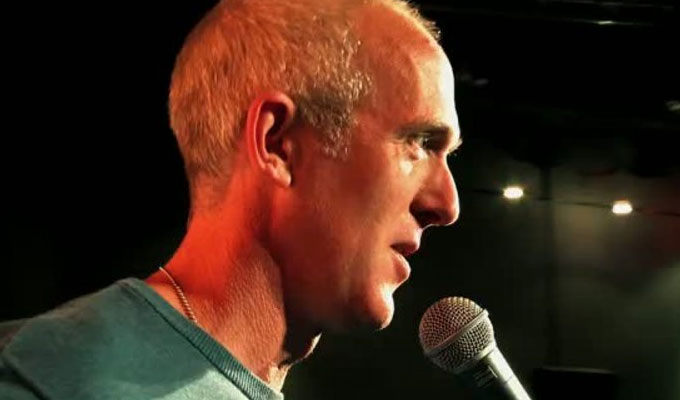 Joie Sans Frontiers
Building a working Anglo-Saxon comedy circuit in Switzerland for the last seven years – without any of the media brouhaha that has surrounded the onslaught of stand-up and comedy panel shows on UK TV – has been a fun but sobering back-to-basics experience.
Switzerland in 2006 had yet to register that going out somewhere for a laugh, just for the sake of having a laugh, could be enough reason to leave the house. It's easy to forget the strength of stand-up culture in the UK.
After three years living in Zurich I was desperate for a place to go just to have a laugh myself, and it was apparent I wasn't the only one. It just so happened I also needed to make a living and, with necessity being the mother of invention, it seemed to me I had found the perfect solution. Little did I know that setting up a comedy club in Switzerland would be the equivalent of pushing peas up a mountain with your nose. As a solo 'auslander' I'm a product of the punk DIY ethic and prefer just to get the hell on with it. The Swiss, however, take a very different view of things and prepare business plans for absolutely everything. 'Fitting a kitchen sink? Best get yourself a business plan.'
So I set up the International Comedy Club in Switzerland, bringing much-needed professional entertainment and some comic relief to a swathe of the working population who mostly end-up never learning the local language because their employment situation doesn't call for it. While the national and local political message emphasise that people must learn the language of the region they live and work in as a signifier of integration, the reality is that many people, some Swiss and nearly all internationals, have elected to use English inside and/or outside their place of work.
This uptake of the English language as the 'lingua franca' is something that is being repeated across the world, without political directive. Like it or not, it is people who have decided this, as needs must. Our shows in Zurich are arguably unique, full of people from all over the planet. In the last few years this has included a very healthy (and growing) percentage of local Swiss.
As well as hosting some of the biggest names in UK comedy, we also support young Swiss-French and Swiss-German comedians who are taking to the stage 'en Anglais'/'auf Englisch'. One of them in particular, Noman Hosni, has carved a career in Paris over the last few years, and now seems the perfect time to mix things up in the UK and provide a French comedy club experience.
In a world that is shrinking, with communication and translation becoming accessible to the wired world at the touch of a button and workforces crossing borders like never before, it seems logical that a multilingual society is growing. It is now possible to bring comedy nights to different parts of the world and in languages other than the native tongue and to encourage cultural exchange. We can embrace the diversity of our population and further the development of international comedy.
Noman will be hosting the International Comedy Club's first forays onto British soil with a regular French speaking comedy night in London. For the same reason that the many English speakers in Switzerland needed a comedy club, so do the large numbers of French speakers in the UK.
A genuine comedy club platform for enthused French-speaking talent to shine, it also encourages open spots in French for any francophones wanting to try comedy, including any bi-lingual professionals on the UK circuit. This is how culture, and particularly comedy, rejuvenates itself - the genuine free exchange of ideas and skills between people of different cultures.
Partly because of Francois Hollande's tax policies, London has become flooded with Francophones over the last couple of years – it is supposedly now France's '6th biggest city'. Through celebrating our cultural diversities and differences with comedy we often find that behind it all, we are mostly the same human beings, with individual idiosyncrasies, whichever language you speak. Comedy is the perfect medium by which to expose, share and laugh about them together. In Ancient Greek theatres, the clown always held a unique place in the drama, namely to highlight the ridiculousness of the human condition and show that from the top of society to the bottom, we are all basically the same.
Our shows in Switzerland have illustrated that real integration can be found through this magic of shared laughter. There is no other place, as far as I am aware, where internationals and local Swiss mix freely in a social situation away from work. Many of the usual expat social networking groups primarily have a business agenda and act as a conduit for networking and getting ahead professionally. Comedy is an egalitarian entity by nature; it's real power only prevalent when it stands alone, unhindered by other agendas. 
London is genuinely the most international and open city on Earth, and it seems to me that even more input to the London cultural melting pot can only enrich the lives of Londoners wherever in the world they are - and make for more laughs, more talent and more cultural exchange and understanding in today's mostly unfunny world. This is not only good for comedy and comedians, but also for audiences and society at large. N'est ce pas?
• Click here for more information about the international comedy club in Switzerland and London. The first French language Noman's Land show is at the Comedy Cafe in Shoreditch, East London, tomorrow, November 5.
Published: 4 Nov 2013
What do you think?