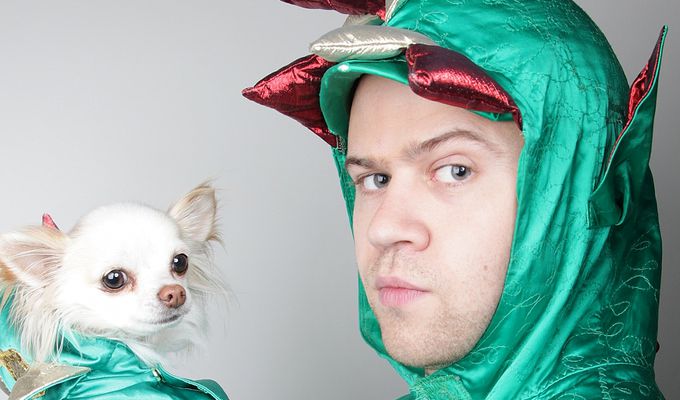 A tricky career
Comedians. Want a tough life? Become a magician. Yep. You heard me. Magician.
Let's start from the top. First up, magic isn't real. Funny things ACTUALLY happen in life. Magic never does. Bleak. So before you even begin, be aware you are committing to a career in which you'll spend every single moment on stage pretending you have powers you don't. Comedians may be plagued with self-doubt, magicians are not. We KNOW we are fakes.
In the absence of actual sorcery, you therefore have to practise. Practise isn't rehearsal. That comes way later. Practise is spending the best part of your teenage life in front of a mirror endlessly dropping playing cards on the floor, while you should be developing the social skills that will be so noticeably lacking when you come to rehearse.
Once you've acquired enough sleight of hand skill to ensure you are not punched in the face for interrupting, you've then got to be a idiot for two to five years. I don't know why this is necessary, but I have never met a magician, including myself, who has not gone through this stage. Carry a deck of cards with you wherever you go. Break into magic at social occasions. Wear black mostly. Pose for photos with playing cards. Congratulations, you are now a magician. Unless your friends are disowning you rapidly, you have not achieved this stage of mastery.
Now that you have become a magician, you must choose your path. There are two paths; the path of the salesman, or the path of the author. One is filled with misery and suffering, the other is paved with ease and riches. No prizes for guessing which is which.
The first path is wide and inviting. Many who have entered the world of magic have succumbed to its charms. Buy a few magic tricks, wear a shiny suit, a playing card tie, or even worse, a french collar. Print yourself some business cards, build a website, sell it like a sandwich. I'll be honest, you will probably now make a very good living entertaining at corporate dinners and weddings, quipping relentlessly and getting laid more often than Russell Brand.
After a while however, you may start to wonder if there isn't more to life than this. Didn't you dream of something more than being a poor alternative to a canapé? This is a good start. Your first step along the narrow path. Time to ditch the tricks everyone else is doing, drop all the lines you took off that funny magician you once saw and have been using without permission ever since. Wipe the slate clean.
But now you're left with nothing. Uh oh. Time to come up with some material. This is where the bad times begin. There are basically four approaches to creating magic;
1. Steal it
2. Buy a trick or read one in a book and put it in your act
3. Buy a trick or read one in a book and change it so it becomes unique to you
4. Come up with something original.
The first way belongs to the path of the asshole, so let's not worry about that.
The second option is arguably valid, although in reality it's a false economy. Sometimes, in order to make money, or to claim copyright, magicians will publish methods and routines they have created to the magical fraternity. For a sum you can purchase these, thus giving you the right to put them in your act and make a living from other's blood, sweat and tears.
Sure, it's easier than creating something from scratch. But the danger, and I've seen it happen, is that someone with influence will either see the originator performing their trick, or see another purchaser hawking the same routine, and awkward accusations of plagiary start flying.
The third method is a bit of a halfway house. I certainly have a few bits that have started off with a widely available item and have evolved into something unique. However, I can't think of anything I do in this regard that is stronger than the original pieces I have created. It's always second best.
Which brings us to the final option, original material. And what magicians should all be doing anyway if they weren't so lazy. So why is this path so rarely trod? Well, for one, it's fluffing expensive. Developing a brand new illusion, whether it's shooting a chihuahua out of a cannon or making him levitate cost a whole chunk of change. And forking out the cash is usually the least painful part.
Here's the how it goes. You have an idea for a new bit. It's visual, exciting, funny, clever and baffling, definitely worth pursuing. But currently, it doesn't exist. At all. Unlike comedy, where you can take the bare bones of an idea on stage to find out whether it has legs, with magic you have to hope blind.
First you work out a few methods. Maybe you'll get lucky. One of the bits from my new show I put together in a couple of weeks and it all worked out fine. Maybe you won't. Another section I recently ditched after 14 months of working on it.
Once you have a method, it's prototype time. Days, weeks, sometimes months are spent in research and development, piles of cash are handed over to various prop makers and technical wizards, obvious flaws are ironed out and eventually you arrive at something you can take on stage. This is the worst bit. You put it on stage. Sometimes it dies. The audience are indifferent. In which case you can choose to keep flogging a dead horse (which I've done on many occasions), or you can ditch it and write it off on your next tax bill.
But let's be optimistic. Let's say it makes its debut and it appears to have at least mild interest to the paying public. Well, then you tweak it, refine it, write an actual routine around it. Add in some jokes. Maybe within a year you'll have something workable. But it's not finished yet. Not even close. Everything I do, no matter how good I thought it was in the beginning, only really comes to life in its second year. I'm not alone in this, both Penn & Teller and David Copperfield have both settled on a two year period from conception to completion for a routine.
Fear not though, for now you have arrived at the reward. You have a bit no one else does, that is unique, that you are proud of performing, that warms you inside every time an audience goes crazy for it. And unlike comedy, audiences will watch this more than once. Not forever of course, but more than once.
And now you take this out into the wider world, where the opinion of magicians is only slightly higher than that of Gary Glitter. I once had a review that began 'magicians are like pedophiles, redundant if children aren't around'. Nice. But stick with it and you will find an audience.
And so, after what seemed a distinctly rocky start, you will be paying your bills doing what you love. And possibly performing a two week run at Soho Theatre from October 15 to 27 at 7.30pm each night, dressed up in dragon outfit accompanied by a magic performing chihuahua and a mind-reading fish.
• The Piff The Magic Dragon Show is at the Soho Theatre, London, until October 27. Click here for tickets.
Published: 19 Oct 2013
What do you think?