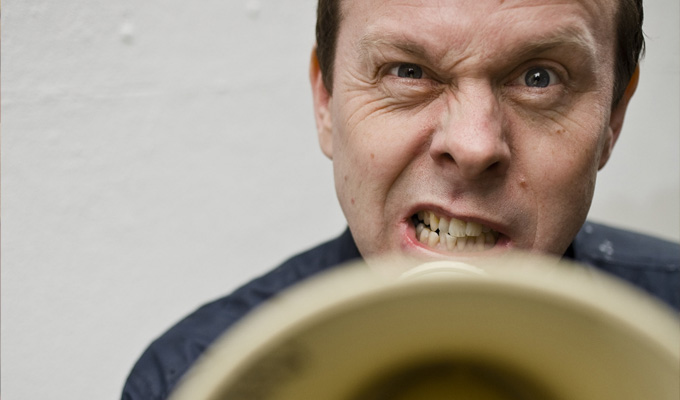 Oi, comics! Stop being such greedy, selfish egotists
I love Twitter. One of the very best things about being on Twitter, of course, is following comedians. Those funny people that constantly make us laugh and raise our spirits are always online throwing out one-liners and cracking us up.
Here are some genuine tweets from comedians that I've seen just this morning: 'Great gig last night', 'I need coffee', 'Depression is a serious subject and feelings of suicide must be talked about'.
FUNNY, FUNNY PEOPLE.
Look, we all know that comedians are the worst people on Earth. It's laughable when they point the finger at politicians and evil corporate money-bastards. I mean, have you met a comedian? What fucking morals do they have? Getting paid to talk about themselves while complaining that the club that has paid them has only given them two free drinks? They're greedy little right-wing bastards. Maybe not Mark Thomas, but definitely the rest of us are all Tory. Even Mark Steel stole my seat on a train once, like it was a child's milk. So what use are comedians on Twitter?
Well, it seems to me that they're excellent at retweeing their own praise. RTing your own praise never makes any sense to me. It's just telling people who like you that someone likes you. They already know that. They're one of the people that likes you. Or at least they used to. I mean, it's all a bit desperate. "I'M GREAT AND HERE'S PROOF!" No writing a joke or, in my case, attempting to write a joke. Just pointing at someone who once thought you were quite good one night. Why make everyone else think you're a raging egotistical embarrassment? You gain one and lose the rest of us. But I understand why you do it. You just don't have to. Everyone else can give you all the recognition you deserve/want and here's how...
Four years ago, when I first joined Twitter, there was a button called 'Retweet'. This button wasn't used for RTing your own praise but instead people could use it to bring other Tweeters, events or jokes to other people's attention. You'd see something of value on Twitter, press Retweet and, all of a sudden, that thing you liked was made available to a lot more people.
The Retweet button is still there today but it is largely ignored. Going way out of your way to lift your heavy finger and, if you weren't exhausted by this stage, pressing the Retweet button now seems like a marathon task. 'Oh, someone's doing something that might be of interest to others and might help their career? Yeah, but pressing that one button will physically bankrupt me for months...' What I'm saying is this: Comedians and comedy clubs aren't getting the audiences we once were and maybe a little support for the comedy community might be nice, or to put it another way, PRESS THE RETWEET BUTTON, YOU LAZY, SELFISH CUNTS.
Hardly anyone can afford PR these days so maybe Twitter and Facebook (Let's not forget Facebook) are the only things we've got. We should at least give it a try? I mean, if it's not too much fucking trouble
During last year's Edinburgh Fringe I decided that picking a different show every day and tweeting about it might be a good way to raise interest and get people going to shows that they might not normally see. I even had a hashtag for it. It was #LetsSellThisGigOut. All it needed was the support of any comedians who saw it. They'd RT it and then more people would know about it and those people would RT it and so on...But...
Well, you can see the flaw. All comedians are awful. Why would they RT anything about another show? 'I'm not RTing that. I have a show up here too. If people go to that show then they might not come to mine' ... forgetting completely that we'd get to them sooner or later. If it took off, it would have raised interest for all of us and, and I realise this has nothing to do with anything, it might actually be a kind thing to do.
Anyway, it didn't work. I'm sure a lot of people didn't see it but there weren't enough RT's from those that did. That exhausting push of a single button defeating them again. But I was encouraged to do #LetsSellThisGigOut again this year. It failed even more. It failed more because it barely got RT'd and even a fair few of the acts that got their shows plugged by #LetsSellThisGigOut didn't support it after they had their go. It was depressing.
And I've noticed so much more in the last few weeks. Clubs, tours and comedians tweeting about a career that the comedy community doesn't seem interested in supporting. I got so pissed off with it that I vowed not to RT anything a comedian is plugging. Fuck it. If they've no interest in anyone else then why would I bother to help them. Then I saw a tweet about an upcoming tour from a comic I love. I went to RT and then stopped myself. No. I'm not doing it. I'm not RTing. I'm making a stand.
Then I realised I was just stopping myself from doing something I really liked. Telling other people that there are great comedy shows out there and they should definitely check them out. It's that simple. And who knows, if I do RT it then maybe someone else will. And then someone else will... So, I RT'd.
Facebook is the same, lots of 'Likes' but not so much from comedians for comedians. I even conducted a little Facebook experiment today to see how people get involved in 'Liking' things. Turns out that my link to the Macmillan Cancer Support trust got seven 'Likes' in two hours, while my picture of The Cunt Colouring Book got 33 'Likes' in about 20 minutes. Yes, it's not the same thing but it gave me something to do.
Of course, I've got nothing to tweet about so it's not really in my sole interest to get this upset about selfish comedians being selfishly selfish. Again. And to all those comedians that do RT on behalf of the comedy community, I definitely thank you. It's just that we used to RT so much a few years ago and now we've stopped. I mean, we haven't stopped RTing praise but we've stopped RTing about our fellow comics. The comedy circuit and those small tours...it's hard enough as it is.
We're all in this alone but we don't have to be. Why wouldn't we want to help? And, fuck me, it must have got bad if even I give a shit. Let's at least test the theory. See something you like? Then RT it.
LET'S SELL THIS GIG OUT!
Published: 16 Sep 2013
What do you think?