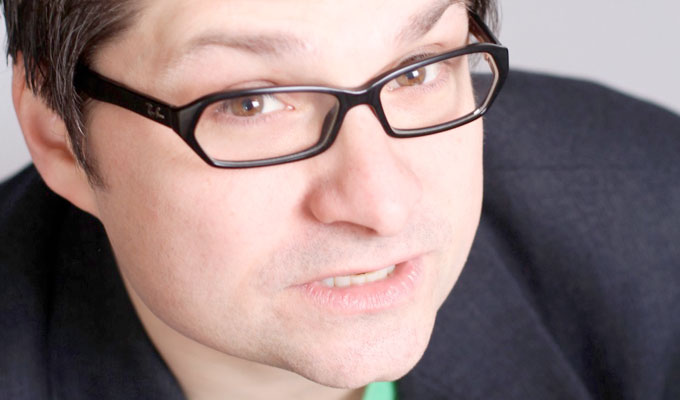 My show's not in Edinburgh... will anyone hear the laughter?
I love the Edinburgh Fringe. Not cool to admit, but it's true. I thought it was great when I was visiting, I've been in three shows and got more out of it each time.
There is plenty of truth in the often repeated mantra of it costs too much and lasts too long. That said I'd rather being doing that and doing comedy than not. And the festival is what we do in this business. So I've embraced it. Just like I've embraced my adopted home here in the UK. I don't expect it to always be what I want, but I do expect it to be what I get.  I think that might be the most vital life lesson I've learned living in Britain. 
But, I'm not going to Edinburgh this year. Why? I didn't have another kidney to sell this year. Next, year I will - thanks to some homeopathic remedy my wife has me taking. However, this piece is not a rehash of the financial issues with the Fringe. Opinions are already so fixed in this regard that I'd have a better chance discussing a resolution to the Israeli-Palestinian conflict (although their conflict is clearly not as important).
So then what? Do I not do a new show? I already knew what I wanted to do, and having just done an hour, I want to stay on the wagon and keep going. Should I write a show and sit on it for two years? That's no good – if you've made something and it's working it needs to be heard. That's what drives us forward. Not doing the show would be like sitting on a fart. It needs to come out.  
That's when I started looking at Camden Fringe. As with Edinburgh the question is why are you doing a show? Camden met all the critical answers to that question. Financially it's been much easier. I'm only doing a six-night run and didn't have to give up all my weekends. And in the calendar it's going on at the same time as Edinburgh, which I found to be a benefit. It gave me a parallel run-up to August without the massive financial worry of Edinburgh. Suddenly, I could do something else. Focus on the show. 
I first previewed the new show at the Leicester Festival in February, which is an enormously helpful early deadline.  Deadlines as we know are crucial for comedians.  When people say comedy is about timing they mean the timing for the next submission deadline.
From Leicester I've been previewing, tweaking, rewriting and getting the show ready. I'm doing multimedia for the first time, and getting the pacing right is harder than it looks. I think a lot of people think a show with video is a cheat, but I still want the rhythm of a straight stand-up show. It's gotten there, but I had to get a really cool clicker. It just clicks funny.
Camden Fringe has given me a platform to debut what I hope will be a great new show. I'll get to have a proper run of nights so the show can breathe and in the end it deserves as much consideration as if I had taken it to Edinburgh. It's now just an added bonus that I haven't had to mortgage our second child. (I still haven't told the first child she owes £10,000 for last year's show.)
The one thing that is left is the 'notice me' part of Edinburgh. Does the 'industry' care? I mention this because when I told a few people I had a new hour and wasn't taken it to Edinburgh, they gave me an 'Oh, bless' look.  That pat on the head you give a child when he draws a picture that looks like something Salvador Dali would have thought was a bit too surreal. 
You can feel the turn towards Edinburgh fever as people wrap themselves into the bubble.  It's well under way too: the nerves, followed by unhealthy attention to star counting, with TV people sniffing around later in the month. While the industry is climbing Arthur's Seat and gazing into Edinburgh's navel will a new hour register with anyone, anywhere?
I think it will. For six nights, I'll be down here, with my fellow Camdenites doing the most important thing of all in comedy. Trying to make people laugh.
%bull; Erich McElroy is performing his brand new show, just for Camden Fringe, 'Erich McElroy is Presidential' at the Camden Head from August 14 to 19 at 6.30pm @erichmcelroy . 
Published: 14 Jul 2013
What do you think?