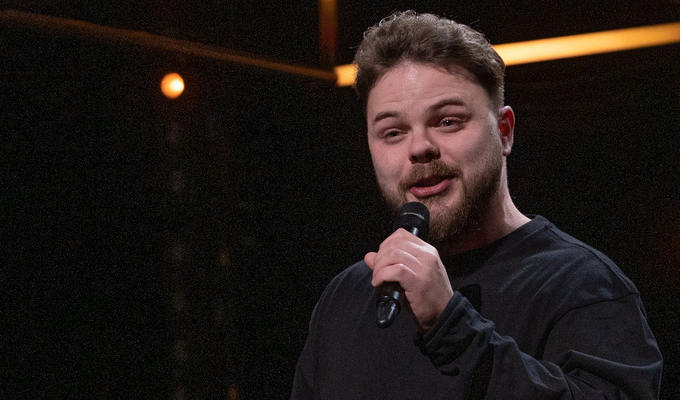 William Thompson
Finalist in the 2021 BBC New Comedy Award.
Read More
Channel 4 announces seven new comedy pilots
Channel 4 is piloting seven new comedy programmes featuring the likes of Kiell Smith-Bynoe, Jordan Brookes and Rosie Jones.
The broadcaster has today announced its next batch of Blaps, the stand used to test programme ideas that has previously spawned We Are Lady Parts, Stath Lets Flats, Home and Dead Pixels.
Seven is the largest number of shows Channel 4 has commissioned in one round before.
Laura Riseam and Joe Hullait, who commissioned the shows, said in a joint statement: 'After a world pandemic enforced hiatus, we are so delighted for Blaps to be back bigger, bolder and better than ever before.
'With seven brand new shorts, this bumper crop is showcasing exciting new talent on and off-screen and delivering stories from previously unheard voices. We were overwhelmed by the reception to our brief and can't wait for everyone to get their peepers on this round of Blaps.'
All will be released on Friday May 6 at all4.com/comedyblaps, except for Biscuitland, which will come out later this year.
The programmes – and their official blurbs – are:
Jordan Brookes is presenting the chat show of his nightmares. Literally. Stuck in a coma after a mysterious accident, he finds himself hosting a psychedelic talk show live from his own subconscious. And every time he makes it to the credits, another episode begins.
Jordan is convinced that if he can just put on a good show, he will wake up. Yet he can't seem to control the parade of disco-dancing intrusive thoughts and personified past traumas which interrupt every episode. Can he face down his demons and make it back to reality? Or will he be interviewing Debbie McGee for all eternity?
Late Night Forever! with Jordan Brookes is a Hat Trick production. It was written by Jordan Brookes and directed by duo Rosco 5 (Gideon Beresford & Behnam Taheri). It also stars Sunil Patel, Amy Gledhill Debbie McGee as the guest. It was co-written and produced by Zoë Tomalin, and the executive producer is Stu Mather.
Red Flag
Red Flag is a new sketch show from Ghosts star Kiell Smith-Bynoe described as 'fun, dumb and discombobulating. It reflects the modern world we live in but not quite the way you'd imagine'.
We meet various heroes - all played by Smith-Bynoe - who walk headfirst into chaos.
The co-writers are Kayode Ewumi, Jamie Demetriou, Sam Campbell, Adam Hess and Stevie Martin, and the cast includes Jamie Demetriou, Ben Ashenden, Kemah Bob, Kevin Garry, Emily Lloyd-Saini, Emma Sidi, Tom Stourton and Jason York.
It was produced by Maisah Thompson, directed by Big Red Button and executive produced by Rupert Majendie.
Disability Benefits
Having been made redundant, and with her state benefits cut to shreds, a young woman with very little left to lose begins to build an illegal drugs empire.
But Rosie Dawkins isn't your average street-dealing dope peddler – she's sharp, funny, biting – and, on top of all that, she has cerebral palsy.
People have underestimated Rosie her entire life; if they're not patronisng her for completing the most menial of tasks, they're pretending she's not even there. What better disguise could there be for criminal activity than being written off by the same system that exists to protect the law?
Starring Rosie Jones, Disability Benefits also features Ryan McParland, Guy Rhys, Angela Griffin, Lynn Hunter, Mark Monero and Will Brown.
It was written by Rosie Jones and Peter Fellows, directed by Sophie King and produced by Charlie Laurie. The executive producers for Merman were Clelia Mountford and Sharon Horgan and 2LE Tom Thostrup and Michael Livingstone.
Billi
Billi, an egomaniac with a self-proclaimed 'heart of gold', tells the brave and gritty story of just what a 25-year-old brat will go through in order to get a half-head of highlights.

Filmed in such a way that we only ever see him, it's a narcissist's dream. Billi will be the first piece written and performed by Instagram star Harry Trevaldwyn for television.

The director is Ben Palmer, the producer is Alexander Handschuh. The executive producers for Big Talk are Kenton Allen, Matthew Justice, Caroline Leddy and Robert Popper.
Biscuitland
Biscuitland is the extraordinary everyday world that Jess (Jess Thom) creates and shares with everyone around her.
Jess has Tourette's Syndrome and her surreal tics transform and inform her experience of life, work, friendship, and family. Unexpected hedgehogs, surprising geraniums, and an abundance of biscuits are all part of Jess's life as she encounters the constant challenges of a world that routinely excludes disabled people.
Biscuitland is rude, unexpected, challenging, and authentic, a day in the life of someone whose unusual neurology has ideas of its own - funny, surprising, and unfiltered in every way.
Written by Christine Robertson (Buffering, Trollied) with Jess Thom and Matthew Pountney. Biscuitland is directed by Nicole Charles and produced by Jon Rolph for Fremantle and North Bridge Media.
Unfair
Culture clash comedy Unfair is the story of clueless student Sorcha who leaves her leafy home for a life on a showman's yard with boyfriend, Bentley. Sorcha is desperate to fit in with his family, but knowing nothing of fairground life, doesn't realise she's in for a rollercoaster ride.
Written by Emma Lennox, Unfair is directed by Meg Campbell, executive produced by Chris Young, and supported by Creative Scotland. It was produced by
Carolynne Sinclair Kidd. The production company is
Young Films.
The cast has yet to be announced
William of Orangedale
William of Orangedale is a coming-of-age comedy about teenager William and his friends growing up on a council estate in East Belfast and the shenanigans that they get up to. Your teenage years can be complicated but for William he must juggle all these dramas while living with cerebral palsy.
Developed by Hat Trick, William of Orangedale was inspired by the life of William Thompson, who co-wrote the script alongside fellow comedian Dave Elliott, It is described as 'an uplifting tale about friendship, family and making the best of your lot'.
It is directed by Eoin Cleland, produced by Anna Hinds and executive produced by Louise Gallagher and Jimmy Mulville for Hat Trick Productions.
Read More
Published: 13 Apr 2022
Past Shows
Edinburgh Fringe 2017
Agent
We do not currently hold contact details for William Thompson's agent. If you are a comic or agent wanting your details to appear on Chortle, click here.