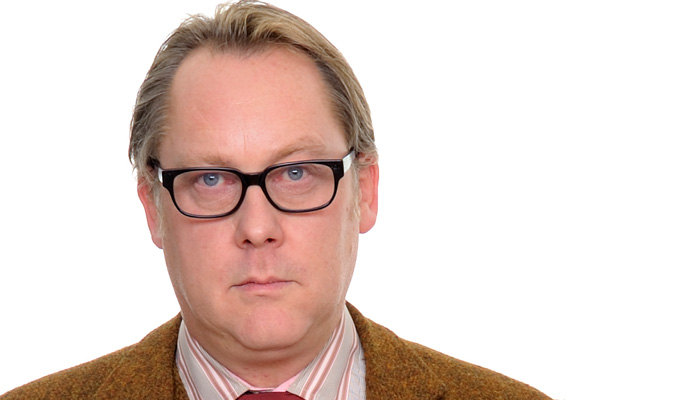 Vic Reeves
Date of birth:
24-01-1959
Born in Leeds and raisied in Darlington, Jim Moir undertook an apprenticeship in mechanical engineering after leaving school, eventually moving to London and becoming a factory inspector.There he formed a band and began a part-time course at art college, as well as performing on the comedy circuit as various characters - including the 'North-East's Top Light Entertainer', Vic Reeves.
His stage show Vic Reeves Big Night Out began life as a regular Thursday night gig at Goldsmith's Tavern, New Cross. Here he met Bob Mortimer, a solicitor who jumped up on stage one night and ended up becoming a regular, starting an enduring comic partnership.
The pair were championed by Jonathan Ross, who gave them a break on his TV show, and Big Night Out was made into a Channel 4 show in 1990, where it became an instant cult hit.
The pair followed it up with the sketch shows The Smell of Reeves and Mortimer, and Bang Bang, It's Reeves aAnd Mortimer, quirky sitcom Catterick and he game show Shooting Stars.
They moved to prime-time Saturday night with the BBC One show Families At War, which ran from 1998 to 1999, and starred in a remake of Randall & Hopkirk (Deceased) the following year, but they never quite made the transition to mainstream entertainers.
He also had a No 1 hit with a cover version of Dizzy, recorded with The Wonder Stuff, and released hit versions of Born Free and I'm A Believer, a collaboration with EMF.
In 2004 he and was a contestant in the fourth series of I'm a Celebrity... Get Me Out of Here! with his wife Nancy Sorrell.
His other credit include the Discovery Channel's history series Rogues Gallery, Sky's Brainiac: Science Abuse and Radio 2 panel game Does the Team Think... - and he continues to work on his art, occasionally hosting exhibitions of his work.
Read More