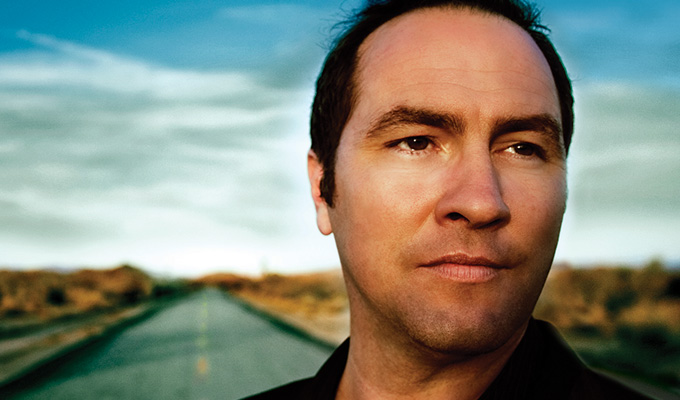 Tom Rhodes
Date of birth: 14-02-1967

Vodafone Comedy Carnival closing gala
The people of Galway's appetite for comedy is clearly insatiable. After almost a week of events, the Vodafone Comedy Carnival came to an end with an epic four-hour show. Too long? Almost certainly, but an anarchic end-of-term spirit ensured that this year's festival went out with a bang.
Host Karl Spain, pictured, identified a key problem almost immediately: many members of the audience had been in this very same room not 24 hours earlier, watching some of the same acts. If, indeed, they hadn't seen them several times over the course of the previous six days. So something a little different was the order of the day, if possible…
From the off, Phill Jupitus experienced the downside of that need to refresh, presenting a thought that had just occurred to him that day, but it was – unsurprisingly – under-developed and didn't gel into the laughs he'd hoped for, so a quick reverse-ferret and back to the tried-and-tested stories about being the father of daughters.
Dundalk's Lisa Casey was by a long chalk the least experienced act on the international bill, not that you would have known from her skilful material, offering a whimsical, eccentric take at her own awkwardness and personal issues that make her hard to fit in out in the real world. But a natural on stage.
In the interests of keeping things fresh, Reginald D Hunter pulled out a story which he says he doesn't normally do in regular shows because it's it's so close to the bone. Which given his cavalier approach to potential offence is saying something. It involved a dream in which he was on a lifeboat with Katie Price, Katie Hopkins, Nigel Farage and others, and offered a troubling insight into how his brain wants to think the unthinkable even when he's not trying. Still, the shock of the transgression comes through the filter of dark comedy, and he laughs came.
Simon Evans stormed the gig with a mix of old material he hadn't previously run out this festival and stuff from his latest show, playing up the father-knows-best arrogance, looking on his fellow man with the sort of amused superiority of a wildlife documentarian studying a lesser life form. Acknowledging his privilege, but doing nothing the check it, endears him even when he's being beastly rude.
Globetrotting American stand-up Tom Rhodes hit hard with a delivery of stylised swagger that jabs every punchline hard, yet also managed to contain some efficient storytelling while retaining the relentless rhythm of his brisk one-liners. It's a super-polished set, getting the job done with brutal efficiency without losing the humanity of the comic behind it, thanks to a few more self-effacing jibes.
Speaking of getting the job done, the daft, knockabout delivery of middle-aged musical duo Totally Wired engages the audience… though having heard their already unoriginally lines three times in two days the charm was wearing a little thin for me.
Next up was another musical act, Fred Cooke, who Spain had spent most of the show good-naturedly slagging off. For fear of making him sound like a village pub, he does a great roast, does Spain, and Cooke's normally on the receiving end of his savage putdowns. However, being the underdog only plays up to Cooke's shtick as the idiot in all his yarns – with a highly entertaining tale here of taking drugs at a music festival. An age-old topic for comedy, but Cooke's exaggerated reaction to its effects is priceless.
Tanyalee Davis crushed this gig for the second time in as many nights, initially by sarcastically reflecting back any silly preconceptions the audience might harbour about midgets such as her, then by upending them by showing she can be as avariciously sexual, as boldly ribald and as witheringly contemptuous as anyone else. (Incidentally, she uses the word 'midget' to describe herself, even if others dislike it). Tonight she relived her worst night ever in a comedy club, thanks to the tale of a gruesome incident in the ladies' made worse by her size, that delighted and disgusted in equal measure.
Finally Phil Nichol, with his usual high-octane performance to energise the audience – not that they were showing many signs of flagging despite the marathon show. His cartoonish portrayal of a redneck hick voting for a dumb politician has served him through far too many presidents now to be good for US democracy, though his utterly committed delivery electrifies and his tub-thumping songs rouse the rabble. He closed, of course, with Only Gay Eskimo, inviting the rest of the line-up to contribute their musical impressions, to summarise the gig.
Nichol then ramped up the stakes by trading insults with Spain. ('If I'd written a song that good, I'd have not written another for 25 years either,' the Limerick comic offered by way of the perfect backhanded compliment). With no one willing to concede the last punching, the gig descended into competitive chaos: though it was the sort of wonderfully anarchic chaos that will have anyone there speaking about for days afterwards.
What a fitting end to a fine comedy festival.
Read More
Published: 31 Oct 2018
OK, that title is tantamount to calling yourself a…
2/08/2014
Diverting reasonably entertaining and well-versed…
18/01/2002
Past Shows
Edinburgh Fringe 2014
Agent
We do not currently hold contact details for Tom Rhodes's agent. If you are a comic or agent wanting your details to appear on Chortle, click here.