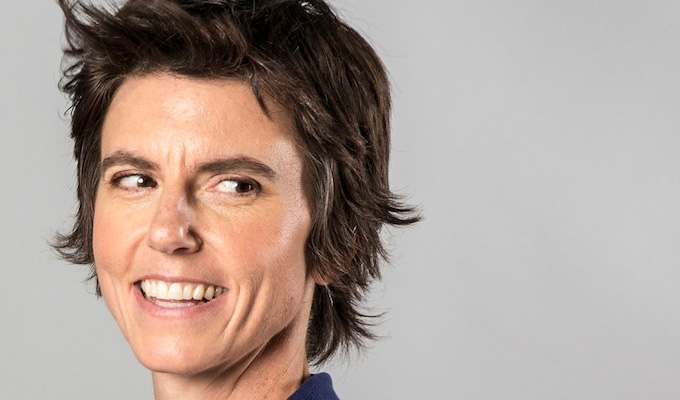 Tig Notaro
Tig Notaro: Boyish Girl Interrupted
Note: This review is from 2014
Tig Notaro gives the gift of intimacy in her performance. The Shepherds Bush Empire is a sizeable space, but her restraint and delicacy in delivery made this feel more like a chamber piece.
This was not a wholly new show. Some routines remained from the hour of the same name she brought to last year's Edinburgh Fringe, but you'd have to be churlishly nerdish to have a problem with that, because they provided the solid posts between which fresh creations were slung.
Almost irritatingly casual in presentation, she had a charity-shop look, dressed for comfort and giving a big 'eff you' to any notion of showbiz or theatre. She looked as if she'd been surprised while doing a bit of gardening. And her storytelling was similarly unflashy and modest.
Last year she reminded me of Jane Austen, this year it's Garrison Keillor's deceptively simple way with a yarn. She described an event and then the retelling became the focus. It's the micro-relationships depicted in each story of small, shared embarrassments (airline security pat-down, hillbilly-like family) that are simultaneously hilarious and poignant in the recollection.
None of this was remotely twee, it couldn't be when cancer and diarrhoea featured in the hour, and she contrasts her polite, quiet, middle American manner with the expected alpha behaviour of a comedy performer; the pretend hyping of the audience laid bare the contrivance of extracting a standing ovation, forcing a response disproportionate in energy to the performance. She was mocking the overdramatic, style more familiar from Stateside performers.
Notaro embraces awkwardness. She spun stories from audience interaction which seemed to make people forget they were in a 1,000-seat theatre and think they were at a Sunday school spelling bee. Crucially, nobody was derided for their contribution, generally it seemed that the more inane the better, she was able to press a conversation way past its usefulness but never beyond humour.
The audience seemed to know that their participation in terms of local knowledge and received wisdom were going be woven into something much greater than the sum of its parts; it might be described as a collaborative show, except there was never any doubt as to who was in the driving seat. It is not easy to play subtle humour in a theatre but Notaro's storytelling never put a foot wrong.
Honourable mention should to go to support act Matt Rees who crammed as much into 20 minutes as Notaro had in the whole show, displaying a love for the mechanics of a good callback or a disconcerting reported conversation.
Read More
Published: 2 Sep 2014
This is different, so much so that I'm finding it…
22/08/2013
Tig Notaro's command over her audience is hugely…
9/01/2012
Here's an attractive proposition: three visiting…
20/04/2010
Almost terminally deadpan, American circuit headliner…
18/06/2003
Past Shows
Melbourne 2010
Melbourne 2011
Agent
We do not currently hold contact details for Tig Notaro's agent. If you are a comic or agent wanting your details to appear on Chortle, click here.