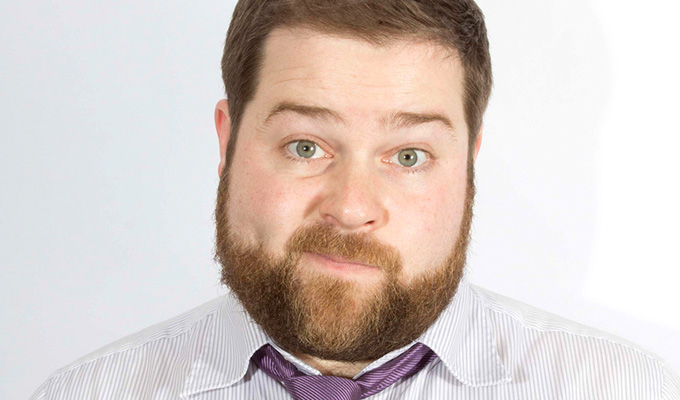 Tiernan Douieb
Tiernan Douieb: Miserably Happy
Note: This review is from 2017
Tiernan Douieb is as game as any comic, and he makes a decent fist of getting a mid-afternoon audience in the difficult Waverley Ba going against the odds.
His show, Miserably Happy, reflects the messed-up political and social situation outside. He ponders some big questions about perception and truth, how we come to our opinions, whether we can trust them, how we challenge opinions in ourselves and in others. It exists in the similar maelstrom of liberal panic as Daniel Kitson's latest, Something Other Than Everything.
News junkies will find it an engaging way to spend an hour, touching as it does on more tangible contemporary subjects like echo chambers and confirmation bias. The trouble is, you could write books on the broader topics that underpin this show, so for Douieb to rattle through it all in 60 minutes is a near-impossible task. Miserably Happy consequently is too general, too scattergun, to know where it's going or what the actual purpose is.
It struck me as being a show that still had a lot of unprocessed thought in it, which had been rushed on to the stage. So much of what Douieb talks about involves a level of self-interrogation. Douieb starts off with one position, then reassesses, or checks himself, unsure whether he knows enough to make an informed opinion.
Often he powers on, trusting his instincts and a little bit of selected knowledge. Douieb both talks about this process, and demonstrates it. It's noble and right to question yourself as a decent human being, and a lot of people can probably relate to this turmoil, but comedically it's paralysing. It seems as if, on many of the topics Douieb brainstorms, he's still on the inside looking out, not the other way round. Creating clarity from confusion is an impossible task for a comedian.
In fairness, Douieb does strive to bring things down to relatable, quotidian levels, and he gives us some illustrative anecdotes, like seeing a man wolf-whistling at air stewardesses and not knowing what to do. In this sense, he has an engaging show, and his energetic, impassioned delivery ensures that the pace and interest never dip.
One running theme is his attempts to persuade his wife to try raw tomatoes. This is a handy metaphor for how we puncture through someone else's sovereignty and alter their perspective, and Douieb's attempts at persuasion are funny in themselves.
Some of the routines do simply fall flat, with Douieb's writing not up to the standard of his political output on Twitter. His use of Super Mario to explain neoliberalism didn't get the room going, nor did the convoluted ending, in which he saves the world by becoming an evil dictator who unites everyone against him.
One wonders how other motormouth political comedians like Robin Ince, or back in the day Ben Elton, would fare if they were to take on the task Douieb has.
Read More
Published: 22 Aug 2017
A remarkably good turn-out for the day after a bank…
2/06/2011
No one could accuse Tiernan Douieb of not having the…
27/08/2010
Not everyone was the World Cup Final last night. In…
12/07/2010
That his audience are in a soporific state cannot be…
13/08/2009
Well, it was certainly a headline-grabbing idea, if…
8/06/2009
Tea and Cake return for their second Fringe, with extra…
1/01/2008
Tea And Cakes is a sketch show that is unfailingly…
1/01/2007
This rookie stand-up has quickly acquired the vital…
1/09/2004
Past Shows
Agent
We do not currently hold contact details for Tiernan Douieb's agent. If you are a comic or agent wanting your details to appear on Chortle, click here.