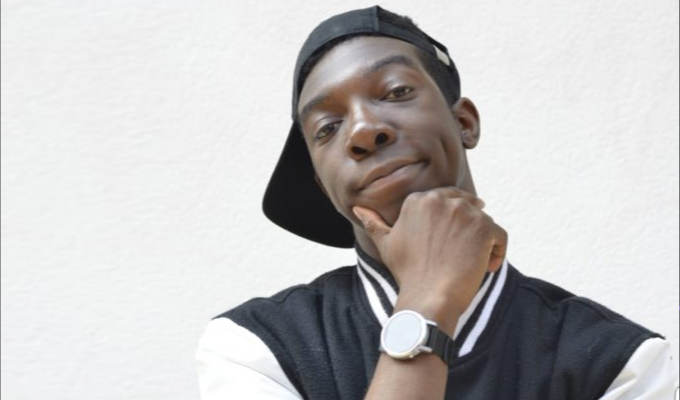 Tayo Cousins
Manchester-raised comic who cut his teeth in the comedy clubs of New York.
Read More
Beat The Frog World Series Final 2017
Beat the Frog? Well, no one delivered a knockout blow at the final of this annual competition, with a line-up high on competence but without any newcomer to really get excited about.
Opening act Mike Carter might have been the most club-ready act on the bill of Manchester's Frog and Bucket, but he follows a familiar road map of material: start with a couple of gags based on celebrities he might look like, a few jibes about the chavs – if that's still a word – with their pink shellsuits, fake tan and preposterous kids' names, then on to self-deprecating quips about his size. And there were a lot of fat jokes.
He's a likeable Liverpudlian, with a well-paced delivery and the occasional bright line on the well-trodden subjects he picked – skills that earned him a good audience reaction despite the unflattering opening spot. But ultimately the content just wasn't very interesting, and he ended with an unoriginal joke about being a 'buffet slayer'.
Kiran Morjaria has things the other way around: far more original material, but with a more wry wit and a calm and collected delivery, he possibly came across as slightly aloof, losing some connection with the crowd. However, he's got ideas that stick, such as his alternative n-word to substitute into rap songs to make them more family-friendly.
He's also got an enduring visual gag that shows substantial dedication to comedy. Though the final line – essentially an '…and that was my dad!' reveal – let him down a bit.
The ultra-cynical Kathryn Mather's closing line was odd for a different reason, being the oddly bland sentence: 'All religious texts are open to interpretation' – a perfunctory, conciliatory back-peddle after a disturbingly funny fantasy inspired by circumcision. She used to be a children's entertainer, and now seems to relish the chance to explore darker thoughts her old job would never allow. 'My favourite thing about a terrorist attack….' starts one routine. Her black humour certainly hit a chord with the room, who voted her the World Series champion of 2017.
Dougie – the alter-ego of James Harkness – goes out of his way to distance himself from the audience, with a baseball cap pulled so low we cannot see his eyes and a robotic voice with all the emotion of a vehicle reversing warning. Superficially, his stock in trade is awkwardly contrived and poorly set-up puns or trite observations such as the fact that hot dogs are inaccurately named. But the real joke is how bad this all is. Anti-comedy like this is always a room-splitter at the best of times, and is a hard genre to master. But Harkness could only be fitfully amusing with the concept.
Tom Lawrinson piles on the cheeky charm, only to undermine it. Sometimes this is clever subversion, such as his gag tackling latently sexist 'smile, luv' comments, or sometimes it's a bit more dubious, as he jokes about having sex with dogs. He's a lively, confident presence and easy crowd-pleaser, with a slightly weird twist to his jauntiness… and another act who feels like a safe pair of hands, even if not quite an exciting one.
Carrie Anne the Redneck Comedian is a parody of the Blue Collar comedy tour featuring the likes of Jeff Foxworthy and Larry The Cable Guy, which was popular more than a decade ago in the States but not the UK. Only problem with Carrie Anne Guthrie's spoof is that it was even less amusing than the unfunny originals, despite her puncturing her every sentence with the irritating affectation of a 'he-he-he-he' laugh in a Southern US hick accent to try to persuade us she was funny.
But in vain. There was more of this chuckle than actual jokes, with even her best being a poor version of the line 'I'll just move the mic stand out of the way so you can see me', which has become hack in the decades since Jo Brand first used it.
Making a return to this competition after winning the panel prize in 2015, Tayo Cousins has a winning stage presence, impishly calling back to an earlier comic's gag right from the start of his set. The charm continues as he reveals his real African name, but other routines seem to struggle to find a focus. And the impersonations are definitely dubious: although at least he had some justification for Nelson Mandela; his Arnold Schwarzenegger is as gratuitous as it is cliched.
Konstantin Kisin has a rich source of jokes in his Russian background, with nifty gags about undermining the American presidential election and Britons' reluctance to learn anyone else's language, delivered in an efficient, businesslike way of with little fat. The routine about the phrase 'pardon my French', however, seemed a little forced – perhaps because almost no one says that in real life. Nevertheless, he won the panel prize from the venue staff.
Finally, Adam Hughes was surely the most interesting comedian on the bill. He's a shouty, nervy Scouser, the microphone wobbling with rage in his hand as he aggressively prowls the stage raging at how awful life is – an intriguing and scary persona.
Unfortunately, though, his writing did not properly capitalise all that pent-up energy. Material was built on lazy filth about 'licking bumholes' and the like, plus a raft of cheap puns. He came second on the night, but if he can harness his anger on to some genuine frustrations, he could be unstoppable.
I can't sign off without mentioning deft compere Dan Nightingale, always a sprightly, quick-thinking host who makes a show feel like a show, whatever the quality of the acts he's introducing. Beat The Frog's World Series would not be the same without him.
Read More
Published: 7 Nov 2017
Promising up-and-comer Penella Mellor (pictured) makes…
12/11/2015
The Beat The Frog World Series line-ups are always…
10/11/2015
Agent
We do not currently hold contact details for Tayo Cousins's agent. If you are a comic or agent wanting your details to appear on Chortle, click here.