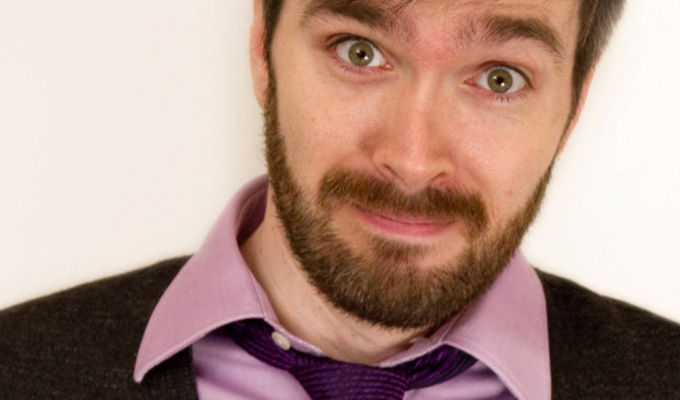 Tom Goodliffe
Winner of Beat The Frog World Series in 2009
Read More
Supporting Lembit...
Note: This review is from 2010
Jobbing comedians are used to the fact that, generally, comedy-club audiences aren't there to watch them specifically, but just a generic night of stand-up. But it's even less flattering to know that the entire crowd have come to see someone else entirely, and care not one jot about your existence. Especially when that someone else is an eccentric MP who's decided to dabble in comedy.
Appearing on the same bill as Lembit Opik has plenty of drawbacks, transforming central London's delightfully intimate Backstage Comedy Club into a mix of media circus and Commons club. Alongside the cameras and the reviewers, the comics also have to contend with the worst type of comedy audience member: the attention-seeker who thinks himself funnier than the performers. Step forward Stephen Pound, the ebullient Labour MP for Ealing North, walking the line between witty interjection and limelight-hogging.
Compere Robert Meakin, an occasional newspaper diarist and clearly a clubbable fellow, played up to the Establishment side of the night, donning a Lib Dem rosette and making light political quips about the celebrity headliner or David Cameron's poshness – all adding to the atmosphere that this was all about quirky old Lembit having a crack than a more genuine comedy environment.
Relative newcomer Tom Goodliffe was first to enter this world. He's a confident, affable chap, with innate stage presence – even if his slick routine scored few points for originality. Middle-class boys merging the patois of rap with their suburban experiences are a comedy staple these days – and this self-styled 'hip-hop accountant' couldn't make it his own, despite a few nicely corny maths-based puns.
Sarcastic comebacks to strangers' flippant comments about his 6ft 6in height equally produced more smiles than chuckles, as did his production of such unlikely tomes as 'How To Pull Girls' from his satchel, inviting inevitable comparisons with Robin Ince's Book Club that pretty much exhausted the fun you could have with strange literature. But the man has some style, if not much distinction.
But he's a veritable spring of inspiration compared to Tom Williams, who not only did the customary one-liner about the celebrity he's been compared to, but based most of his short set on it. That's when he wasn't mentioning the famous person the compere looked like. Add some confused 'health and safety' material about the tealights in the room and lots of long-winded set-ups, and you have a set of no consequence and no laughs.
Josh Widdicombe, by contrast, absolutely nailed it. He grabbed the bullish Mr Pound by the horns, and imposed his authority by bantering with a quick wit that couldn't be countered. The MP's flippant comments only fuelled him further in a skilful display of spontaneity.
Moving on to material, revolving around Madame Tussaud's and narrowboats, Widdicombe cemented his already warm relationship with the audience with his quirkily appealing material. His playful, original set proved a breath of fresh air, showing that you don't need tonnes of experience to rise to the occasion if you're blessed with an easy confidence and a charming, sharp wit.
I always want to like musical double act Moonfish Rhumba more than I actually do, given their imposing stage presence and distinctive look – one a vision in polyester in his porn-star moustache and dated fashion sense while his bald sidekick cuts a more sober figure. They create a frisson of anticipation when they take to the stage,.. but a meaninglessly surreal exchange about going to the candy store, conducted in silly voices, dissipates that.
They are musically adept, too, with rich, properly-written songs that would stand on their own merit; while they mocked the sultry cabaret chanteuses who seductively tease their audience in the front row by diving in headfirst. The only thing that disappoints is the comedy quotient of their songs, which is surprisingly pedestrian, given how stylish they are in executing it.
Finally, just before the main attraction, ventriloquist Nina Conti ran through one of her greatest hits, when her monkey puppet takes over her whole body – a skilfully performed set piece guaranteed to impress and entertain in equal measure. She they introduced her Scottish grandmother – or at least the sponge version thereof – for a silly turn that was enjoyable, if a little gimmicky.
The finale was something of a gimmick, too – though one guaranteed to raise the Roof – as she employed a 'human dummy'. She's not the first ventriloquist to employ this technique – Paul Zerdin certain does a version of it – but is hugely funny and, like everything the charismatic Conti does, exquisitely pulled off.
It would prove a hard act to follow – especially if your expertise is in politics rather than comedy…
Click here for a review of Lembit Opik's set
Read More
Published: 3 Jun 2010
The jewel in Tom Goodliffe is his take on the 'unlikely…
20/10/2009
Newcomer Tom Goodliffe is self-assured and comfortable…
20/10/2008
There was an awful lot of competence on show at the…
1/01/2008
Past Shows
Agent
We do not currently hold contact details for Tom Goodliffe's agent. If you are a comic or agent wanting your details to appear on Chortle, click here.