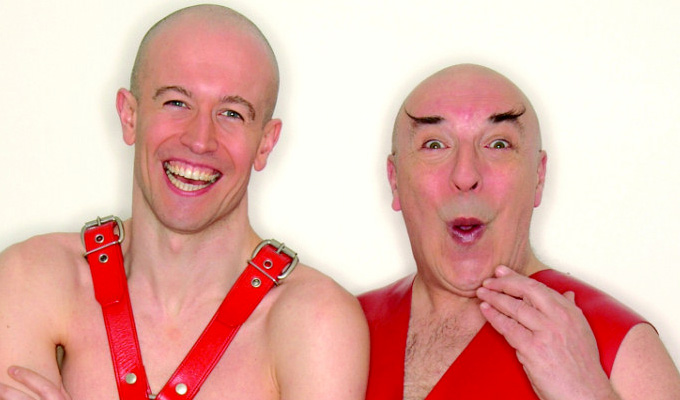 Topping & Butch
Real name: Michael Topping and Andrew Simmons

Kempinska's opening night
Note: This review is from 2011
Jongleurs founder Maria Kempinska has opened more than her fair share of comedy nights in her time, but never, until now, a venue under her own name.
Kempinska's is more low-key than some of the more raucous venues her company often operates in: a minimalist basement bar in central London with plain walls and a smallish stage in one corner, aimed at wooing the moneyed City types who work nearby rather than the drinking-and-clubbing crowd.
Five Jongleurs circuit regulars, plus compere Geoff Norcott and a couple of musical acts, opened the venue at a preview night last week in front of an invited audience, each performing just eight minutes.
We started with Joe Rowntree, who's one of those comics who does exactly what's expected, with slightly blokey, slightly rude observational material, delivered confidently. It's very safe – reassuring for bookers who want to serve up exactly what a casual audience expect stand-ups to talk about, but leaving him struggling to stand out or inject much personality into his set.
At one point, though, he does launch into something surprising – a surreal off-the-wall rant that seems to come from nowhere, shaking his routine from its complacency, and even topped with a decent punchline, not just weird for it's own sake. It's a nice moment, but sadly out-of character.
Built like brick outhouse, Colin Cole grabbed the audience's attention more conclusively, grabbing lots of laughs from short, punchy gags. Unfortunately, though, they have all either been told before, or so predictable that you could fill in the punchlines yourself. His keen sense of rhythm seems wasted on this pub-gag material – like one of the old-school comedians from the Seventies.
His obsession with midgets gives him some easy gags, but he also strays into much less edifying territory, when he simply invites the audience to laugh at the silly way the little people walk. Ha! Ha! Look at the idiots with their disabilities!
Over the past couple of years arch cabaret duo Topping and Butch have undergone a makeover, switching garb from S&M to M&S – or, more likely, an even sharper gentleman's outfitter. Though they've lost an obvious gimmick, the smarter look better befits the elegant camp of their song parodies.
There's nothing new in what they are doing, but their cheek and charm is irresistibly winning, with Butch playing up the innocent and Topping the devilish influence leading him astray. Here they wisely chose to lots of short bursts of songs, getting in and out with the gags without outstaying their welcome with a full verse.
The one longer number they did tackle, a dirty version of I Dreamed A Dream, did show up it's formulaic roots a little more – though the 'prompting' device was a nice touch, the filth enjoyable and Butch's singing voice impressive. Susan Boyle, pah!
After the showmanship (and an interval), the more relaxed delivery of Ava Vidal draws the audience in, and they hush to listen to her withering put-downs – aimed at her own children. The punchlines are strong and although she knows it's wrong to say such evil things about her own flesh and blood, she's not apologetic, but invites the audience to share her guilty pleasure at getting the frustrations off her chest. Finally Kev Orkian, who proved the clear audience favourite of the night – thanks in no small measure to his comedy Armenian accent. Laughs come from his tale about being a poor and naive immigrant, exploited but too simple to realise it. The style is a little old-fashioned – especially in his portrayal of effeminate gay men – but its a nice story, and Orkian's wide-eyed persona engenders empathy.
But his greatest skill is music. He's a brilliant boogie-woogie piano player, and gets the crowd going with some call-and-response, and a virtuoso demonstration of his quick fingers. It's not funny – but it's very entertaining.
Read More
Published: 13 Nov 2011
Cheekily camp Topping and Butch have such innate warmth…
3/12/2009
Foreboding music heralds their entrance. Two men in…
23/03/2007
Were there a prize for the best title on the Fringe,…
1/08/2005
An indisputable contender for campest show on the Fringe,…
1/08/2003
Past Shows
Agent
We do not currently hold contact details for Topping & Butch's agent. If you are a comic or agent wanting your details to appear on Chortle, click here.