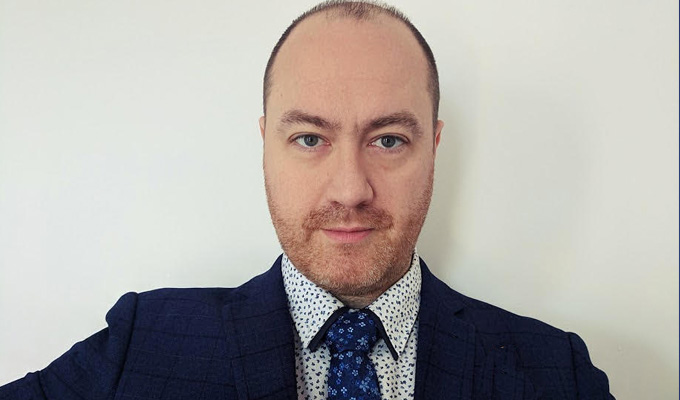 Steve N Allen
Late Night Mash
It's like it never went away… After being dumped by the BBC in what was assumed to be a move to appease Conservative critics, The Mash Report has resurfaced on Dave with a new name, Late Night Mash. Of course, the irony is that Dave's parent company, UKTV, is wholly owned by BBC Studios.
Aside from new graphics and a marginally different set, almost everything was the same, from the rants to the newsdesk, to Rachel Parris being absolutely the best thing on it.
In his opening monologue, host Nish Kumar lent into the controversy over the cancellation, opening the episode by joking: 'Like the Taliban, despite popular demand, we are back.
'Yes, that's right, I'm Nish Kumar and I was cancelled by the BBC. And like everyone that's been "cancelled" I got a new television show on a different channel and I'm more unapologetic than ever. Think of me as the brown Laurence Fox, not because we are similar but mainly because I think he would really hate that.'
Fox responded on Twitter this morning, saying: 'I am so flattered to be mentioned in your first monologue, my brother from another mother!'
But you might be able to detect a hint of sarcasm as the anti-woke crusader added: 'I hope this show is just as successful as your previous shows. Which I'm sure it will be.' Followed by a praying-hands emoji.
Kumar's jokes about his new home continued with the comment that BBC shows normally end up on Dave 'without having to be cancelled first' – before referring to the broadcaster losing Taskmaster. 'We're really looking forward to making a success of this show on Dave, by which I mean being on Channel 4 in two years time,' he said.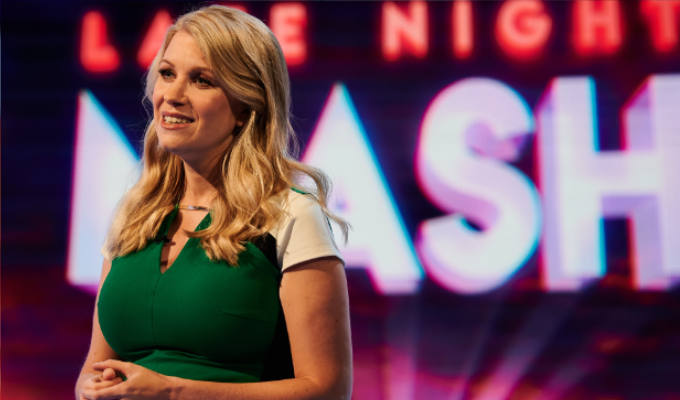 And later, Parris, above, read a fake tweet saying: 'Congrats on the move from the BBC to Dave. I recently got divorced and moved out of the family home into a bedsit. You get used to it.'
Otherwise business continued as normal, which is either good news or depressing, depending on your view of the original. Or, let's face it, your voting intentions.
But Late Night Mash faces an uphill struggle on two fronts. First, trying to be satirical about a government that's really beyond satire, given how incompetence has become normalised. When there's no consequence for any of the litany of ministerial failings made every week, pointing them out with a raised eyebrow seems impotent.
The second is outpacing leftie Twitter. Much of the attitudes and opinions seen in last night's show have been filling the timelines of its target audience for months, exacerbated by the fact there's been a year's worth of news since the last BBC episode. But at times, last night's instalment felt like another echo chamber as it followed the news agenda of Brexit-exacerbated food shortages, football fans who protest players to taking the knee, or Dominic Raab's absence as Kabul fell.
On such matters, Kumar can come across as smug, especially in his mid-show monologue that put point-making ahead of comedy. He is aware of the fact, and undermines it a bit – there were a lot of jokes in last night's show about him losing his virginity late – but it's more effective when Parris mocks him in her delightfully patronising tone.
But even if the subjects can seem familiar, the sizeable writing team offers some new gags about them,
In any case, satire doesn't always have to upset the establishment; it can also serve to simply channel frustrations, to reassure people they are not alone in their disappointment or anger at the state of things. And this is perhaps Late Night Mash's strength, as a rallying point for discontent.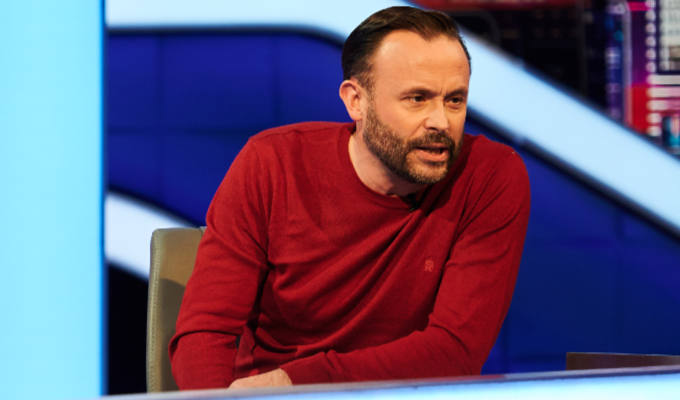 Even token right-winger Geoff Norcott, above, toed the line to a large degree. In one of the more amusing segments, he failed to call youngsters 'woke snowflakes' as convention dictates, instead pointing out how tough a pandemic Generation Z have had... and now with the added horror that Michael Gove might turn up at their nightclub.
The news headlines, read by Steve N Allen, Ellie Taylor offer some pointed one-liners and a touch of absurdity to vary the tone. The sketches they sometimes lead into are patchy, but kudos for getting the phrase '30-minute anal tonguing' on to TV, delivered with Taylor's perfectly enunciated Queen's English.
But in a major editing slip, somehow the same joke was used twice without anyone noticing. 'Arsehole who was up and about before 6am feels the need to tell everyone about it,' intoned Allen in two separate bulletins. Those same editors might also want to dial back the laugh track, which often felt intrusive here.
Meanwhile, the most significant change – extending the show to an hour to maximise the number of ads that it could carry – was a stretch. But the success of Late Night Mash is less likely to be measured by how many watch the entire show, but the reach on social media. It's a format made to be sliced into small clips and hopefully go viral.
That – as well as the team's politics – are perhaps why Late Night Mash doesn't stray too far from accepted wisdom. But more edge and surprising angles would not go amiss.
Read More
Published: 3 Sep 2021
Many people have had to get used to working from home…
4/04/2020
Britain always looks enviously at US topical programmes…
20/07/2017
Steve N Allen faces the same challenge of anyone doing…
5/05/2014
As a commercial radio DJ, Allen has an easy confidence…
5/04/2004
Past Shows
Agent
We do not currently hold contact details for Steve N Allen's agent. If you are a comic or agent wanting your details to appear on Chortle, click here.