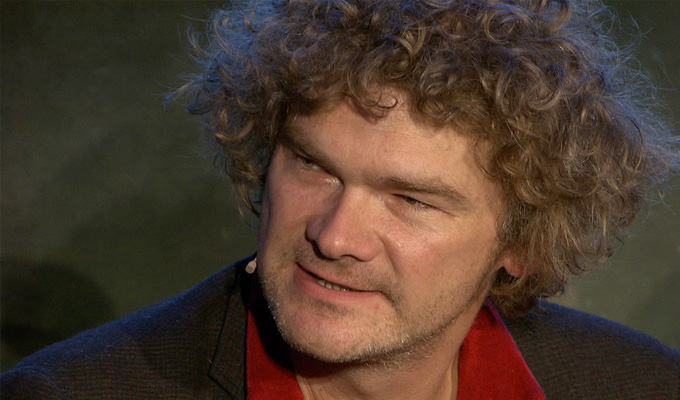 Simon Farnaby
Mindhorn
It doesn't take Steve Coogan's presence in Mindhorn to draw out parallels with with Alan Partridge as a hubristic middle-aged man of minor celebrity and blinkered self-obsession struggles through humiliations of his own making against a parochial backdrop.
The film even features the best bit of car vandalism since the 'Cook, Pass, Babtridge' incident.
But Julian Barratt's pompous Richard Thorncroft is an even bigger shit than North Norfolk's finest. He was the hard-living, womanising and rather idiotic star of a hit 1980s detective series, whose titular character undergoes a Six Million Dollar Man-style transition to give him a bionic eye that can literally 'see the truth'.
Riding high on egotism, he quit Britain for a sniff of Hollywood success, burning his bridges on a spectacular, drunken Wogan appearance and walking out on his partner Pat. And was barely heard of again.
Quarter of a century later, he's washed up, living in small flat in Walthamstow and reduced to advertising support socks and girdles – a product he also uses to keep his fast-expanding girth in check. Until, the is, a crazed criminal on the Isle Of Man, where the TV series was set, demands to speak to Mindhorn.
Thorncroft, sniffing a career-reviving PR opportunity, and a chance at romantic reconciliation, dutifully dons the brown polo-neck and robotic eye to try to bring in The Kestrel.
The premise is dispensed with pretty briskly, including some realistically fuzzy VHS footage recreating the 1980s original, presumably under the assumption that cinema-goers will have grasped the basic plot from the trailer, which does contains a lot of the movie's best and biggest jokes (although there's plenty to enjoy in the nitty details of the show, too).
Thereafter, the plot is a fairly formulaic caper of villainous mayors, bent coppers and chasing incriminating evidence around the Manx countryside (the tax haven getting a lot of loving footage for stumping up towards production costs), that doesn't thoroughly engage.
Still, it offers Thorncroft the opportunity to reassess the errors of his old ways, even if it takes quite the sledgehammer to get through to him, as well as a framework for a decent number of very funny moments.
Many of these come from scene-stealing Simon Farnaby, who co-wrote the script with Barratt. He plays Clive Parnevik, Thorncroft's one-time stunt double now shacked up with Pat (Essie Davis) with an indeterminate accent, inscrutable oddness and a propensity to do the gardening only in the skimpiest of denim shorts.
If Parvenivik scores points against Thorncroft's ego personally, Coogan's character Peter Eastman scores points professionally – as the former co-star who went on to huge success with a Mindhorn spin-off, and now enjoying a lavish playboy lifestyle not too far from Coogan's erstwhile tabloid image.
Him & Her star Russell Tovey brings a childish vulnerability to his role as The Kestrel that almost convinces you he could believe the Mindhorn make-believe was real, while there are game, knowing cameos from Kenneth Branagh and Simon Callow.
Most of the other actors don't have much to work with – even Davis and Andrea Riseborough, playing a local cop, who are both used to better things. However in a film about masculine posturing, female parts take second place.
Despite the best efforts of Sean Foley, who can do comic moments, both writ large and subtly underplayed, and Barrett in skewering his suave image to play the balding, awful Thorncroft, Mindhorn can feel like an hour-long TV special over-extending itself.
But there are enough laughs from the characters, if not the plot, to make for an entertaining 90 minutes.
• Mindhorn is in cinemas from Friday.
Read More
Published: 2 May 2017
The first thing to note about Bunny And The Bull, the…
1/01/2009
One aim of Ealing Live! is to offer a less hostile…
1/01/2006
Ealing Live!, the nursery hothouse where the lion's…
1/01/2006
Past Shows
Film
Misc live shows
Agent
We do not currently hold contact details for Simon Farnaby's agent. If you are a comic or agent wanting your details to appear on Chortle, click here.