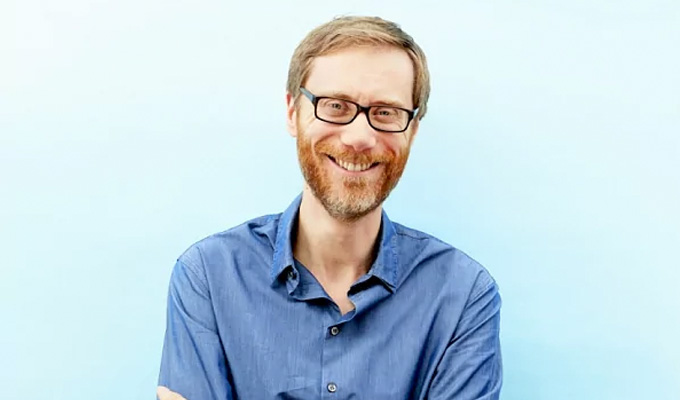 Stephen Merchant
Date of birth:
24-11-1974
Stephen Merchant was born into a middle-class family in Bristol, the son of a nursery nurse and an insurance salesman. He studied film and literature at the University of Warwick, where he began his radio career in 1995, hosting a comedy show on the student station.
He began stand-up at Bristol's Comedy Box club, recalling: 'The first week I did really well. The second week I died on my arse.' But her perservered, and made it to the finals of the 1998 Daily Telegraph Open Mic awards.
He continued to work in radio, at first as a breakfast DJ on Radio Caroline before joining XFM, where he started working with Ricky Gervais. He left in 1998 to join a production course with the BBC, but rejoined for a while following the success of The Office.
In 1999, he and Gervais made a Comedy Lab pilot for Channel 4 called Golden Years, about a fame-hungry office manager who goes on Stars In Your Eyes as David Bowie – an obvious precursor to The Office.
But it would take two more years before The Office hit BBC Two screens. As well as co-writing and co-directing it, Merchant appeared in the second of two series, in 2002, as Oggy, a friend of Gareth Keenan. The show won a ridiculous number of awards, including three best sitcom Baftas, a British Comedy Award for best new comedy and a Golden Globe for best comedy.
When The Office was sold to America's NBC network, Gervais and Merchant retained executive producer credits, and wrote a new episode, The Convict, which aired in November 2006.
The duo followed up The Office with Extras, which ran for two series and a Christmas special from 2005 and 2007. As well as co-writing the show, Merchant starred as incompetent agent Darren Lamb, which won him the British Comedy Award for Best TV Actor in 2006 and a Bafta for best comedy performance in 2008.
Alongside this, they recorded a series of podcasts with sidekick Karl Pilkington. The first series, which was free, broke all records for downloads. They then decided to start charging, which hit listening figures, but proved to be one of the few successful attempts to make any revenue from podcasts.
Other acting roles include the chef in Garth Marenghis's Darkplace in 2003, and cameo roles as a computer analyist in 24 and as a man who loses his swan in the 2007 film Hot Fuzz.
In 2002 Merchant directed another Comedy Lab called The Last Chancers, and in 2004, worked as a script associate on the Chris Morris and Charlie Brooker sitcom Nathan Barley.
In January 2007, he began a Sunday afternoon radio show on BBC 6 Music.
Read More