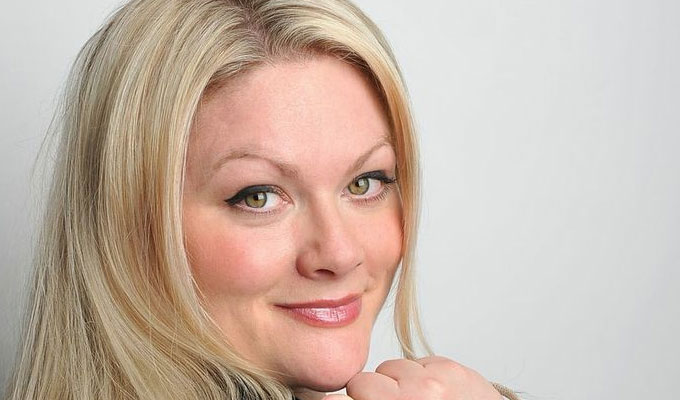 Suzy Bennett
Winner of the 2006 Funny Women award
Read More
Suzy Bennett: Gumption!
Leaving an unhealthy relationship takes some gumption, says Suzy Bennett, but not as much as attempting to reconnect with the friends she lost touch with during it. Or dancing in Kylie's gold hotpants.
Her venue is a heat trap on one of the sunniest days in Edinburgh, and Bennett is asking her audience to warn her if her eyeliner starts running. She's already managed to get the tassels on her jacket caught in one of the cooling fans. It isn't a perfect start, but she couldn't be happier. For this is the first year she's off the anti-depressants and able to make light of events in her past.
Mistakes and how to mend them is the main theme of her set and Bennett gives a frank account of her past woes, including failed diets, a painful break-up with subsequent dating nightmares, and the death of a close friend. She has been likened to Dawn French in her ability to draw you in with a few well-placed quips and a lot of awkward expressions, feeding off the 'we've all been there' sympathy from the crowd.
Bennett recognises that her set is extremely personal in comparison to previous years, and here is where she shrewdly applies 'gumption' once again by doing a show not for recognition or a large pay packet, but for her own well-being. Bennett is so bubbly and approachable that you'll congratulate her for wanting to do something positive for herself.
She makes no secret of the fact she gets easily bored: she once received a work disciplinary for practising dance routines when she should have been supervising customers. She often veers away from her notes to talk about other things that she finds more exciting. This gives the audience a lot of extra, unnecessary backstory with fewer punchlines. Instead of laughing, they listened a lot and nodded along politely.
At least the finale rewards them for their patience. But although there is still plenty of mirth in Bennett's madness, at times, it feels more like a support group meeting than a stand-up gig.
Read More
Published: 21 Aug 2015
It's rare for a stand-up to wear their heart on their…
9/08/2013
Suzy Bennett's routine covers chlamydia, gynaecological…
28/06/2013
The winning routine of this year's Funny Women award…
1/01/2006
Past Shows
Agent
We do not currently hold contact details for Suzy Bennett's agent. If you are a comic or agent wanting your details to appear on Chortle, click here.