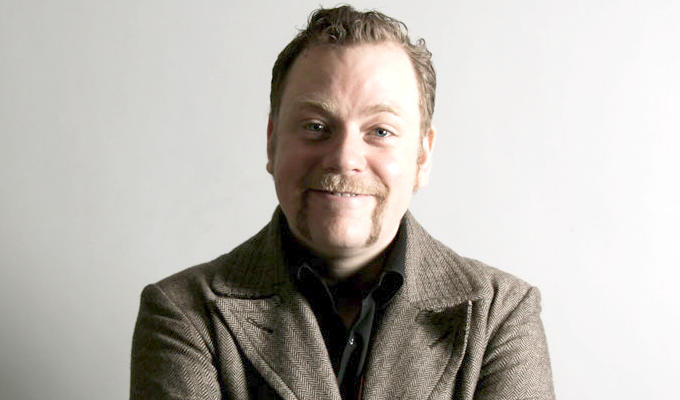 Rufus Hound
Set List: The Sky Atlantic Recording
Note: This review is from 2012
Pity any poor bug that scuttled into the Bronx backyard of the nine-year-old  Paul Provenza. The helpless insect would surely have been pinned down in the heat, squirming uncomfortably, their legs furiously scrambling at nothing, as he sadistically picked them apart to see how they ticked.
Forty-five years later, and the director of The Aristocrats, that definitive analysis of comic styles, is doing exactly the same to his fellow comedians, via the devilish contraption known as Set List.
The format, now familiar to any serious comedy fan after playing festivals around the world, is that stand-ups are presented with off-the-wall headings around which they must improvise a full routine. Provenza likens it to leaping out of a plane, the comedian needing faith that the parachute of their talent will open before it's too late.
More than 60 years ago, a BBC radio producer called Ian Messiter had a similar idea, but added the restriction that contestants should speak without hesitation, repetition or deviation... but the rather more welcome rule that they need speak no longer than a minute, and could be interrupted. No such lifelines for the comedians here.
If The Aristrocrats was about 'the singer not the song', Set List is about the process not the punchlines. The fun is to watch the comics struggle towards something funny, unsure of what track to take.
The format – as devised by Troy Conrad before being championed by Provenza – has quickly become revered by the comedy congnoscenti. Comedians want to prove they are equal to the challenge, fans want to see something created out of nothing. After all, the most fantastic moments occur in stand-up when the performer goes off-script.
So it's probably heresy to suggest that, in practice, the show isn't always the most entertaining to watch. Because there's necessarily the real possibility of failure, some of the acts do just that – even if they do so valiantly.
I've seen the show in three continents, and only about half the comics who boldly take on the task can claim a victory beyond survival (which some may argue is more than victory enough). But there must be something about the format – not to mention certainly the calibre of acts it attracts –  that draws me back time and again.
The show, which returns to Edinburgh next month, has now been picked up as part of Sky Atlantic's ever-increasing comedy slate; and is being recorded in London this week, with other episodes coming from the States. Last night's stellar line-up was Rufus Hound, Todd Barry, Paul Foot and Reggie Watts – and the strike rate, in the first of the two recordings at least, was slightly above the international average.
Hound kicked us off, and made a few nimble mental leaps to create genuine jokes – plus one truly dreadful Star Wars pun – from the set-ups. But it would be a mistake to say he found it easy, not least when confronted not with more manageable topics such as 'Soup Of The Year', but the more obtuse '#'. When grasping for ideas, he frequently went into the audience, seeking to bounce off other people in the search for a punchline, and although it may have been touch-and-go at times, he pulled through.
Ultra-deadpan Barry had a more difficult time of things; largely grumbling in his laconic way about the impossibly odd phrases presented to him. Despite his slow delivery, he rattled through the cards, finding little to say about most, choosing instead to comment on the audience, the entire premise, or the cameraman at his feet.
Paul Foot struggled, too – though to be fair he probably had the most difficult of cards. Making 'Birth Defectors' funny is a certainly a tall order, and certainly beyond the range of his surreal flights of fantasy.
Yet he also proved a couple of points about what Set List is all about. For one he got laughs from apparently nothing – just grabbing the mic stand in a peculiar way, for example – proving that you can't over-analyse something as ephemeral as funny bones.. And secondly he could capture victory from the jaws of defeat: a rambling discussion about clams that think for themselves seemed to be floating away into nothingness, until he snapped it back with a brilliantly warped payoff about mobile phones, which, momentarily at least, made sense of it all and gave him a triumphant way out. His parachute opened in the nick of time...
Finally, Reggie Watts, no stranger to improvising in his own shows, demonstrated how to nail it. Adopting a variety of impressively accurate laid-back accents – and barely touching the sampling technology that has become his trademark – he calmly and eloquently delivered lectures on the likes of racism etiquette schools or 'mixtapeworm'. On paper, what he said possibly wouldn't seem all that funny, but the gentle characterisation and the compelling conviction with which he spouted this realistic-sounding bullshit made it undeniably so.
Concessions for a TV recording were minimal... this was filmed as if in a comedy club, with the audience in a three-quarter circle around and above the stage, creating than that vital feeling of a mini-gladiatorial amphitheatre. When the show airs in the autumn, green room interviews with the comics before and after their set should also provide viewers more context than simply seeing comics flail and – sometimes – strike paydirt. But ultimately that is precisely what Set List is all about.
Read More
Published: 11 Jul 2012
A belated, comedic addition to the enduring British…
19/09/2011
Rufus Hound has to be extra-careful at a family-friendly…
25/07/2010
Thanks almost entirely to Robin Ince, comedy-science…
15/05/2010
Even at the peak of his GLC powers, I'm fairly sure…
27/11/2009
DAY FIVEAn outdoor comedy festival with Pimm's on…
1/01/2008
For all his shouting and bluster, Hound cannot elevate…
21/08/2002
Past Shows
Misc live shows
Agent
We do not currently hold contact details for Rufus Hound's agent. If you are a comic or agent wanting your details to appear on Chortle, click here.