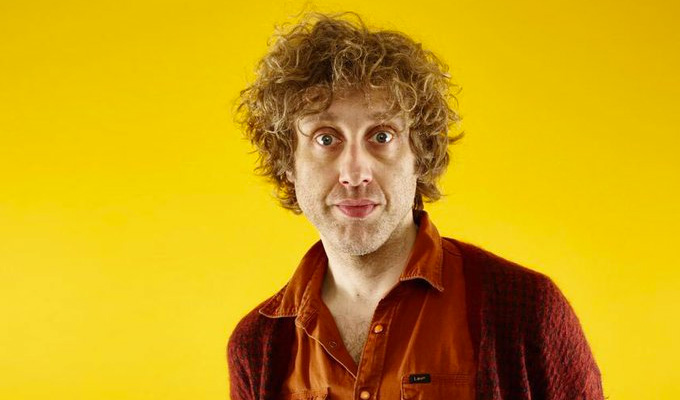 Richard Todd
Richard Todd: We Need The Eggs
There's something about unique about the style of absurdism from North East England that I can't put my finger on. Vic and Bob, Ross Noble and Seymour Mace all have something beyond the actual words that are spoken – and no I'm not thinking about the accent. Answers on a postcard. But whatever it is, it's working for Richard Todd in his fourth show.
One of the first things Todd tells us is that his career hasn't kicked on as he would have liked, and after flirting with the idea of giving up comedy, has come full circle to embrace it once again. Just like his dad, who runs a newsagent like no other by the sounds of it, Todd is committing to 'pursuing the crazy': doing it how he wants to. This note of defiance gives We Need The Eggs another dimension, a bit of traction as he freewheels his way through his bizarre stories.
The main thread concerns his suspicion of being cheated on after finding prawn cocktail crisp crumbs in his and his girlfriend's bed. Neither of them like the flavour, and so the mystery begins.
Along the way he takes us off into other, stranger territory, my favourite being his anecdote about his dad's friend Ken, who steps in when Todd Sr's windscreen wipers break. This tall tale is such a funny routine, the product of a brilliant comic mind. It's a good example of how, despite Todd being known for his imagination and his crazed delivery, it's the sudden injection of stark realism that makes his stories hit home. In this case, it's through the legality of what Ken is doing and an amazing line that means nothing out of context: 'I have no idea what was in it for Ken.'
Another eccentric chap is Brian, whom Todd teaches art at a homeless shelter (his job away from comedy). Like Todd and his father, Brian is an obsessive who never deviates from the same thing in his drawings, no matter how much he is encouraged to mix it up.
The world Todd builds is one of idiosyncratic people with good hearts, who mean no harm yet are shut out of the mainstream because of their idiosyncrasies. You don't have to look especially hard to see why he relates to this. Comedy shows that have an empowering 'be yourself, embrace who you are' message don't normally feel like this; this is more strange and less political. But Todd's version is no less valid and it's mightily funny.
He certainly deserves a bigger audience. Certainly, if you are missing Ross Noble, you have to try Todd. His style may take a bit of getting used to if you're new to him – he's off-mic, straining his vocal cords to generate power, and he paces wildly as he tells his stories – but it brings a sense of urgency to the show. It's always good to watch a comic who is compelled to say what they're saying.
Before he wraps up his crisp mystery, he takes us on some fantastic deviations about using Henry the Hoover, and going to a public transport lost property office. It's surrealism with one foot on the ground, somewhere between Phil Kay and Dylan Moran.
Todd says that at heart his dad is an artist who never did anything with it, so perhaps in a way, the comedian sticking to his pursuit of the crazy' is a tribute to his dad's untapped potential.
I loved this show: warm, personal, unique, very funny. It is the work of someone untapping their own potential, and it warrants your attention.
Read More
Published: 19 Aug 2018
Three things immediately recommend Richard…
27/08/2017
This was the London comedy circuit's third new act…
12/12/2011
Past Shows
Agent
We do not currently hold contact details for Richard Todd's agent. If you are a comic or agent wanting your details to appear on Chortle, click here.