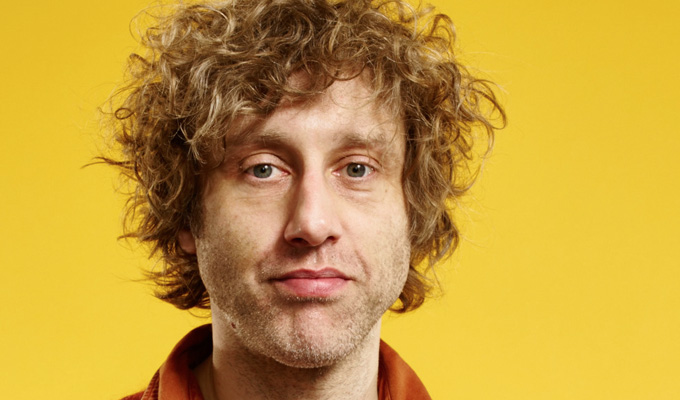 Richard Todd: Monsters
Three things immediately recommend Richard Todd to you – the charming, self-deprecating manner in which he gently cajoles punters into his free show, the amusing, pre-investment bucket speech he offers, and the fact that he promises to finish after a clipped 40 minutes, a pledge he makes good on.
With his warm, unthreatening Durham accent he's got something of the children's television presenter about him. Equally though, with his lanky frame, wild hair and intense stare, you're not entirely surprised to hear about his mental health issues.
Quoting Dostoevsky on humanity's need for a purposeful existence, he's struggled to find such a thing in order to keep his inner demons at bay, with specific bogeymen repeatedly alluded to.
Establishing himself with relatable tales about his anxiousness waiting to open train doors with a line of commuters behind him and the rites-of-passage Fringe experience of performing in an obscure venue to just two people, he nevertheless quickly segues into an account of his raging adolescent libido and the inappropriate times it would reveal itself. This is followed by an image of his even younger self violently attacking the fridge when it refused to release an ice lolly to him.
The lyrical turns of phrase Todd employs describing the latter tale, in particular, and the manic manner in which he recounts these episodes are arresting, which is important. Because after he's established that he's got a counsellor who helps him comprehends his thoughts, he returns to them to reveal a fuller picture, at once pullback-and-reveals and a deepening of the understanding of his underlying issues.
He reveals that he works as an art tutor with the homeless and those with drug problems, and there's storytelling sleight of hand as he blurs the distinctions between competent teacher and vulnerable pupils for some hilarious lines and a routine in which he, ironically, only manages to mask his charges' crazed creations with some unhinged behaviour of his own.
The lack of an ultimate, stable authority in any of this is testified to by the side-effects of his antidepressants and the fact that his counsellor took him on as a retirement hobby after seeing him at a gig.
Domestic rituals of bathing and cleaning give him a semblance of order and help to suppress his inner monsters, but Todd can't prevent himself from developing an unhealthily close bond to his Henry Hoover and fixation with his neighbour's excessively loud blaring of the Bee Gees through the walls.
He recalls how he came to be prescribed his anti-depressants, after a confrontation with a gang of teenage thugs that failed to release his demons in the Incredible Hulk-like manner he'd anticipated, even as his thoughts ultimately take a turn towards the increasingly deranged …
Tackling a difficult and highly personal subject with honesty, good humour and playfulness, imbuing even the most psychotic aspects with humane empathy, Todd can't always keep the chaos in his tale from bleeding into his presentation of it, which jumps around a little too much chronologically. But he's a hugely likeable presence at the mic and you get as swept up by his account as he does telling it.
Review date: 27 Aug 2017
Reviewed by: Jay Richardson
Recent Reviews
What do you think?