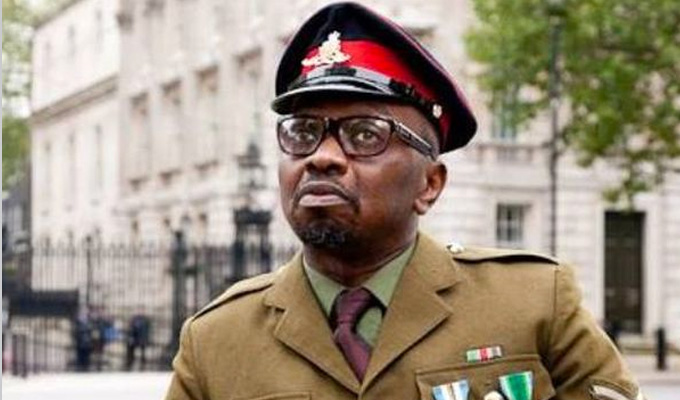 President Obonjo
Goodbye Mr President
President Obonjo, the African dictator in exile in Britain, is such a great comic creation that TV executives have either stolen it for a new E4 show or independently come up with their own version, depending on whom you believe.
On the circuit, he is an excellent conduit for jokes about the corruption and extravagance of a casually brutal regime, while exuding an authority that can bend audiences to his whim. Though Benjamin Bello, the man beneath the sloppily-worn uniform, always lets his mask slip a bit to reveal the absurdity of what he's doing.
This show is not the President's, but Bello's. Although we get glimpses of what makes the act work on the circuit, it's a story from the comic performing him. Unfortunately, it's also a story that's fumbled, robbing it of much of its impact.
After a singalong of the national anthem of Obonjo's Lafta Republic – which a surprisingly large proportion of people in the audience know the words to – Bello makes clear that he's a bloke pretending to be a despot in order to make his way on the British comedy circuit.
He speaks a lot about other gigs he's done – a topic which always seems to show such limited horizons unless the anecdotes are strong enough, and they aren't here. We soon encounter a fan called Chris, and this is where the hamfistedness stars. Chris is first introduced as a 'stalker', when actually he was a keen fan who transgressed no boundaries. The use of the colloquial is needlessly confusing, establishing him wrongly in the audience's minds.
Bello also bases their relationship on the fact they became friends on Facebook – although it gradually emerges they were much closer than that. Again, it's never made explicit quickly enough - to the detriment of the story. We're led to believe Chris is an online obsessive, while Bello really needs to draw out their real-life friendship.
Because we're not properly invested, the ensuing story – which I shan't spoil – seems manipulative, using emotional capital Obonjo hadn't truly earned. He says he was stung by criticism a previous show didn't have structure, so it seems like he's now reached for a much-used template, but not filled it in properly.
Eventually the show turns into quite a touching tribute to his friend, but we took the long way round – and for no good reason. Plus the comic payoff seems clunky and contrived.
There's then an awkward transition into the final section of the show, caused in part by him having to play his own sound cues from the desk at the side of the stage. His tech apparently let him down 'so I had him shot,' the President quips, flashing a rare glimpse of the alter-ego.
The finale is based on audience participation, which is slight and a little stilted, but does allow the President to flex his authority with nothing more than a firm stare and a flick of his swagger stick. And those who take part seem to be having a ball.
But as a show, this feels bitty, without a clear sense of direction, even though he's trying to impose one. You'd never seize power with such woolly thinking.
It's a shame because Obonjo is such a strong comic creation. However, this is not the show that displays Mr President to his best advantage.
I now await my novichok-in-the-tea fate for daring to question the dear leader…
Read More
Published: 15 Aug 2019
Of all the stand-up competitions around – and…
30/05/2017
It's Yorkshire Day, so it's apt that the Great…
2/08/2016
New Variety Lives is the name of the production company…
2/02/2016
Agent
We do not currently hold contact details for President Obonjo's agent. If you are a comic or agent wanting your details to appear on Chortle, click here.