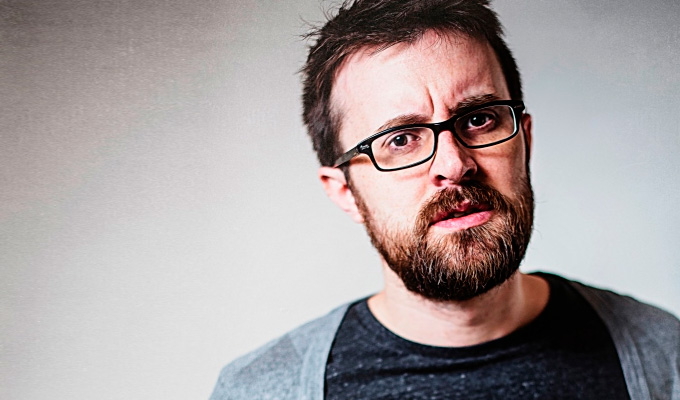 Michael J Dolan
Michael J Dolan: Miserable Guts
Note: This review is from 2015
Michael J Dolan doesn't know what he's doing here on the Fringe. Another white man's voice in a ridiculous festival of ego, when he has no ambitions to succeed in the preposterous charade of stand-up.
You have to hand it to him, that candour puts him in an almost unique situation in Edinburgh
But as if taunted by a malevolent Greek god, the very thing he hates is the very thing he's good at, so he may be condemned to forever repeat it. This he might not want to hear, since he's already less of a fully-functioning human and more a man-shaped slab of anxieties with a beard stuck on.
Perpetually bored, but too burdened with too much ennui to ever want to leave the house, he is a man shorn of purpose. Even in his delivery he seems to be grasping for meaning that he's not sure he wants to find. Again the irony is that he's piercingly insightful about both the lot of a wastrel marking time until the blessed release of death, and the wider world as well. He's a bleak preacher reminding us of our cosmic insignificance and the futility of existence.
Oh, but he is savagely funny as well, even if the bitter flavour of his nihilistic stand-up may be to tart for some. It frames even less existential routines, such as his belter about some of the nauseating sex toys he's come across, if that's not a poor choice of expression.
There's a bit of coasting as he talks about comedians selling out to make adverts – though it does allow a few tongue-in-cheek pot-shots at fellow comics – and his take on Twitter is a bit more predictable in its scorn.
But overall, his beautifully argued misery and misanthropy makes for a distinctive, bleakly amusing hour. See him now before you see him on Sky News above the words: '…home-made explosive device.'
Read More
Published: 9 Aug 2015
If the comedy doesn't work out for super-cynic Michael…
21/08/2013
Michael J Dolan gets fed up of people telling him he…
18/08/2011
It's always a joy to take in the Leicester Mercury…
20/02/2011
Past Shows
Agent
We do not currently hold contact details for Michael J Dolan's agent. If you are a comic or agent wanting your details to appear on Chortle, click here.