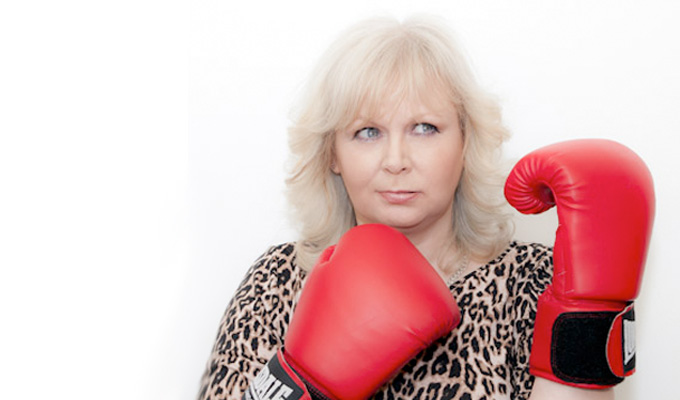 Martha McBrier
Funny's Funny female comedian of 2011 final
Note: This review is from 2011
It was set up as a celebration of female comedy. But the new Funny's Funny award actually proved there's no such thing.
It's just comedy.
For the 13 finalists, chosen from more than 220 applicants over 21 heats, demonstrated such a diverse range of styles - musical, dark, surreal, character, awkwardly nerdy and confidently chatty – that any attempt to define 'female comedy' is meaningless.
In the name of full disclosure, Chortle underwrote this competition, in support of the comedians who put it together with remarkable speed in protest at the entry fee the Funny Women competition introduced. However the acts who made this final at Camden Highlight were independently selected, and our interest is limited only to the backing we've already given.
Drawn in the never-popular opening spot, 21-year-old Laura Carruthers set a sort of happy medium for the night. Just out of university, her lack of worldliness sometimes came through in formulaic set-ups, or punchlines that were little more than a blast of bad language, often inappropriately aimed at her own relatives. Yet there are enough quirky lines to generate laughs – and more importantly demonstrate promise –  even if she didn't always seem entirely confident on stage, despite her inherent low-key likability.
Jokes are Steph Lane's stock-in-trade, and she never relented on the one-liners, strung together in an apparently conversational set. They are of mixed quality, and while some were great, quite a few fell just a little short of what they could have been, which is slightly frustrating since the wit is tangible and the delivery strong. There's a bit too much focus on ironically tasteless gags about child labour – ironically enough it's a subject she overworks – but other dark-cored quips hit their mark.
If there are stereotypes of female comics, a cute girl with a guitar is probably high on the list, and Kate Lucas opened her set almost exactly as you'd expect... with a twee plinky-plonky nursery rhyme – but all about dogging. But even in the confines of this short set, the quality built up considerably, especially with the stand-out closing number, about various forms of ill-will she wishes on an ex combines deft lyrics with a lovely sense of progression. This was surely the song that secured her second place, and more like this will make her a formidable force.
The Dory Lama has a stage name to make you cringe; though it's not a character act. American Dory Dutton does sometimes feel like a cliche of positive self-assertion, though usually undermined by a sly joke at her own expense. Some are tired – 'They say love is blind.. well, it helps if your partner is!' – while the idea that, at 49, she's now utterly decrepit is hard to take. She's technically strong, and a confidence performer, but seems to be too guarded behind a slick persona to really click with.
Harriet Kemsley is the opposite. She appears to be a naive bag of nerves, terminally uncool even in this alpha-female position. Yet she is an excellent writer, exploiting that persona for some fresh lines about London's clash of middle- and working-class cultures. Even when on the ground of rape – such an easy subject to do badly in a misguided attempt to be 'edgy' - she plotted a steady course; and that combination of uncertain delivery and hard subject-matter, skilfully handled, earned this 24-year-old the top slot on the night.
After the first interval, Glaswegian Martha McBrier hit the ground running, with a refreshingly buoyant bout of audience banter, with any material cunningly disguised beneath this lively crowd work. She's got a couple of great jokes, but her set isn't really about the writing, but about her personality – and in that she's the real deal. McBrier's been in and out of comedy for years, with occasional Fringe runs and little else besides; this competition being her first gigs in three years. She really should stick with it – she's a natural comic who would sit comfortably in the top echelon of club comperes.
It was probably inevitable we'd see at least one ukulele tonight, and it was Eleanor Morton, a 19-year-old performing her first gig outside Scotland, who obliged. Although apparently awkward on stage, she embraced that as part of her personality, and had some knowing asides about the limitations – real or imagined – of musical comedy. Some of the material not backed up with her accompaniment was less certain, but for an act just a year into her career, she could be an interesting prospect.
Like McBrier, Annette Fagon is a force-of-nature performer, a bold, brash, Midlander with a loud mouth and the sort of no-nonsense delivery that would command the attention of the bawdiest room, so almost overwhelms this more polite, supportive crowd. Yet she's friendly with her bluster, and although, again, it's a matter of personality rather than well-crafted lines, the few minutes in her company are breezily enjoyable.
Cariad Lloyd was the first character act of the night, appearing in the guise of swotty schoolboy Andrew presenting a project about Russian history. It's not an immediately easy creation to get a handle on - he's weird, but not out-and-out demented - and the humour is underplayed. But he gradually grows on you, thanks to such nicely-done routines as the deconstruction of Michael McIntyre-style observational comedy, and the growing personality puts the quirkily distinctive lines in context. Apart from the limitations of using home-sketched drawings that are almost impossible to see from anything but the front few rows, this was a unique character, neatly executed, and worthy of the third placing.
Alison Thea-Skot's creation, the vocal coach Tiff Mason, was louder both literally and figuratively. The actress has a huge vocal range, which she impressively (if not always that humorously) shows off. There are a few decent lines, mostly driven by her barely-disguised distain for her daughter, but the delivery's none-too-subtle - a sort of drama-school mugging that batters the comedy home. Turn it down a bit!
With her fast-talking South London banter, Gemma Beagley started the third section with style. Her routine revolves around her insecure loneliness - but any dourness of subject matter is tempered with a chipper self-deprecation and some nifty turns of phrase. It's a quite straightforward, no-frills approach to stand-up, but she's more than competent with it, and an act we're sure to hear more from.
Luisa Omielan was more of a show-off, with an almost childishly silly fragmented steam-of-consciousness. This is probably only ever going to be a minority taste and the audience were slow to climb aboard here – although her recreation of cows with regional accents brought everyone onside. There is a charm behind the dottiness, but it also seems self-indulgent, and the apparently random download of daft ideas should probably be focussed more if she's to avoid a future that involves being the novelty nutter baffling the Britain's Got Talent judges.
Finally Helen Keeler, an affable enough Scouser who didn't really have enough pull to engage the crowd after 12 other comedians. Catholicism is a big part of her set, especially a card of St Christopher designed for travellers, but religion has been debunked so often, it needs more of a twist than this to stand out. She has a certain poise on the stage, despite only being a year into her comedy career, but it's not enough to make her memorable.
But overall a good crop of comedians from this inaugural event... the thought that any of them should have to pay to be on a stage is frankly absurd.
Read More
Published: 14 Jul 2011
From the moment the boisterous group of South Africans…
1/01/2007
Past Shows
Agent
We do not currently hold contact details for Martha McBrier's agent. If you are a comic or agent wanting your details to appear on Chortle, click here.