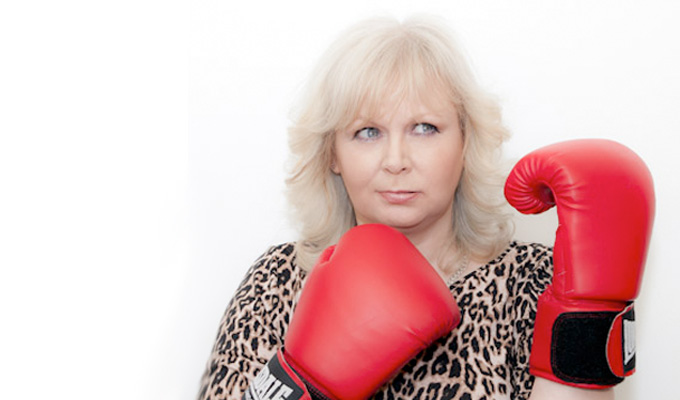 Martha McBrier
Didgeri-don't!
Scottish comedian Martha McBrier has been criticised for posing with a didgeridoo on her Edinburgh poster.
The stand-up has been accused of disrespecting aboriginal Australian culture for the image, since the instrument is traditionally only played by men.
And she was accused of cultural appropriation for posing with the didgeridoo, also known as a yirdaki.
She received a message via her website saying: 'Are you aware the picture of you with the didgeridoo is very disrespectful to First Nation Australians?
'The yirdaki is not played by women and has been that way forever. It's a men's instrument, only used by men. By you doing this is shows you have a complete disregard for other cultures, traditions and beliefs.
'Aboriginal people have been treated worse than second class citizen in our own country. Cultures, languages, lands stolen. Mass genocides, stolen children..... And it continues... still treated like the scum off the bottom of the white colonials' shoe. Yet they make no effort to learn, to understand our cultures and traditions that remain. Unless a quick buck or a funny photo can be made.'
But McBrier, who plays the didgeridoo in her show, Balamory Doubtfire, says she has no intention of dropping it.
'I would never agree with a culture that bans women from playing an instrument, and perhaps there is a little bit of me that took it up for that reason.'
She says she also took up the instrument for its health benefits. The circular breathing required strengthens the larynx and the muscles supporting breathing, and helps reduce snoring.
McBrier added that she 'meant no disrespect' with her photograph and admitted that she was upset by the criticism, but added: 'However, I will continue to play my didge, as I love it.'
Whether women should play the instrument has been a source of much debate, and opinion varies between the various aboriginal people of Australia.
Dane Simpson, a comedian from the Kamilaroi/Gamilaraay culture, said he would not allow a woman to play his personal didgeridoo but added: 'Personally, I respect people's right to choose whatever they want to do. But I don't like it when they are taking the piss out of the culture.'
He explained that the issue rises partly songs and dancing are used to teach young people about their sexuality.
He said the Wiradjuri people have a story in which a woman who practised the didgeridoo became infertile because she was using muscles in her stomach which she wasn't used to – but another nation has a story in which a didgeridoo is blamed for making women pregnant.
'That's why you'll always hear conflicting yarns about the didgeridoo in Aboriginal culture,' he said.
Janet McLeod, producer of the Melbourne Comedy Festival show Aborigi-LOL, which features only indigenous comedians, likened the issue of a woman playing a didgeridoo to tourists who climb Uluru, despite it being disrespectful to the local people who ask visitors not to do it.
'You won't be stopped from doing it, but if you do it then you are definitely a dick,' she said. 'Martha's idea that not using a didgeridoo is a patriarchal directive is like saying that being asked not to walk on Uluru is a restriction on human rights. It just isn't the same thing.'
In 2008, Nicole Kidman angered indigenous Australians by attempting to play a didgeridoo on a German television programme. The same year, publishers HarperCollins had to apologise for including a section on how to play the didgeridoo in The Daring Book For Girls and vowed to remove it from later editions.
Read More
Published: 7 Aug 2017
Past Shows
Agent
We do not currently hold contact details for Martha McBrier's agent. If you are a comic or agent wanting your details to appear on Chortle, click here.