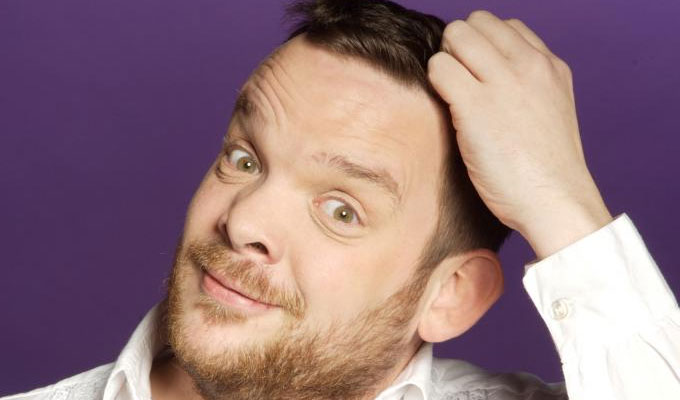 Mark Olver
Why I won't be making money at Edinburgh
I have done Edinburgh properly. I'm not in the Richard Herring class of doing every year since Beyond The Fringe in 1960, but I have been to enough Edinburgh Festivals to do a Pavlovian head nod whenever i hear the phrase '...but it reads like a 4...'
I have done package shows, solo shows, sell-out shows and no-show shows. I have been up with various promoters, and have lost varying amounts of money.
I am not famous, will probably never be famous, but I am busy, and I'm not sure if I would be the comic I am without doing all those shows and having all of those experiences. However, I have been thinking for a while about why I do shows in Edinburgh, and apart from seeing my friends, the whole thing has seemed like a self-indulgence for a while. So I had decided not to go back until I had written a show I was really proud of.
Until February.
The Assembly contacted me out of the blue and asked me to do my chat show, Dancing About Architecture: Comedians Talking About Comedy, with them this year and that they would give me a big room, in a nice location, and would be flexible so I could do gigs and festivals and TV warm-ups at the weekends. It turned out to be by far the biggest room I have ever been offered in Edinburgh, and potentially the most money I would ever earn from doing the festival.
And so, I have decided to give it all away.
Actually, not just in Edinburgh. I have done the chat show at two festivals already this year (Dave's Leicester Comedy Festival and The Wonderful Mach Fest™) and all the money I have managed to make has gone to charities working with young people and performing arts in those areas, and I didn't see any reason for changing that. Especially not in a city where I have spent so much time.
The charity that I am working with in Edinburgh is Impact Arts. This is how they describe what they do: 'Impact Arts believe that everyone can be creative so they use the arts to help people make positive lasting change in their lives, whether they are three or 93 years old. Across their flagship programmes, they work with young people to help them increase their future life prospects and prevent homelessness, and older people to prevent isolation and loneliness and encourage social inclusion.'
That sounds good right? And actually, I use the phrase 'working with' because I am not only giving all the profits from the show to Impact Arts, but I will also be using young people who Impact Arts work with in Edinburgh to be my flyering team, as part of a project they have where young, unemployed people in Scotland are given training and opportunities specifically to do with the arts.
As well as trying to do something good and nice, I think it will help me and my show to be involved with people who see the city in a different way than us bloody comics.
I know that the best food you will get all month is the Club Sandwich at the very posh Dome on George Street, but I know very little about what it is really like to live in Edinburgh.
And I know that comedians call going to Edinburgh for the Edinburgh Festival Fringe 'going to Edinburgh' as if the city doesn't actually exist outside of August, like a booze ridden Brigadoon, where rents are expensive and pubs never shut.
But it does exist when we go home, leaving our half-ripped faces staring out from boarded up shop fronts, and piles of unread flyers. Edinburgh has the same problems as every other city, and a lot of the money spent on the festival, and at the festival, never makes its way down to the people who might need it most.
And yes, of course this is a way of getting publicity, But not really for me and the show, but more for Impact Arts. After finding out about the work that they do, and realising just how little I engage with Edinburgh on a wider scale than just rocking up every August, I am really excited about trying to do my small part in bringing attention to the issues that exist in that magnificent city, and the ways that us less-than magnificent comedians can somehow put something back.
• Mark Olver: Dancing About Architecture is on at Assembly Checkpoint at 13:45 on August 5 to 22, not Fridays, Saturdays or Sundays. Find out more about Impact Arts here.
Read More
Published: 3 Jul 2013
Opera singer Jane Gilchrist has tried her hand at stand-up…
26/01/2007
One of comedy's biggest agents, Avalon, has…
20/04/2005
Chortle's second Student Comic Of The Year will…
20/04/2005
The last two heats of Chortle's hunt for the…
16/03/2005
Aussie comic Mickey D has broken both wrists - just…
29/07/2003
A comic collapsed on stage on Friday night - yet continued…
21/07/2003
Past Shows
Agent
We do not currently hold contact details for Mark Olver's agent. If you are a comic or agent wanting your details to appear on Chortle, click here.