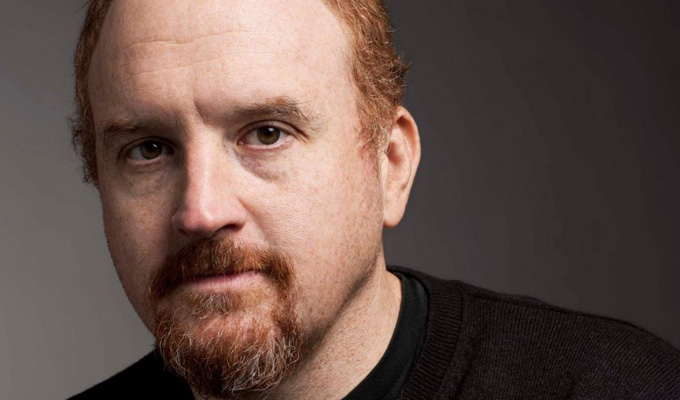 Louis CK
Date of birth: 12-09-1967

Louis CK
It takes quite some star quality to overshadowing everything else going on in Edinburgh, but Louis CK's hit-and-run one-off put even Bill Burr's earlier flying visit into the shade.
And the big news setting the fashionistas into a frenzy is that he's ditched his trademark black T-shirts for a shirt and tie, trying to make an effort.
Not that the smarter image has had any effect on his comedy, which can be as existentially bleak as anyone's, portraying a world of drudgery and struggle which makes him genuinely amazed that anyone carries on at all.
He admits to having the supposedly unthinkable thought of just abandoning his children since parenting is too wearily demanding – and that's despite his kids seeming to be the only people he actively likes. He's a selfish schlub, and he's banking on enough of us being the same, at least if we were to be as honest with ourselves as he is.
So initially there's shock at the idea of someone being so distracted and self-centred as in the deathbed scene he describes… but it's not beyond the realms of possibility. And not every wedding invitation is greeted with the gushing delight the senders would hope.
Essentially, he's scratching through the social niceties to reveal what boorish pricks we would all be if we thought we could get away with it. And laughter's the way to cover up that hole he's just exposed in the collective politeness that a society needs to work.
What, he's basically asking, is he point at which that polite behaviour would break down? He knows he would pump his dog full of drugs for an easy life, whatever the ethics, and he knows what it might take for him to at least dabble gay sex, in an hilarious section sparked by unexpected feelings while watching the Magic Mike trailer that spins off into both an exotic fantasy and the comforting idea of just having a boyfriend.
He flirts with the dark side without quite going all-in. He revels in the transgression of saying something like 'the worst part about being beheaded is…' just for the nervousness he can exploit. It's the same devilish disregard for propriety that has him roll out a few stereotypical ethnic accents, cheerily acknowledging their potential for offence, chuckling, as always, at is own evil thoughts.
What Louis CK is so brilliantly and wittily able to do is to slice through to the nub of everything, and distilling out a central truth in smart memorable punchlines, whether it's about the minutiae of taking a nap or the global dominance of Christianity – a showstopping routine that deserves a place among his finest.
The wide-raging set covers human experience from childhood, to marriage – and in CK's case divorce as he brutally details the way love is suffocated and extinguished – and finally to death. He reckons that, at 48, he has a good mid-life vantage point, being able to remember youth and envisage dotage. It also means a weight of baggage from hard-won life experience that an eager young comic can't hope to pick up second-hand.
Yet despite the vast scope there's a fluidity as one topic rolls into the next: picking holes in the Achilles myth one minute, discussing his family background (from Hungary via Mexico) the next, from the way children ask each other out to, to the pit of despair that is an American public (ie state) school. Maybe it's the biggest revelation is that CK hasn't gone private: that he's got cash to splash on the Horace and Pete web series, but not on his daughters' education…
Finally a footnote for the three acts who opened for CK's first gig in the Scottish capital for eight years: the slick and quirky political commentary of Michelle Wolf, who has her own show on the Fringe; Joe Machie, a bit of revelation with an incisive sarcasm close to CK's own sense of humour; and the self-deprecation of Joe List, forever learning about his flaws from socially clumsy encounters.
Read More
Published: 12 Aug 2016
If he didn't have stand-up as an outlet, Louis CK…
22/03/2013
One of the most celebrated strands of Louis CK's…
27/07/2009
Ricky Gervais has always teased us with his projected…
1/01/2009
At last, comedy for grown ups. There's been a long…
1/01/2008
A confident American (is there any other kind?), CK…
1/06/2004
Past Shows
Edinburgh Fringe 2008
Film
Montreal 2009
Agent
We do not currently hold contact details for Louis CK's agent. If you are a comic or agent wanting your details to appear on Chortle, click here.