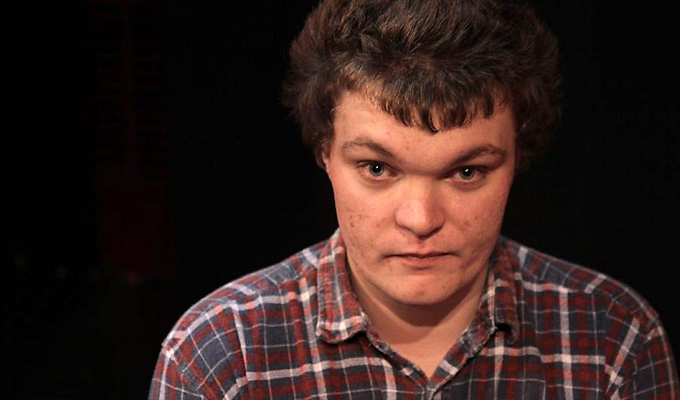 Liam Pickford
Runner-up in the Chortle Student Comedy Award 2015
Read More
Chortle Student Comedy Award Final
Note: This review is from 2015
In his preamble, Chortle Student Comedy Award host Mark Watson perfectly captures the nerves of the finalists, the inevitable disappointment for the majority of them who won't get to win, and the audience concerns over the abilities of such relative newbies. It was the right, playful balance of 'saying what we're all thinking' home truths, albeit tongue-in-cheek, and creating a sense of occasion and fun.
But with his first line, Stephen Ryan might have exacerbated those fears about quality, starting with the corniest stand-up opening ever: 'I've just flown in, and boy are my arms tired…' though thankfully he had a less predictable follow-up. For this composed Irishman has a charming way with words, elegantly tricksy wordplay liberally peppering his set. His persona is distinctive too, an arrogant, smooth-talking seducer who's slyly unconvincing as he oozes: 'Is there anything sexier than a woman?' or 'I wouldn't mind making love to you.' It was a certain, yet offbeat, start to the night.
Daniel Elliot has a more natural magnetism, with an engagingly mild-mannered approach to material about being gay, a fussy dater – and lonely. Those things may be linked. He's perhaps a little too laid-back, dedicating rather too much time setting up ideas such as the old 'celebrity I look like' trope or least favourite words. His easy charisma means the audience will indulge him, but how much stronger an act would he be if he didn't take so much advantage of that to pack in more of the nice lines he has.
Talking of stage presence, peculiar Liam Pickford makes the most of his blunt Northernness, while doling out absurd non-sequiturs which he'd subsequently explain, sometimes in hilariously precise detail. There's always a twist – for example setting a joke about his appearance in medieval France – with unpredictable asides and leaps of logic. He's got funny bones, and a scattergun mind that doesn't work quite like anyone else's, despite a flick of Johnny Vegas's internal turmoil, so quickly established himself as the act to beat.
To deploy a stereotype, Cillein Farrell has a certain gift of the gab, a lively, easy conversationalist on such topics as being bereft of a sex life, plot twists in porn films and cringe-worthy neologisms. To further exploit his ear for the linguistic, he offers plenty of examples of smart wordplay, but he also dwelled too much on his weirdly spelt first name, and his smutty nickname. He's a likeable act with a broad, mainstream appeal likely to put him in good stead, but the writing's still inconsistent.
Lauren Pattison has the makings of a solid act, too though it is more interesting when she her moves away form such familiar archetypes as Newcastle's teenage pregnancy rates and being an unemployable drama graduate with no transferrable skills – although her jokes on the topic land with consistency. First-hand stories of reckless nights out show more of her personal idiosyncrasies, and more of these would move her away from the edge of predictability which she skirts.
A little flat in his delivery, Stuart McPherson offers some pleasing payoffs, but doesn't consistently stand out. It's a bit too easy to offer a smartarse comment to 'there ain't no black in the Union Jack', mock gap year pretensions and serve up sarcasm about the smug marketing blurb on smoothie bottles. It's pretty funny, but also generic – the sort of stuff he could sell to a lot of other DVD-level acts, who'd be grateful of reliable lines that could be absorbed seamlessly into their shtick.
Andy Field is what you'd get if Noel Fielding did wordplay. He has a surreal outlook, a set packed full of proper punchlines and a nerdy glee in sharing it. And after a burst of quirkily original gags he boldly commits a big chunk of his set to a poem, Things That My Mum says, that starts as Route One observational stuff before diverting into a little drama, with a strong punchline. He's studying a masters in creative writing, so that debt he's built up isn't in vain. And it's £1,500 smaller now, after pushing Pickford into the runner's-up slot and scooping the title.
Joe Bowley was the only act who really struggled tonight, his awkward delivery, frequently referring to the back of his hand, a little too low-energy, especially for his late slot. A magician as well as a comic, his routinely-performed trick did have a nice punchline, inverting expectations. On the stand-up side, he was as self-deprecating as you'd expect spoke about his name… and if you thought there really wasn't much to say about 'Joe', you'd be right .There was a brutal out-of-character bad taste joke, and a nice switcheroo on a rap, before doing it for real (and badly). But all a bit of a jumble, really, and with neither enough oomph nor strong writing to cover it.
Read More
Published: 26 Aug 2015
Agent
We do not currently hold contact details for Liam Pickford's agent. If you are a comic or agent wanting your details to appear on Chortle, click here.