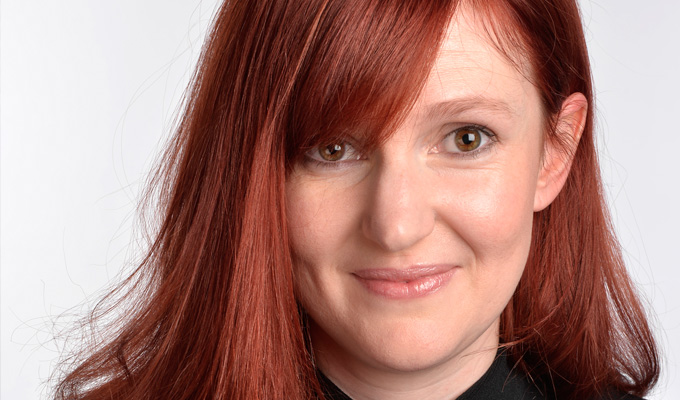 Kate Lucas
Whatever Happened To Kate Lucas?
Note: This review is from 2016
Well, I guess you need something to hang a show on, so Kate Lucas chooses a particularly harrowing toilet trip that she considers a near-death experience, her life flashing before her eyes in a series of musical comic numbers.
Not the most pleasant of images, but it's a good fit for the bawdy humour of Lucas's lyrics and the evil thoughts they are often based on – such as imagining her own funeral, having a child she wants to ditch, or wishing serious illness on a pensioner.
While the songs play up the idea of her being a cruel idiot, the chat between them has a downbeat tone, about the inevitable show decay of relationships and the soul-sapping effects of the daily grind, hers coming from a job as an NHS admin assistant. The suggestion is that the monotony drove her thoughts to these darker places, the message that we muddle through regardless of existential misery. 'We're all losers, everybody dies,' goes the chorus to the singalong showstopper. 'If you haven't killed anybody, you're probably doing all right.'
The ideas aren't always especially original – an insecure God sending floods when he's grumpy, or the realities behind Disney cartoons –  but she uses her music to bundle them up in a foot-stomping package. Lyrics are direct and stinging, with just enough of a twist to surprise. For instance, while it seems every girl with a guitar does a song about being a stalker, Lucas gives it a beyond-the-grave twist.
The raucousness of the tunes, and especially their occasional nastiness, sits in contrast with Lucas's more introverted personality. She seems almost embarrassed to talk about these things, at least until the song kicks in. This change in confidence give a cheeky glint to ideas that might otherwise seem too simplistically dark.
The upshot is that Whatever Happened To… is a fun hour; a robust club set ready for any rowdy room, but with enough interesting content to reward attention. You might want to check in some of your artistic pretensions at the door, but it's 10.30pm, and time to party with some banging, crowd-pleasing choons. For that, Lucas is your woman.
Read More
Published: 16 Aug 2016
For a while in this year's Leicester Mercury Comedian…
25/02/2014
It was set up as a celebration of female comedy. But…
14/07/2011
Past Shows
Agent
We do not currently hold contact details for Kate Lucas's agent. If you are a comic or agent wanting your details to appear on Chortle, click here.