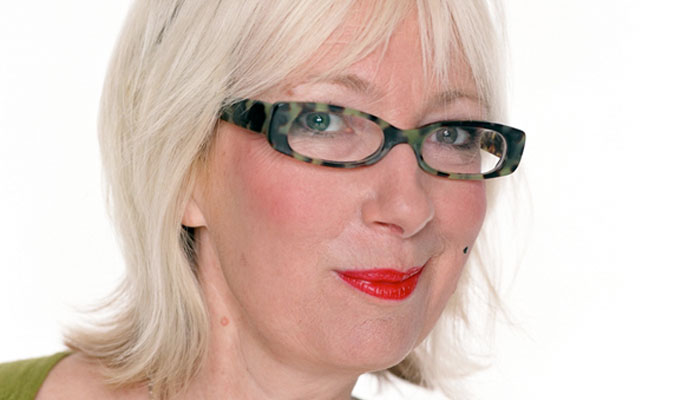 Jenny Eclair
Date of birth: 16-03-1960

Grumpy Old Women To The Rescue
Note: This review is from 2018
No one knows their audience like Jenny Eclair and the rest of the Grumpy Old Women team. Every rant and every observation in the latest incarnation of the long-running franchise hits a cord with a crowd that's drawn almost exclusively from the same demographic as the performers. I counted just three men in the bar at the interval.
For the fourth live show, Eclair – who co-writers with Judith Holder, producer of the original talking heads TV show – is joined by Fascinating Aida's Dillie Keane and over-the-top comedian Lizzie Roper. It means that for the first time all the team are rooted in live comedy, making for a zippy delivery.
The performers have an engaging dynamic, demonstrated in the rare moments they slip off script. More could probably be made of these ad-lib skills and interactions, but instead they largely serve just to link one diatribe to the next.
For although this has the trappings of a stage show – with our trio kicking back on a tropical paradise ('Love Island with cellulite') until they are called into action to save the world – it's essentially two hours of ranty stand-up given a different package and a couple of jaunty songs.
Each performer is given personalities, as if superheroines. Eclair is Menopause Woman, with the power of hot flushes, Roper the overly-effervescent HRT Girl and Keane the perpetually peed-off Hatchet Face, 'The Hulk with a library card'. But the personas are barely adhered to, it's just an excuse for them to wear superhero outfits… and then complain that the costumes make them 'claggy'.
For these are three women of a certain age admitting to failing bodies. They have achieved the status of not giving damn anymore, just getting by in comfort, unfussed by keeping up with fashions or by maintaining a decorum when it comes to personal details, and no longer holding their tongue about the things that wind them up. Here, among friends, they are in a safe space where such thoughts can be vented.
They sound about everything from eroding pension provision to stupid novelty popcorns… and no guessing which gets their gander up the most. Petty annoyances feel the brunt of their wrath, with disdain for the likes of Spanx, Pilates and hipsters.
It's a little middle-class, for sure, and maybe few of the observations are groundbreaking but the effectiveness of Grumpy Old Women comes from reflecting the audience's lives back at them.
The script is mostly as pacy as it is pointed, with an unforgiving attitude that gives the night a sharpness. Although they say that with age comes wisdom, it's more true that with age comes rigidity, as people become set in their ways.
Thus our gobby trio voice intolerance with a pampered younger generation, as well as their useless blokes unable to tidy up a simple toilet roll tube and whose idea of Christmas present shopping is a December 24 trip to the service station. Yes this rests on the old men-and-women-are-different gender stereotyping, but the generalisations are universal enough to elicit plenty of laughs of recognition.
Everyone's bonding together in a 'mums' night out' spirit, free to say what they really think. If that sounds like your idea of a good night, the GOW will hit the spot like a chardonnay with pals. Their 'sod it' honesty is almost empowering, a manifestation of grey pride.
• Grumpy Old Women is on tour until the end of June. Schedule and tickets here.
Read More
Published: 29 Apr 2018
Juggler Mat Ricardo was annoyed by the lack of variety…
28/06/2013
'I've based my entire career on of period jokes,'…
16/09/2010
The world of comedy can be an insular place. Acts hailed…
1/01/2009
Jenny Éclair is in her late 40s and 'falling to pieces'.…
1/09/2008
DAY FIVEAn outdoor comedy festival with Pimm's on…
1/01/2008
Jenny Éclair's audience is not your typical comedy…
2/10/2007
Jenny Eclair's new one-woman show is a witty, pointed…
1/01/2004
Encroaching middle age has worked wonders for Jenny…
1/01/2001
Products
Past Shows
Agent
We do not currently hold contact details for Jenny Eclair's agent. If you are a comic or agent wanting your details to appear on Chortle, click here.