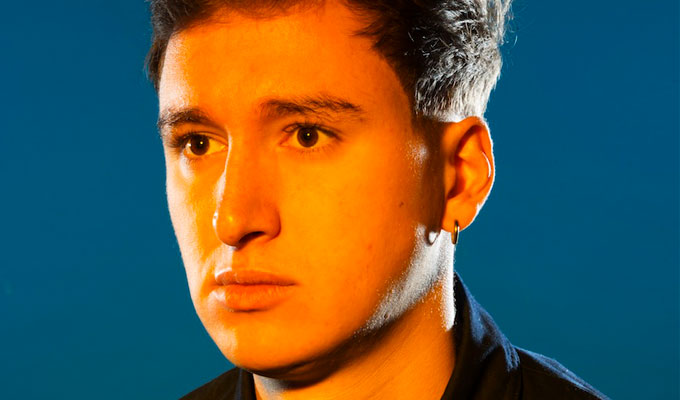 Jacob Hawley
London-based stand-up comedian who started in 2014.
Read More
'I was going to use this smoke grenade for my Edinburgh photoshoot...'
Jacob Hawley has today launched a new BBC Sounds podcast, Jacob Hawley's Job Centre, with the first episode featuring interviews with comic Richard Gadd and an emergency medical technician called Georgia about their work.
And now he launches Chortle's new feature, too – Shelf Isolation – in which comics share the contents of their shelves and what the items mean to them. No more straining to see the backgrounds of Zoom calls!
1. Reebok shoebox
Mike Skinner mentions in his book about keeping his early earnings in a shoebox, Kano rhymes, 'I kept money in a box that my creps come in, Before my first Wiley cheque come in' so naturally when I started making bits of money out of comedy I did the same, kept it all in this box.
An agent I won't name once told me it was so stupid he wanted to punch me. I remember getting my first £20 payment, two crisp ten pound notes, and rushing them home to put them in this box (the comic who drove me home from that gig charged me more than twenty quid for petrol but I sent it via bank transfer as not to ruin the magic).
Nowadays it holds my tax stuff, which, I suppose, is progression.
2. Orange smoke grenade
I was gonna use this smoke grenade for the photoshoot for my 2020 Edinburgh show entitled Bump. It was definitely gonna be the best promo image I'd done, and probably the best show, in the biggest venue, directed by a friend and comedy hero in Ahir Shah.
The two incidents the show centres on (perhaps it should be 'centred', in past tense) are the biggest things to have happened in my life, and the material I'd tried was definitely the funniest I've written... At some point I might go and let this smoke grenade off in a park.
3. Star Dog
Anyone who has lived in South London, or spent time drinking there, has bumped in to Star Dog at some point. He stops you, sings at you, (one of the choruses is a repeat of the phrase 'Man in prison doing time!' that I assume is autobiographical) and then you buy his CD.
I've got about four Star Dog CD's. I don't know why I don't throw them out. I found Star Dog on Instagram the other day, I think he's found God.
4. The Goon Show Tapes
Lots of comedians have those hack lines about how disappointed their family are that they do comedy, that they're not a lawyer or doctor, not mine. Maybe its because there was never much hope of me being a lawyer or doctor, nonetheless they've always been hugely supportive.
My grandad gave me some Goon Show tapes when I started comedy, for whatever reason I never listened to them. I'd sit in his living room, nod along as he told me about the songs, how much he and my granny used to laugh, but every time I'd leave, get back to London and just forget about them. The next time I'd see him he'd ask if I'd listened, each time I made an excuse.
In a warm Sunday in April 2018, my Dad surprised me at my door to tell me my grandad had died in the night. My first preview of my debut show Howl was that afternoon, my Dad insisted I still did it.
We got the Tube together, I remember it was packed with people who'd just finished the London Marathon that day. I did the preview, it was full, a few friends were there and wanted to get a pint afterwards, but I made my excuses, got home and listened to those tapes back-to-back.
5. Porky Parry Live In Edinburgh
This isn't an easy story to keep short; last summer a producer and I were brainstorming an idea about a parody of the comedy/parent travelogue format, where an odd father-figure and I could do an anti-climactic booze cruise to Calais.
We approached Porky Parry of Talksport, (see this viral video) We met him at 10am in Covent Garden. He was battered. He loved the idea before I could properly explain it, and then asked me to do his podcast.
He's a TalkSport stalwart, me and all my mates have listened to him for years, I couldn't say no. I did it a few times, some of it was funny, a lot of it was just rot. When I told him I was doing Edinburgh he insisted he came up. I explained I was doing a solo show, he couldn't be involved, he didn't seem to care. In his email he told me that we'd 'have a laugh and a shout for a few hours, which is actually the main purpose of our lives', something so profound I've screenshotted it and used it as my Twitter header.
He got this piece of card made up, turned up drunk in a Tam-O-Shanter and asked passersby to film him shouting at me on his phone.
• Listen and subscribe to Jacob Hawley's Job Centre here..
Read More
Published: 13 May 2020
Past Shows
Edinburgh Fringe 2017
Edinburgh Fringe 2018
Edinburgh Fringe 2019
Agent
We do not currently hold contact details for Jacob Hawley's agent. If you are a comic or agent wanting your details to appear on Chortle, click here.