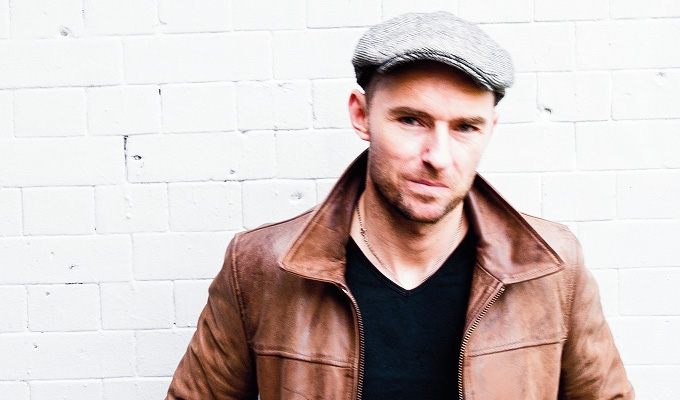 Jimmy Bird
Naty New Act Of The Year final 2016
Note: This review is from 2016
New Variety Lives is the name of the production company behind the Naty New Act Of The Year competition, making explicit its quest to unearth the weird alternatives, not simply traditional stand-ups. The more conventional are welcome, but in a turnaround from a regular comedy club night, they are at a disadvantage when it comes to fitting the mood of the night.
Well, I say 'night'. This final took place at 2.30pm, a time 'when no self-respecting comedian is awake,' as host Arthur Smith rightly surmised.
Double act Revan & Fennell kicked us off; very strong performers both. Their first sketch, of blokey, working-class West Ham fans actually being unlikely experts in the esoteric world of quantum physics, is a twist on a classic comedy juxtaposition, but expertly realised. And in their second skit, the power (ballad) struggle between a Mariah Carey-type diva and her limelight-stealing backing singer plays fruitfully with the tension to take centre stage. For character comedy acting chops alone, they deserve to be commended… as, indeed,they were.
Josh Pugh is a quirky stand-up very much in the underplayed mould of James Acaster – which is always going to be a tough comparison on the newcomer, whose set still needs incubating. But with offbeat ideas, strong imagery and dry observational asides such as 'there's nothing rock and roll about a verruca', he finds laughs in unusual places. A couple of pullback-and-reveals were uncharacteristically formulaic, but he's a promising voice, who shared third placing.
Thomas Rackham was more pedestrian in his stand-up, with well-worn premises such as feeling too old to go clubbing executed with efficiency, if not much flair. Quips about smoking too much weed, the Great British Bake Off and bodily functions were, that dreaded word, 'fine' – but it seemed rather too familiar, especially in a showcase that celebrates the peculiar.
Speaking of which, it's not often you watch a set conducted entirely in Spanish. As Beatrice, a passionate lecturer on 'el feminismo,' Emma Sidi harvests hearty laughs from a unique monologue: getting gags from character, accent, physicality and her bizarre argument that takes in the likes of Beyonce and Harry Potter. Her genius is making everything so comprehensible you'll be convinced you're bilingual, but making the audience do enough work on filling in the gaps to get to the punchlines for themselves. She utterly commits to the character, which never feels one-dimensional. Boldly different, she'd have my vote for the best on the night, but she was actually to share third with Pugh in the final reckoning.
We zip to Africa next with President Obonju, the Idi Amin of St Albans.The brutal, intimidating dictator is a strong comic premise, although the man behind the military uniform, Benjamin Bello, never gives him time to develop, immediately destroying any conceit by acknowledging that he's a comedian playing a part. In the rush for ironic deconstruction, he's surely missed out on a lot of potential gags, but there's fun to be had by contrasting the creation with the man.
No such peek behind the mask for Mr Spooky, the most peculiar act of the night. Bringing frilly shirts back to comedy, he's a strangely twisted trickster who speaks in lyrics, somewhere betwixt Willy Wonka and Dr Seuss as reimagined by Tim Burton. He scampers impishly around the audience, wrapping dubious gags in Gothic showmanship, before performing a bizarre playlet set in purgatory, in which he takes on the Devil at a video game. It's hard to know precisely what to make of Joseph Murphy's creation, but it's great to have him on the bill, shaking things up.
Another crunching gear change for the very traditional stand-up musings of Jimmy Bird, who first won a new act of the year competition back in 2011. That experience helped him take the audience over the abrupt change in tone, but it still took him a couple of minutes to hit his stride. He has an entertainingly vivid description of his time as a lifeguard on Brighton's rocky beach – slightly undermined by a cheap 'ginger' joke to close – and some semi-surreal suggestions for kids' names, which works but doesn't seem quite as distinctive as it should. For me, Bird's a solid mid-table act, but other judges rated him higher, and he took the silver.
Gold went to Bilal Zafar, who takes the common online sport of extremist-bating and spins it out into a lovely yarn. Pretending, for a prank, to be running a cake shop exclusively for fellow Muslims draws out the worst of the right-wing commentariat, and while mocking their gullible idiocy is as easy shooting (halal) fish in a barrel, Zafar draws out the humour with his wry storytelling – their puce-faced anger undermined by his nice-guy responses. A strong winner indeed.
This is Luca Cupani's time to sweep the new talent shows, on the back of his victory in So You Think You're Funny? last year. However, he still seems pretty light on material, although the sweet naivety conveyed in his Italian accent is undeniably cute. His fairly superficial observations and dick jokes are charismatically told, but nice-guy charm only goes so far.
The international line-up, both genuine or artificial, continued with Svetlana The Oligarch's Wife: the cold, high-maintenance and criminally-linked one-percenter direct from her Knightsbridge penthouse. Laura Bodell has drawn a lot out of what could have been a one-dimensional caricature, with nice writing and a performance that makes the most of the ever-present threat that she could have you killed on a whim. The creation – awkwardly introduced by redundant scene-setting faux news reports – seems very pertinent to these times, too.
Patrick Brusnahan attempted some more direct political comedy, but it was a pretty pedestrian effort: clumsily likening the Labour leadership race to a choice between items in a supermarket's 'reduced to clear' section, or attempting to say global economics is like a flat-share budget, and with only weak jokes to back up his analogies. Sensing he was failing, he harrumphed ungraciously: 'Sorry I'm not doing any goofy shit, just jokes' – which really didn't endear him. Subsequent, more self-deprecating, acknowledgement of his struggles clawed back some ground, but the set remained something of a stinker.
Like the first double act, Bucket are very strong comic performers: Ed Eales-White (from sketch group Clever Peter) and his brother-in-law, Jon Pointin commit to their varied roles; but their set was uneven. A sort of Game Of Thrones parody was strong, especially given the chance to display their best gruff machismo, but weakened by a few out-of-context jokes along the lines of 'I like my chickens like I like my women….' for no discernible reason. Bad improv's a tired subject, too, although again he execution had some nice touches.
To close the contest, came Dave Green another five-year veteran of new act competitions (how oxymoronic does that sound?) with some nicely-written, offbeat one-liners and premises. But although technically proficient, there's not much warmth or naturalness to his quirkiness, so he almost seems like the robots he mimics at one point. Maybe his career is at the word-processor, not the microphone, as his delivery lags far behind his inventive writing.
As the judges voted, the audience were treated to the delightful, imaginative prop comedy of Spencer Jones's The Herbert, billed as last year's winner. Few seemed to notice that he actually came second to Michael Stranney as Daniel Duffy twelve months ago. Does that prove how quickly new act titles are forgotten?
Read More
Published: 2 Feb 2016
The annual Oxjam fundraising week of music gigs across…
5/06/2014
The sold-out house for the exquisitely sardonic Simon…
15/02/2013
Another day, another new act competition... this one…
16/06/2011
Agent
We do not currently hold contact details for Jimmy Bird's agent. If you are a comic or agent wanting your details to appear on Chortle, click here.