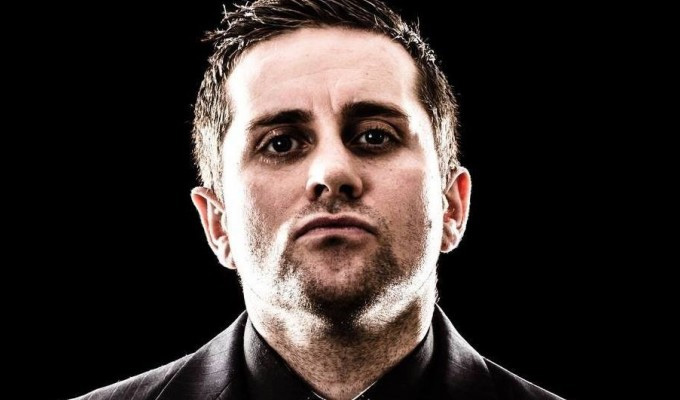 Joe Bromehead
Beat The Frog World Series 2010
Note: This review is from 2010
The final of Beat The Frog, with its line-up of new comedians taken from the Frog & Bucket's weekly gong show, is a straightforward popularity contest, decided by a vote from the punters rather than the opinion of comedy insiders.
Had it been otherwise, I suspect the rabble-rousing Brennan Reece would not have triumphed, with his mixture of tired ideas and unpleasant attitude. The first half of his set left a particularly nasty taste, as he described a homeless woman through a blitz of insults about how smelly, ugly and fat she was – even making her very homelessness a reason to sneer. This from a man dressed like a Nathan Barley extra, in an oh-so ironic garish Christmas jumper, a quirky hat perched at an angle on his self-consciously geek chic haircut.
The second half of his set was the old response to being called gay as an insult by a bunch of football fans. His riposte: what could be gayer than watching 22 other men in the throes of physical exertion, etc, etc, etc. The way he put this was a spirited piece of crescendoing oration, but a triumph of performance over content.
Second-placed Kevin Shelvin offered a much more edifying prospect; and though he had his share of vicious prejudice – against stupid young people in particular – it was much more tongue-in-cheek. There's little doubt he's portraying himself as the loser; having opened his set with details of his social awkwardness and his lack of success with the ladies. It's an intriguing and rounded persona, from which comedy naturally emerges – even if a few short minutes doesn't allow him time for quite as many punchlines as more gag-driven sets.
No such problems for the deadpan Peter Brush, who came third with his collection of quirky one-liners, often quite unexpected and silly. There's not a lot of personality in the performance but the gags are mostly strong, and the best of them would be worthy of the likes of Stewart Francis.
Similar – and to my mind superior – puns came from Graham Goring, whose failure to land a place was a clear miscarriage of justice. His persona is slightly smug, with a Ronnie Corbett-style flick of the glasses to accompany some of the smarter instances of wordplay, while his asides commenting on the material often gets as big a laugh as the jokes themselves. But the gags-per-minute rate is impressive, and he won't shy away from bad taste if there's a quip to be had in it. Enjoyable stuff, with a smattering of truly memorable lines.
Opening the night, Ruth E Cockburn had an alluring stage presence, affable but with a welcome flick of spikiness. However, she didn't have the material to properly capitalise on that engaging persona. Comments about a woman with a disfiguring tattoo had little added value to the initial observation, while her jaunty song Your Girlfriend's A Minger could have done with more bite. Personal confessions about her rock-and-roll devotion and festival failings offer more promise, as they allow her charm and confidence to come to the fore.
Joe Bromehead's an interesting one: a prop- and stunt-based comedian whose commitment to a joke can't be faulted, as he goes well beyond the call of duty for a laugh. The material's patchy with familiar ideas about the consequences of drinking mixed in with some more unpredictable punchlines – and, indeed, behaviour. He also parrots Ricky Gervais's style of delivering his reactions to topics in a high-pitched squeal, which isn't appealing, but his quirkiness may win out.
Lewis Phillips-Calvert offers a tick-box of tired comedy subjects: ginger people, Heather Mills, supposedly 'ironic' sexism. He'd be an instantly forgettable act were it not for his brutally unpleasant gag about Katie Price's disabled eight-year-old son. A very low blow indeed.
More comic misogyny from Luke Hannon, a self-avowed 'politically incorrect' musical act whose lyrics about being a fat lad include the line: 'I love my gravy, I love my mash/If a waitress gives me the healthy option, I'd kick her in the gash.' Such needlessly charmless material spoils what would otherwise be an enjoyable, if undemanding, set of lightweight lyrics and cheeky sexual references.
Read More
Published: 26 Oct 2010
Agent
We do not currently hold contact details for Joe Bromehead's agent. If you are a comic or agent wanting your details to appear on Chortle, click here.